When I was 4 or 5 years old, living in Brooklyn, U.S.A. we had a small apartment and a little terrace outside on the second floor. It looked out to many other houses all connected together.
The people that lived next door had what seemed to be a hundred kids. I was an only child at that time, so I always tried to play with them, but they never wanted to play with me. They said I was weird. I remember wondering why. What was so wrong with playing Madame Butterfly?
It was the opera my mom and dad took me to see. I wanted to be Ms Butterfly so badly that I would get a sheet, start screaming opera and pretend to kill myself at the end, which was a long drawn out death. I guess that household had so many children that they didn't go to the opera.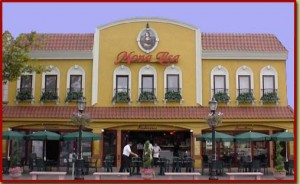 Food shopping wasn't like now with super stores. We had "the avenue" to shop for food. Mom and I would venture out early in the morning to buy fresh baked bread from the bread store, then proceed to the banana store to purchase them. And then there was the fruit and vegetable stores where Mom carefully picked out what we were going to eat for dinner.
Of course, let us not forget the Pork Store where you always had to be careful. Be careful that the man gave you the specific piece of meat you picked out. That he didn't go in "the back" to switch it off to a lousy cut of meat. Oh, and we had to keep an eye out that his hands weren't on the scale when he put the meat on it. He would usually try to trick us by saying "bella bambino" to me and try to distract us by giving me a piece of mortadella which is Italian bologna. No thanks! We had to watch those fat fingers of his. The floor of the Pork store was little black and white octagon tiles with sawdust on it. I never figured out why they used saw dust.
The days we went to the fish store, I watched my mother with careful eyes when she sniffed the fish, moved it's eyelids up and down, and then picked out the perfect one. The fish man was nice, he used to give me snails to take home as pets. Now I eat escargo.
But the best of all was the bubble gum machines and the toy machines. When you had to shop each day for food, you would pass one of these machines. I chose the rubber bugs. I had a collection of them. Oh, how I treasured those rubber bugs of all shapes and sizes. One day, I put them on my window sill and lined them up perfectly. I left my room and when I came back they were gone. My first trauma in life. The 100 kids next door robbed them. My mom talked to the other moms over the fence of the terraces connected together. I never got my bugs back. I heard the woman say I was a strange child. So be it! I was crushed. But I moved on, because there was shopping to be done each day and I would start my new collection.
Moral of this story: Entrepeneurs are a special breed. We have drives, desires, strong will and imaginations that could lead us to our ultimate dreams. We don't care if the pork store man puts his finger on the scale to push the weight higher. That is his karma. We don't care if people think we are nuts being so devoted to our work when they only work 9 to 5. It's like the 100 kids next door laughing at a little girl emulating an opera when they had no clue what it was.
We get our rewards like I got with snails as pets. We are givers. When someone steals from us, do we really care? No way, we have the fortitude to carry on and the persistence to maneuver whatever is taken away.
What kind of people are we? We are Free People!