This post was most recently updated on February 22nd, 2014
                               Imagine This: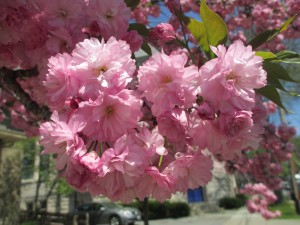 It is spring time and you want to plant grass seed in your garden.
1. You have to turn the soil – a very back breaking job, but you have the shovel in your hand and are becoming in tune with the soil as you are doing it. Your awareness begins that the soil is important for anything to grow.
2. It occurs to you that the soil needs its proper nutrients. So you go to your compost pile and mix those nutrients into the soil. (all organic of course) Now you are feeling that energy of that good dark soil. It hits all your senses, especially the sense of smell and you are satisfied with this accomplishment.
3. Now, you have to plant the grass seed. Hmmm we don't want it to be bird food so you do something like put little steaks in the ground and tie rags to it to deter the birds from having the feast of their lifetime.
4. You have invested a pretty penny for that seed, so you want to be careful spreading it around evenly and you do.
You look at it and say to yourself "wow…this pile of dirt will soon be green."
5. You care take it. Watering it evenly every day with a soft sprinkle of water, not to knock over the seed into clumps.
6. You realize the expression "I'm watching the grass grow" and laugh to yourself because you are full of anxiety to see it happening, but know that it will take time.
7. After two weeks, you see tiny little greenery in your garden. Little baby grass born with the Sun and the tender watering you have be laboring every day. This gives you a jolt of excitement. A new hope. A new beginning. Your emotions are high.
8. After a few weeks, this tender grass is taking root, but you still must be careful no to stomp on it or let your dog out on it to dig it up. It's not strong enough yet to be a tough turf.
9. Your first mowing. You sense it is getting stronger and the roots are inter-mingling with each other to stand strong. Almost ready to walk on.
10. Time has come and it is ready. How beautiful it is to walk on with your bare feet. The dog is running around and rolling in the cool grass.
11. Are you done? Of course not. You have to watch it like a hawk for weeds you must remove on your hands and knees, not to put toxins in the earth. This you know will be an on going process. You also have to make sure it has enough water supply for the rest of its life. But it is your accomplishment and you get to enjoy it.
WHAT THE HECK HAS THIS TO DO WITH MY INTERNET MARKETING BUSINESS? EVERYTHING!

When you are an internet marketer, you "know" it will take time to cultivate your business. You chose someone to follow to learn. You spend many hours studying and applying procedures. You set up all the networks for your business. You have 3 or so webinars every week to keep up your learning abilities. And you start applying them.

You are growing, but also cultivating yourself.
THIS IS THE PART WHERE WE SOMETIMES GET LOST.

You have to realize, just like growing grass, you are growing your business. Good soil, with good nutrients is the foundation – that is your mentorship.
Tending to that garden of your business can sometimes be frustrating because you are not getting instant gratification.
Why? because it doesn't work that way in organic marketing. So go do something else in your life for your instant gratification to feed that void. Finish a home project, do your nails, go to the gym, etc.

You must keep in mind that you must tend the gardening all the time to prevent weeds coming through, so that pertains to keeping up your part of writing good content on your blog, being on FB, Twitter, etc.
You also need to step back a little and not "watch that grass grow" It will in it's own time with proper care.

When you get your first lead, it is like the first sprig of grass you see..gentle and vulnerable. So you give your all to that lead and be the leader to help him/her through. Remember You are in charge of your garden.

Over time, all the work you put into your business starts to blend together like rooted grass. It becomes stronger and stronger, but you still need to water it. You still need to coach your followers and give to them.
ANOTHER PART WE FORGET

With each step of each faze, we must stop and enjoy it. Like walking barefoot in the grass. This will connect you with each little accomplishment you have earned. But keep in mind that this is YOUR FOUNDATION that YOU have created with your whole soul.

That cannot be taken for granted. Keep in the moment of GRATITUDE all the time so you can enjoy your business.