This post was most recently updated on February 23rd, 2014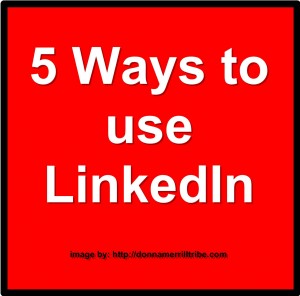 I have been using Linked In for a while now.  First, it was simply to communicate with some friends and clients.   Then I started joining groups that were interesting to me.  All of a sudden I realized that Linked In is the best kept secret source of meeting people to engage with your online marketing content.
Here are some tips based on what it is working for me.
First: Write a good profile so people can find you.  Do a profile that is simple and not too spammy.  At first, I listed all my business opportunities (MLMs).  Then, through trial and error, I simply sent people to my blog because that is my central hub.  Linked In works just like any other social media in that respect.  Send friends to your blog where they can learn more about you.
And while you're communicating with people on Linked In, keep in mind that you don't want to bombard them with opportunities.  Just follow the basic principles of social marketing and you'll be on the right track.
Second: Find people that you know or can related to through similar interests.  I belong to a blogging tribe.  I searched for it and added my new associates to my online network.  Now I've met people they know.  As I add them to my Linked In circle, it becomes my second tier of associates.
Third: It is imperative that you join groups.  This is how you can really make great connections.  For example, if you are in the health and beauty business, there are several groups for you to join on Linked In.
You will find many conversations within each of the groups.  I usually treat it like any other social network.  I may not talk about my primary opportunity, but I won't hesitate to mention something like how excited I am to remove those bags under my eyes… and then I would add, "Ask me How."  I receive a lot of response and interest to what I'm doing in this way.
I always remember my basic social network marketing when I'm communicating with members of these groups. I'll visit their blogs, for instance.  If I notice there are no comments, I will comment on them.  They will reciprocate!  And they are very grateful for the interaction.
Fourth: Get your new Linked In connections to go on your FaceBook and become friends there, too.  Interact with them on FaceBook. Go to their pages and comment.  They will surely comment back.
Form relationships on FaceBook.  Send some private messages.  Ask them how they are doing.  Share valuable information with them.
I usually tell them, for instance, how well I'm doing with my blog by making it the center-piece of my social media networking.  Most people are not familiar with these techniques, and are glad to learn them.  At that point, I might send them links to my Empowered Blogs or My Empowered Tribe, and tell them how easy it is to get involved.
Fifth: Here comes the fun part.  Direct your Linked In crowd to your blog.  By now, you have built some trust with them.  Check out their blogs and comment and syndicate them.  They will be so surprised what a go-giver you are that they will be willing to comment and syndicate back.  Some of them even offer testimonials for the assistance and value you've freely given them.  By this time, you have gained so much trust with your new friends that they easily join your opt-in offers.
This may sound like a long process, but it really isn't.  Try it for a while.  See how quickly it grows.  It is an organic way to build your list through social media strategies.
Always keep your Linked In friends current on what you're up to.  You can put your blog roll on Linked In, for instance.  That way, when people visit you, they see your latest blog links.  All this gives your new friends the latest information you are doing without having to search beyond your Linked In page for it.
I found Linked In to be the Best Kept Secret in social media.  I am creating a list faster than I am with any of the other Social Network streams.  So, try it, you'll surely like it!  It is a social media dream come true, and will get your online marketing campaigns off and running.