This post was most recently updated on February 23rd, 2014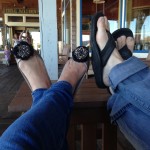 What is freedom to you?
Is it a picture in your mind that has you lying around the beach all day?  Does freedom mean not working for someone?
Does it bring you a quality of life that allows you to be with your loved ones, take a walk any time of the day, and spontaneously do the things that make you happy whenever you want?
I'm a free woman and have been for many years since becoming a successful entrepreneur.
Since carving out a distinct presence on the internet, I am growing and enjoying every bit of it.  I simply follow my passions (and I have a few) and like magic – things click.
What makes me feel rich?  Freedom.  It is not the amount of money I stockpile in a bank account, but doing what I want, when I want, and          having the money to do it.
One of my favorite whims is to work to the wee hours of the morning when I am so inspired.  I simply balance that with "sleeping-in" the next morning.
Many people believe that working for someone creates a safety net.  I just don't fit into that mold and never did.
Freedom does require responsibility, though.   Getting my blog out on time, syndicating my peers, developing new products to meet the needs of my followers.  These are but a few of the responsibilities I must take in order to maintain my freedom.
Discipline is an essential ingredient to living in freedom.
As a teacher, mentor and leader, I know I must work be true to my disciplinary senses.  If you want the freedom to work whenever you want, you must create and adhere to a schedule within which everything gets done.  Freedom is no "easy-street".  But when you are following your passion and "working" for yourself, it's the only road worth travelling.
In my future blog posts, I want to give you some helpful hints on how you can get into the game of Freedom.