This post was most recently updated on January 22nd, 2012
I am in the middle of my 30-day challenge. In my initial 30 day challenge I chose to develop a product. Trudging along this road, I came to realize so many things that have made this one challenge I'm going to need more than 30 days for. But I'm still plugging away at it.
So here's how my 30-day challenge is playing out.
I assessed my time, I wrote out a schedule of all the things I have to do besides being devoted to my 30 day challenge. As I was going along my merry way, fingers flying across the keyboard, I suddenly came to a halt.
I discovered that I would need my product to be "keyword rich". Also, I would have to do a little digging to research my competition. So, I went on a keyword search journey to see how many people were looking for a product like mine and also what was my competition for the keywords I wanted to use.
Off I went to Google Analytics, then Clicky and, of course… got lost in my research. I realized 14 days into my challenge, this would have to take a longer time. So I asked myself "Are you going to fail that 30 day challenge?" Of course not! I'm sticking to it… even if it takes another 30 days!
My feelings going through this process: it was like everything was falling on my head. Ergo the picture!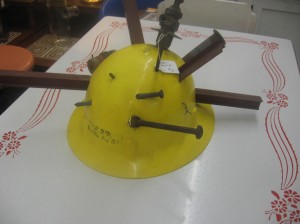 What I have learned is that any product could be great, but in the process there is so much to think about during the developmental stages. I didn't want to waste time and have to go back to the drawing board and do it AGAIN!
Now, I'm a research nut!
I spent the last 2 weeks researching and am glad I did. It made me realize I was too scattered in my production effort. I need to stick to ONE thing instead of several in order for it to be text adept, and keyword rich. Most importantly, I need to balance the number of people searching for my keywords and compare it with the number of competitors. Phew!
So I am learning it is not only developing a product, but one that my research indicates people are searching for.
So Hi Ho, Hi Ho… it's back to work I go!
I hope this post can save YOU some time when developing your product.
Blessings,
Donna