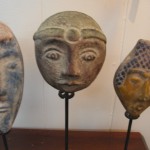 For the past two months, I have met with a group of people on Google+ Hangouts.  We first met in a blogging community and ended up getting to know one another so well, it evolved into a mastermind group.
We started out introducing ourselves and revealing what we were doing on a weekly basis to grow our online businesses.  After only a few weeks, we got closer and closer to one another.  We formed an accountability partnership to encourage one another not only with our businesses, but most importantly with the obstacles we face that prevent us from moving forward and achieving our dreams and goals.
We keep in touch during the week also via Facebook PM's.  One of us may get "stuck" on a certain program, and the others will jump in to help.  One of us may be experiencing one of life's kinks, like care taking of someone in our family, and we are all there to listen and share.
You may have seen me on the social sites referring my group as "The Magnificent Seven Superstars."  It is not our official name, rather seven people who get together each week to encourage one another.  I would like to give a shout out to my wonderful group and let you know who they are: 
Each one is an expert in their field and all of them are awesome bloggers.
Adrienne Smith:  http://adriennesmith.net/
Sue Price:  http://suejprice.com/
Raena Lynn:  http://raenalynn.com/
Sylviane Nuccio:  http://sylvianenuccio.com/
Barbara Charles:  http://barbaracharles.org/
Michael A. Buccilli:  http://mbreventures.blogspot.com/ – Please Note that as of this writing Michael has a new blog under construction.
Masterminding can be focused on one specific thing.  And I assure you that as you deepen your connections with those in your masterminding group, you will form incredible friendships.
Call to action:  Are you in a mastermind group?  Have you ever been in one?  If so, how did it work out?  Or… Do you want to form one?  I'd be happy to help.  I'd greatly appreciate having your comments below.

Blessings,
Donna