This post was most recently updated on October 1st, 2019
 I am outlining the anatomy of a JV Giveaway Event here, not just so you'll understand how it works, but so you'll get involved and implement this powerful marketing strategy.
A JV Giveaway Event is a wonderful way for you to grow your email list, but you need to do it right.
Many people get involved but they do some things wrong, so they don't get good results.
I'll tell you things to avoid in a moment.
For now, let's stick to the basic anatomy of a JV Giveaway Event.
1. Internet marketers' co-op
Internet marketers join forces to help each other build their email lists.
It's called a JV because it is a "joint venture" undertaken by marketers or bloggers who share the common goal of adding new subscribers to their lists.
Each contributing member of the JV Giveaway has something to give away.
It could be a free ebook, video series, coaching, service or whatever may be of value to prospects.
Somebody usually organizes the event, and they are the JV Giveaway host.
Bottom line, everyone wants to add new subscribers to their lists.
2. Promotion
Each participant is expected to promote the event in two ways.
First, by inviting other marketers who are also interested in growing their own lists.
This is done, of course, in advance of the event start, or at least early in its run.
Second, by emailing to their lists of customers, urging them to "attend" the event when it is live.
3. Submissions
Each JV participant submits his or her squeeze page to the event organizers.
This squeeze page offers a free gift in exchange for an event visitor's email address.
So, to be part of a JV Giveaway, you need to have (1) a squeeze page and (2) a free offer.
If you don't have a free offer like an ebook, you can offer a free coaching lesson, a free email series teaching something, a PLR ebook re-purposed for the event, or anything else that you can think of.
Some events even have free offers that you can use.
4. The Live Event
At a specified date, the date begins.
If you're a participant, you will simply email your list, or post to your social media accounts and tell everybody that the event is live.
This is designed to get them "in the door" to get free giveaways.
You can continue to promote the event throughout it's duration.
If you do a good job, and all the other JV Giveaway partners all hold up their end of the agreement… there will be a substantial pool of prospects at the live event, joining many people's email lists to get the promised giveaway item.
Enjoy These Benefits
You can benefit greatly from joining a JV Giveaway Event.
It is a great method, and free one, for filling your list with fresh subscribers.
Of course, you can create a squeeze page and a free offer on your own blog, Facebook page or anywhere else.
But how many people will click on your squeeze page link?
How many will opt in for your free offer?
There is a large pool of prospects at the live JV Giveaway event.
They are all there looking for giveaways like the one you are submitting.
They actually WANT to click on your squeeze page link and get on your email list.
They know it's a great opportunity to get some quality free offerings, and are more than willing to give their email address in exchange for their opt in.
Avoid These Mistakes
1. Throwing Together A Worthless Freebie
Make your free offer as high quality as possible.
First impressions matter.
If you give your new subscriber something valuable, they'll probably become a loyal follower and repeat buyer of your products and services in the future.
2. Failing To Promote
Don't sit back and let the other JV Partners do all the promoting.
Like any other joint venture, the more everyone participates and do their best… the more everyone will benefit.
The Cost Of Participating
The nicest thing about most JV Giveaway Events is that they are free to join.
Many of them do offer the option of upgrading your account to a paid level, though.
It's a good idea to enter with a paid upgrade because it will give your offer more exposure than those that don't pay to upgrade.
It's also a good idea to pay if you don't have much of a private list to promote to.
Your small voluntary payment will show your good intent to do what you can to make the joint venture successful, even if you can't deliver a large number of visitors.
That's basically it.
Case Study
As you know, I love to demonstrate how things work, rather than just teach you about it.
It's also best for you to get a broad understanding of the anatomy of a JV Giveaway Event, and then just jump in and do it.
Implementation.
That's where success comes from, not from "understanding" alone.
That said, here's a Live JV Giveaway Event I'm entering.
It may be over by the time you're reading this article, and if so, it's too late for you to enter it.
But follow along anyway and you'll get a better sense of how to do it in the future.
If you're reading this early enough to get involved, then do it.
It's free, and you'll come away really knowing how to participate in JV Giveaway Events.
Here's the event…
Profile
Here's the info David (my JV Partner, haha) had to enter to set up his profile…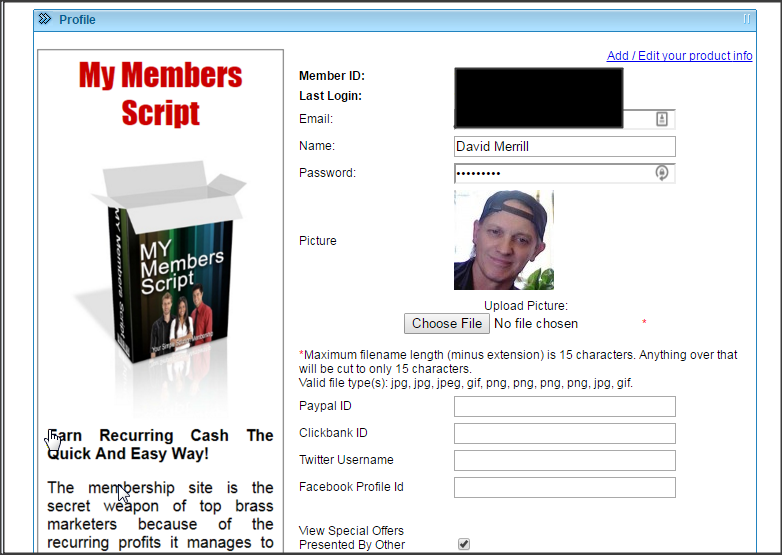 Event Dates 4-29-2016 to 5-13-2016
The Giveaway Dates are the actual LIVE dates that this JV Giveaway Event will run.

Basic JV Promo Info
Notice, the word "Contributor" means JV's who will be entering free products to build their list.
"Members" are people who attend the event to find free products they'd like to use for themselves.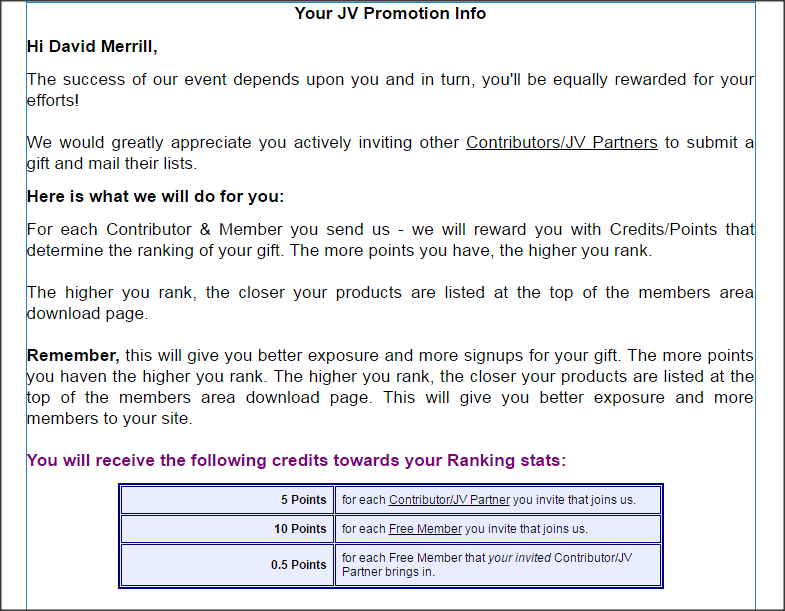 Gift Rules
Note that while you cannot use affiliate offers for you freebie entry, you can certainly put affiliate links in your free ebook as well as in your email follow-ups to new subscribers.
So, you have many opportunities for making sales as well as getting subscribers.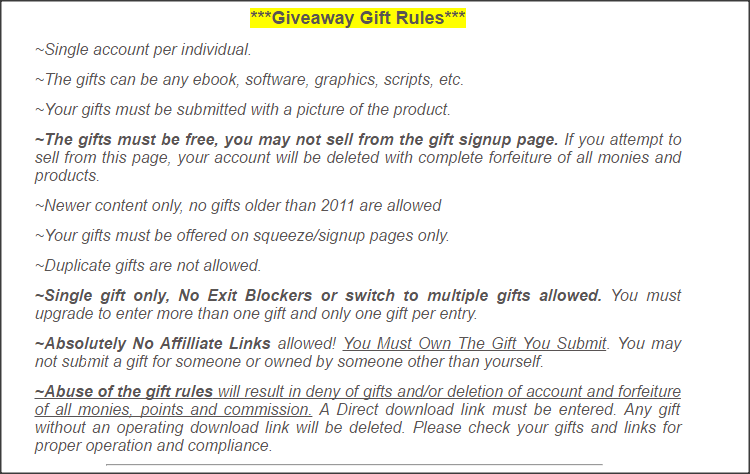 Giveaway Tools
Notice that you get all the help you need for learning how to promote your fee offer, and you can even get a free offer if you don't have one.  These things alone are good enough reason to do a super JV Giveaway Event like this one.

Promo Venues
Here's some ideas for WHERE to promote the JV Giveaway Event.
Remember, when we talk about "promotion," we're talking about promoting the event, not your offer.
Your offer will be promoted inside of the live event itself.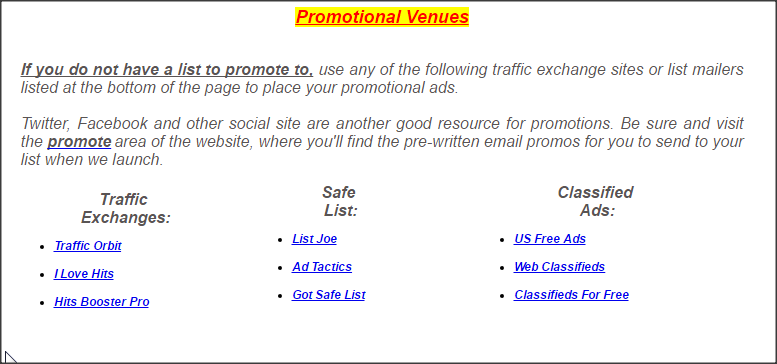 Promo Start Date 4-25-2016
This is the date for beginning your promotion to "Contributors" or JV Partners.

Submit Your Offer
These are the step by step guidelines for actually entering your free product and squeeze page for entry inside of the JV Giveaway Event.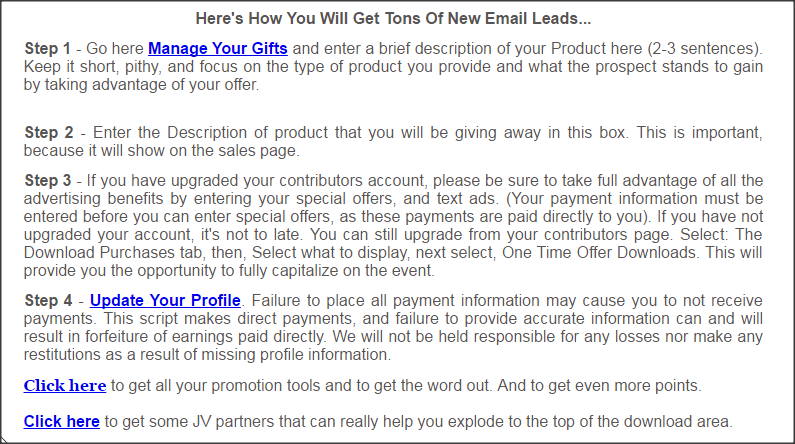 Your Email Campaigns
Sample Email To Promote To JV Partners
You can do 6 months of list building in just a few
days.
It doesn't cost you a thing. All you have to do is sign
up and participate in a free giveaway event for your
subscribers.
That's right, you are not only going to be able to add
thousands of hot subscribers to your list, you're also
going to be providing a LOT of value to your current
list by giving them some of the hottest products
available today.
==> Get Details Here
Just hit the link above and follow the instructions.
When is the last time 2 minutes of your time built a
list of hundreds (or thousands) of subscribers?
To your success,
Sample Email To Promote The Live Event To
Your Clients, Subscribers and Facebook Friends
===
Something very big is happening in the next
x days.
And it's only going to involve a few selected
marketers. That's why I'm sending you this
private invitation as a valued subscriber.
I was just speaking with the event host
(a well-known Internet Marketer), and we both
realized something very important…
…and it has to do with you
You see, most Marketers could be making a lot
more money if they only had more traffic coming
to their website.
and easy access to marketing tools that have
made other marketers work easier, and made them
a lot of money.
so…
The promoter has called in some favors
from a whole bunch of top online marketers and
convinced them all to give you TONS of f.ree
Products and Services at no cost to you.
-ebooks
-scripts
-memberships
You mention it, it's there.
Remember, this is coming in just x days.
Stay tuned, I'll let you know as soon as this is
released.
To your success,
===
So there you have it.
I really enjoyed presenting this to you because I know it can help you build your email lists.
I'd love to hear your comments below.

And, of course, please share this on your social sites with people who may be interested in the "Anatomy of a JV Giveaway Event" to super-size their email lists.
-Donna