This post was most recently updated on July 29th, 2019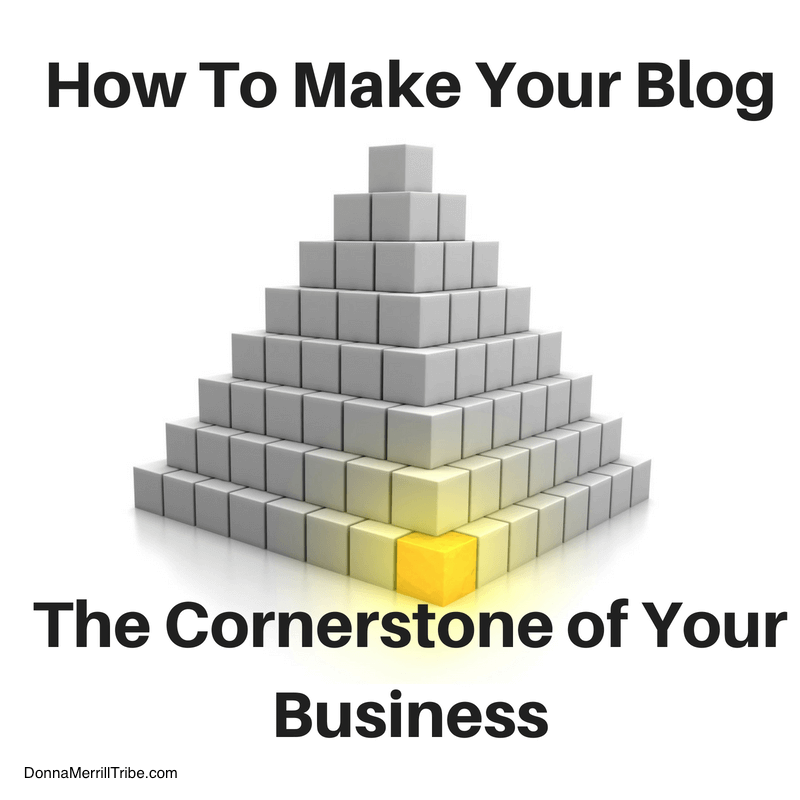 You need to consider how to make your blog the cornerstone of a profitable business if you intend to use it to drive revenue.
An awful lot of people talk about making money blogging as though a blog should be a direct source of profit.
New bloggers and even seasoned bloggers always want to know how can they make money with their blogs.
In my experience, though, most bloggers don't really make money with their blogs directly.
Instead, they make their blog the cornerstone of a profitable business model.
That means that they actually have a revenue-driving business outside of their blog.
But their blog is central to making that business profitable.
Professional Practices
Now professionals are one of the primary examples of this.
Professionals like realtors, doctors or lawyers for instance, will develop a blog in order to showcase their expertise.
A blog is a perfect place to display their skills, knowledge and authority by developing great content that their niche readers will be interested in.
They promote their blog in their marketing materials, their email newsletters and even in print material like brochures and professional articles.
So prospects considering their professional services can be sent to their blog for more information, education or whatever.
There, they can see more about how this particular professional is able to help them achieve their specific goals and objectives.
Whether it's selling a house, getting dental implants or anything else… the blog will show the reader and prospective client what they can expect in terms of Professional Services from the Blogger.
Freelance Services
Another way that bloggers make their blogs the cornerstone of a profitable businesses is by offering services right on the blog.
So let's say you are a freelance writer.
You can write content about ways to develop blog posts or articles and then mention that you also provide that service to anyone who would like to hire you.
This of course can pertain to any service.
You might be a graphic designer, a copywriter or a voice-over expert.
It doesn't really matter.
Whatever service you can provide, your blog can be used showcase your skill and abilities.
In addition, it can make a direct offer to people to buy your services right from your blog.
Your blog can give you great credibility.
But it can also serve as a sort of a portfolio.
So if you are a graphic designer, for instance, you can show some examples of your graphic design on your blog.
Think of what services you offer or could offer.
Now, see if your blog is set up to help you you promote them.
Affiliate Marketing
This is another great business model for bloggers.
Say you're a photographer.
You can now write great articles about different aspects of photography.
At the same time, you can offer sales for lenses or cameras or anything else relevant to the niche topic.
These sales are usually affiliate sales coming through things like Amazon or Walmart or even directly from manufacturers.
So the first thing to decide is what your niche topic is going to be.
Then go find what sort of affiliate products you could offer and interweave your affiliate links within your content.
Coaching
If you offer any mentoring or coaching services, then a blog is the perfect way to market that.
Your content will show what sorts of things that you offer people in terms of coaching and mentoring.
You can then develop scenarios that will show people how you actually help others.
This, of course, demonstrates how you can help them.
And you can develop conversations and relationships with people right through your blog.
People get to see who you are.
They get to know you.
And this is a critical element in attracting coaching clients.
More than any other business model, coaching is a personality based service.
One of the biggest questions people have when they think of hiring a coach or mentor is whether or not they will work well with them.
And of course, they wonder whether or not that person has the qualifications, skills and knowledge to actually help them.
A blog is a great way to showcase all of that, and most of all… your personality.
Email Marketing
Email marketing kind of eclipses all the other business models we've been talking about.
Because whether you're a professional, a service provider or an affiliate marketer, you're going to want to build an email list of your prospects.
One of the greatest benefits of having a blog is that you can use it to build this customer and prospect list.
Again, your blog will show your authority and expertise in your field.
You can use it to invite people to subscribe to your email list.
When they do, you can develop an even deeper relationship with them.
You can offer them special deals from time to time.
And if nothing else, you can just continually remind them who you are, and what products or services you have to offer.
Make Your Blog a Business not a Job
Now here's the problem I see so often.
Bloggers get all wrapped up in cranking out killer content, and then they work even harder to get that content spread out all over the internet.
Yes, that's a great way to get exposure to your blog.
But it gets to be a lot of work.
It takes a lot of time, management and effort.
In other words, it kind of gets to be like a job.
Is that why you started blogging?
To create another job for yourself?
Most of the bloggers I coach are hoping to replace their current job with blogging income.
They're not looking to add yet another job to their life.
They just want one business.
One profitable business.
You see, blogging is usually not a business in and of itself.
It's a way to introduce prospects, clients and customers to your service, business or professional practice.
And it's an extremely effective way to do that.
But simply attracting prospects is not your business model.
Offering your services and/or products is your business model.
You might even think of your blog as an infomercial.
It's function is to educate people about your offerings.
It helps you convert prospects into buyers and clients.
But it's not your business in and of itself.
It's just a tool to driving people into your sales funnel or business model.
My Blogging Business Model
My own blogging business model is an example of how to make your blog the cornerstone of a profitable business.
I've been a personal consultant for many years.
I once had a "brick and mortar" private practice as an intuitive consultant.
In fact, I still conduct that practice, but do it exclusively via telephone and Skype, now, instead of in person.
Much of this practice involved business consulting on one level or another.
Eventually, it blended into my blog and online business coaching, which is now my main focus.
My blog allows me to connect with people interested in building an online presence.
Once they get to know me through my blog, they often follow me into private consultation.
I hope this gives you some demonstration of how to make your blog the cornerstone of your business.
How To Make Your Blog The Cornerstone of a Profitable Business
So I just wanted to make sure that you had a good concept of how you could be using your blog to attract customers and clients to your business or service.
This is how you can use your blog for profit.
Yes, you can sell advertising, you can do AdSense and all of that.
But the best way to make your blog profitable is to use it as a marketing linchpin.
Use it as a way to leverage your content.
Demonstrate to people what you know, what your skills are, what your expertise is and who you are.
That will dovetail with your Professional Services or products.
Your blog is a perfect place to reel in your prospects, get to know them and let them get to know you.
Once you've done that then you can start building a bond of trust.
That's how you can use your blog to build your business.
Learn about one-on-one mentoring with Donna…

So, now it's your turn.
Leave me a comment below.
Share this article on your social media sites.
I've just shown you how you to make your blog the cornerstone of a profitable business.
Let me know what you think.
-Donna