This post was most recently updated on February 23rd, 2014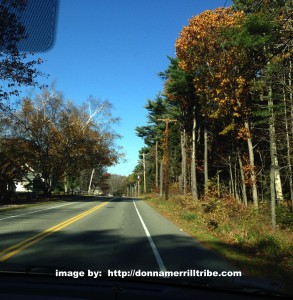 This past week, my husband and I decided to take a few days and go on a spontaneous trip.  We had to be in Maryland on Sunday for our grand-daughter's first ballet recital.
We didn't want to miss that for the world.  We live in NY and they're in a D.C. suburb.
I don't like to travel by car, but was determined to get out of my comfort zone.  Abandon the laptop and head for the hills.
We left on a few days ahead of time so we could adventure to a place we had never been before.  So we literally headed for the hills… of West Virginia.
So out of my Comfort Zone!
We landed in West Virginia.  So here we are, two New Yorkers traveling through the glorious mountains saying Ohh and Ahh!   After an hour, I needed a restaurant…a real one.  So we headed to Morgantown where we found a Japanese restaurant.
It was fairly good, considering there wasn't a single Japanese person working there.  But when I ordered my sake "hot" they couldn't figure out how to do it.  Hmm, "Strange", I thought.  After several coaching suggestions from me, they got it the right way.   Do I sound like a snob?  Yes, I must admit I am a food snob.
We traveled the next day through more mountains.  Was I out of my comfort zone? OH, YES!
Here's a few reasons why.
I do Not like road trips

I like spontaneity, but I need the comforts of good dining.

I like hotels, not motels.  We stayed at a motel (of course).

I knew we had another 4 hour drive to visit my grand-daughter, and was anxious about yet another road trip.

We had an 8 hour drive home on Sunday.

There is nothing but poor choices for food on the highways.

I have a lightning phobia and the forecast called for storms all weekend (Thank God it didn't happen!  But the forecasts were almost as bad).

I'd rather take a plane anytime than to be in the confines of a car.
So there you have it. 8 examples of why I was out of my comfort zone.  Why did I do it?  Because I needed to sort of "boot camp" myself and create a challenge to things I'd never do when I'm in my right mind… or should I say, my familiar mind.  That gives me the strength and fortitude to be a better businesswoman!
This does not mean that you must make yourself miserable to get out of your comfort zone.  But occasionally you need to do things and go places you wouldn't usually. Getting out of your comfort zone is good to build strength of character.
When marketing on the internet, there are many times that you have to get out of your comfort zone.  Challenging yourself in any way gets you used to doing that. Even a simple road trip.  Everything you do in life has an effect.  If you stay in a tiny box, that is how your life will be – just like that tiny box.
If you get out of the box as much as you can, overcoming obstacles becomes habitual.  That is the first step of moving mountains.  Don't let anything stand in your way!  While I am associating this story with marketing, the same goes for love, moving, or any other situation in your life that is uncomfortable for you.
I cannot tell you the number of clients I have that don't move from their homes because they are afraid of making a decision, or following their hearts.  Same goes for love.  Many of my clients complain that they cannot find "the one" because they are staying in their comfort zone and making the same mistake over and over again.
Then there are the clients I have that want to take the leap and go into business for themselves.  They really want to, but are afraid that they will fail.  They are afraid of spending money.  Most of all I find that they want to do it, but will never follow through.
Internet marketing is a continuous learning process.  Do it right, or not at all.  It is commitment to learning as well as leading.
Most people won't take that extra mile.  They prefer to stay in their familiar box, even when it gets them nowhere or even causes them misery.
So live a little.  Inconvenience yourself and step out of that box.  You will emerge with a whole different perspective, as I did this week.