This post was most recently updated on February 23rd, 2014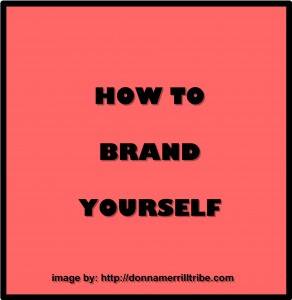 When entering the internet marketing world, there is so much new verbiage one has to get accustomed to.  When you hear the terminology "BRANDING," it can mean different things to different people.  We all understand that the meaning of branding is to let people know who you are.
The reason for branding is to let people visiting your blog know who you are and what your interests are. You will be talking to people who are attracted to your ideas, personality, business, advice or whatever else you are offering them. 
Many people won't be attracted to your "brand" and that's o.k.  You don't really need people on your blog who are not interested in your niche, or are not eager to follow you.  They will never convert well into customers or clients.
Here are some helpful hints to Brand Yourself!
1. Be You. Now this is easier said than done.  Sometimes it takes a little soul searching if you are unsure of yourself.  I suggest that you keep on writing your blogs.  Write them from your heart, and you cannot go wrong. The more you write, the better you will get at it.
2. Another way of communicating to people is to get your message out by video. You can sign in to a YouTube account, Talk Fusion (which is the latest rage), or any other method of video.  In our Tribe Mastermind Community, there was a 30 day video challenge.  This means that for 30 consecutive days, you produce a video.
Now this may sound challenging, but I've seen so many people grow by leaps and bounds after just a few times.  By the end of the challenge, I observed that the people who stayed committed to it were speaking with ease, and getting their message across with full confidence.  So think about that as another way of branding yourself.
3. Remember that you will never know everything. But that shouldn't stop you from giving some great expert tips and advice to your readers.  Do you find yourself saying "I can't explain all that technology."   Or  "Who am I to teach others about blogging when I just got started myself?"
STOP! These are excuses.  Here is the golden rule:  WHATEVER YOU HAVE LEARNED, EVEN THE TINIEST THING FROM YOUR COURSES OR ONLINE DISCUSSIONS, BLOG IT!  You will find that it is new knowledge to most people.  And when you're the first to tell them, you're branding yourself (in their eyes) as an expert in that niche!
4. If you are lacking confidence in front of the camera, just keep on doing it anyway. Remember that you do not have to look like a movie star.  People are far more attracted to other people that they can relate to.  And that my friend is YOU!
5. Always throw in some personal information. You don't have to reveal everything about yourself, but things like  a video of you and your dog, or how happy and grateful you are sitting on the beach… it goes a long way toward branding YOU to your readers and viewers.
It doesn't always have to be up close and personal, just share parts of your life occasionally so people are reminded who you are aside from the business "You".  It makes you a REAL person in the eyes of a prospective customer or client.
6. Branding is really a great way to build your business.  Most of us agree, but some of us forget to … JUST DO IT!   Many people have brilliant ideas, but are unsure of telling the world.   When you learn something, write it out and get it up on your blog.  This is TAKING ACTION.  It's the only way your branding will start making your "life-size" to your viewers.
7. Once you have established yourself through your personal branding, like-minded people will usually be attracted to YOU!  I find that working moms, for instance, are attracted to other working moms; eager MLM associates are usually attracted to other MLM associates, etc.
8. "BUT WHAT ABOUT SELLING MY PRODUCTS?" That will come.   You have to understand that No One wants to go on a site and be sold!  People buy people, not products.  The more you focus on branding yourself rather than selling something, the more people will visit YOU.
Everything you have learned on your path will be there for people to find value in.  When they ultimately get to wanting to know more about your business opportunity, product, etc. – it will be because they have resonated with YOU, and now want to explore a deeper working relationship with you.
9. OPT-IN BOXES: you can have an opt-in box for your services, affiliate products, etc.   Once people "opt in" you have their email and other information about them.   This is how you build your list.  Just remember… these people only opt-in once they've gotten to know YOU and found resonance with your personal brand.
10. The final word is, BE YOURSELF! People can always tell if someone is genuine or just out to make bucks.  You want to take the role of a leader.  And you will become one to the extent that you personally brand yourself as THE leader your readers and viewers are looking for.