This post was most recently updated on February 23rd, 2014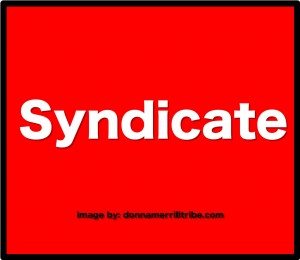 If you want your Blog to get attention, you must start Syndicating.
I took a quote from Wikipedia that explains Web Syndication as follows:
"Syndication benefits both the websites providing information and the websites displaying it. For the receiving site, content syndication is an effective way of adding greater depth and immediacy of information to its pages, making it more attractive to users. For the transmitting site, syndication drives exposure across numerous online platforms. This generates new traffic for the transmitting site — making syndication a free and easy form of advertisement."
Syndication is a free form of getting traffic to your blog.  Time and energy is involved by going to someone's blog, reading it, leaving a good comment.  Then Facebook sharing it and Re-tweeting it.  You can also go to bookmarking sites such as Digg, StumbleUpon and others.  This is the most common way of creating a steady flow of free syndication.
If you go to someone's blog and syndicate it, they are most likely to get back to you and return the favor.
But where do you start?
I used to hop around the internet and find blogs that had to do with my niche. Wow, that took a lot of time.  I would look at many great blogs and didn't see any comments.  They were out there alone in cyberspace and were not getting the attention they deserved, while getting absolutely no exposure.
That was all before I joined my Tribe less than a year ago. My ratings sky-rocketed since then.  When I joined my tribe, I became part of a group of people that syndicate one another.
Moral of the story:  If you want to get noticed, you need a Tribe! Not only did my blog get more attention, but so did my Facebook and Twitter, and even my Linked-in.  People are contacting me every day because when I comment on a person's blog, someone out of my loop will see that comment and jump on to my blog and syndicate it.  I do the same.
My tribe is not only set up for Syndication, but so much more.  Here, I am just pointing out the importance of syndicating your blog. When you join a group of people that are go-giving, you surely will drive more traffic to your blog.