This post was most recently updated on February 23rd, 2014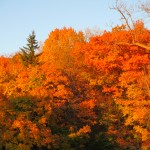 I wanted to take some time-out on my regular blog posts to acknowledge this time of year.
In our American Culture we celebrate Halloween.  We dress up, give goodies to the kids that ring our bells saying "Trick or Treat" and even go to Halloween Parties.  It is a time for celebration.  But for some, this day has a more deeper meaning it is  Samhain.   I'm writing this post to acknowledge Samhain – The Pagan Holiday.  It is the season of the Witch and many of my Pagan friends are celebrating.  My best friend Maya has written this article via:         http://nyack.patch.com/blog_posts/season-of-the-witch.  I hope you enjoy it!
Season of the Witch
Given the huge crowds that lined the streets for last Saturday's parade in Nyack, it's clear Halloween brings out the fun side in every one of us! All of the old customs and images now with a 21st century spin have made this a festive time for both young and old.
One of the most popular symbols or characters of the season and the most misunderstood, I may add is, the witch. The word witch if from the Old English word "wicca" meaning wise.
Some believed it is from the word wicker as in the wicker brooms used in early fertility rites. With the onset of organized religion, some people refused to accept the rules and belief systems that came along with this new religion.
Pagans, as they were called, chose to follow the Old Ways, celebrating and worshipping the cycles of Nature and the Moon. Most of these Pagans lived in secluded and woody areas—in fact the word pagan means, "one who dwells in the woods."
Because of early Pagan refusal to adhere to the new Church rule, a religious power struggle ensued. Everyone not following the new religious rule was said to be a witch—and the repression of women made females an easy target.
To convict a woman of Witchcraft meant her property and earthly belongings could be taken. So, who were the witches: the old widow with her black cat? The ugly spinster? The beautiful woman dressed in bold colors? Anyone out of the ordinary was thought to be a witch.
The most well-documented and last outbreaks of witch hunts were centered in Salem, Mass. The name Salem is from the Hebrew word "shalom," meaning peace. Funny—peace was far from the order of the day in Salem. Between 1691- 1692, 141 people were arrested and tried for witchcraft, with 19 found guilty and hanged, and one pressed to death.
Its odd how the witch hunts really began in Salem, though—it was Salem minister Samuel Parris who unknowingly started the whole craze. Prior to becoming a minister, Rev. Parris was a merchant in Barbados—and when he returned he brought with him a slave couple, John and Tituba. Tituba cared for Rev.Parris' young daughter and her cousin. Tituba captivated the young girls with tales of her native Barbados and soon had the girls practicing games of fortune telling.
In the winter of 1692, the girls began having fits and displaying bizarre behaviors… what began as fun had now turned into dangerous magic. Rev. Parris not only brought in ministers from neighboring villages but a physician who examined the girls—and when no medical explanation could be found, the diagnoses was bewitchment!
Now, what no one was aware of back then was that there was a form of food poisoning called Ergot found in rye flour that caused hallucinations. But again, add the repression of women to over-zealous parishioners of the church and you have a witch hunt!
Women (and a few men, as well) suspected of being a witch were dragged from their beds in the middle of the night beaten and tossed in a rat infested dungeon to await trial. A witch could only be convicted by her own confession, so torture was an acceptable form of extracting a confession. It's sad to think how many confessed just to avoid further torture.
Have you ever wondered why the stereotypical image of a witch is an ugly, green-faced hag? Most of these women were dragged from bed under the veil of darkness and beaten to try to extract the confession. Their once normal faces were punched to discoloration; their hair ripped out by the handful; noses broken; teeth knocked out. By the time they were taken to Gallows Hill for execution, villagers saw a less-than-human appearance. Think of that each time you see a green-faced cartoon witch!
Salem was so obsessed with the witch craze that the whole town suffered. Crops and cattle died from lack of attention and people packed up and moved away to escape the madness. The trials ended in October of 1692 after an appeal by Boston clergy headed by a man named Increase Mather who stated, "It is better that 100 guilty witch go free than one innocent person is hung."
So, as we leave the witch hunts behind and enter the here and now, we come upon the era of the modern day witch. Many people today look back with great sadness at the suffering of so many, yet they are filled with pride and respect for the freedom to worship and carry on this age old practice.
Modern day witches will not celebrate Halloween but Samhain, the new year. So where will you find the modern day witch? You will pass them in the grocery store and the gas station, at the mall and at the library. How will you recognize them? You won't—they look just like you and I… and you just may know one or two already!
Remember, magic happens.