This post was most recently updated on February 23rd, 2014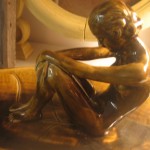 Reflecting back on 2011, I realized that despite many obstacles that took me away from my internet business, I have learned and accomplished so many things.
Caretaking "Distraction"
My father-in-law had a massive heart attack that required hospice care in our home for over half of 2011. That became an unexpected priority. It seemed like a "distraction" at first, because life and death situations always take immediate and intense effort.
You can just imagine the 24/7 caretaking of a man we all loved, as he declined day by day. It was certainly a life lesson. But I soon learned that giving 100% of yourself to another human being is far more than a distraction. It is also a bittersweet gift.
You come to realize that this job is one of the most important ones you will have in your life. Sure, the emotional, self-centered side of you just wants life to go on as usual. But the lesson here is that as precious as life is… there's a lot more to it than just staying "alive". The last days of life proved to be the sweetest part of the experience. Watching my father-in-law go back "Home," and observing his transition between going in and out of the world-at-hand and the spirit world, is the single, most significant experience in the cycle of life.
Like A Cat, I Jumped On Every Opportunity To Move Forward
You could just imagine trying to work in those months. I was determined. While my husband took the lead with his dad, I was determined to keep moving forward with my online business, because that has come to define much of what my life is about. Because I am a firm believer in God, the only way I could have possibly stayed focused in my progress was to "Let go and let God."
In the beginning, it was difficult. I decided to take some time away from working on my "business" and invest it on working on ME.
What do I really want to accomplish?
What is the best way to assist people so they won't give up their business, and their quest for financial freedom?
What do I know well, so well that it is second nature to me?
What can I contribute to people struggling through the economic chaos surrounding us all?
I wrote it all down and realized I already knew what I had to do.
Increase my mentoring load as a means to my own self-fulfillment; and fine-tune my own inner SELF in order to enhance my ability to teach others to confront theirs.
At this same moment, Teach Jim and Gavin Mountford announced that they were starting a group called "Do What You Love For A Living." I immediately joined, recognizing the synchronicity of this event. I want to thank them for their inspiration and guidance along the path that I had embarked upon.
I Am Grateful To So Many People
Looking back on last year, I have so many people to thank. I am truly grateful they are in my life and an integral part of my success:
Gavin Mountford and Teach Jim for their timely course, and the time they invested in helping me clarify the process of developing online products.
Dave and Dawn Cook, for all the time and effort it takes to run the TSA community.
Of course, Kimberly Castleberry and her ever-helpful Just-Ask-Kim which has been a blessing, and top-priority resource for me. Kim is always there, offering the latest and greatest tech advice, and business problem-solving strategies. I swear she has a clone!
Ken Pickard, who picked up the pieces of The Empowered Tribe Network. He gave so much time to pull it all together this year.
And of course, all my sydication buddies. I learn so much from the go-giving process. There are so many people that came into my life this year, I know God has blessed me.
AS FOR 2012:
IT'S GONNA BE DONNA 3.0
I am taking all that I have experienced last year because it was a blessing. I will be putting it all together and rolling out my incredible learning experience to share with others so they can live by my own motto: "Never Give Up."
What are your thoughts of the past year?  What have you learned and did you or will you apply it.  I would like to know.  Please leave your comments below.
Blessings, Donna