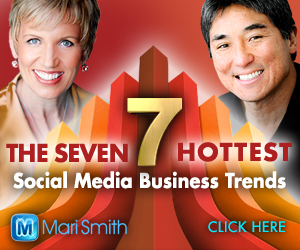 I love Social Media.  Because of that, I follow the top Social Media Gurus.  My Favorite is Mari Smith, because she has taken Social Media to a whole new level.  That's why I was so excited when I heard about the Mari Smith and Guy Kawasaki March 28th Event next week.
The event is actually a FREE webinar that Mari will be co-hosting with Guy Kawasaki, the social media and marketing genius.. 
And if you didn't know,  Guy Kawasaki is one of the original marketer of Macintosh and Apple.  More recently, he is founder of Alltop.com and is a social media giant.
Mari Smith's motto is "Relationships first, business second."  Her passion revolves around relationships and building new ones. She has strategically utilized her social platforms on Facebook and Twitter, along with a wide variety of other platforms.  Because this is EXACTLY my motto, I can tell you I have learned so much by following Mari.
Forbes Magazine cites Mari Smith as one of the top 10 social media experts in "Who are the Top 10 Influencers in Social Media?" She is a highly sought and renowned speaker and teacher in Social Media strategies.
I have been following Mari Smith for a long time now because she has been at the forefront of the Social Media explosion, pioneering the social inroads that Facebook, especially, has made into the once static and mundane world of internet information and marketing.
I believe Social Media is the best platform one can develop in the web 2.0 world of dialogue and interaction.  So today, when I heard about this upcoming Free Webinar that Mari Smith has put together, I was totally excited to write this blog post and let everyone know about it.
I happen to know that Mari Smith has been working on this special Free Webinar for a long time, but the official word has just come out.  I wanted my readers to be at the top of this wave.  I urge you to REGISTER NOW, because there is definitely a limited number of seats for this one.  Then "SAVE THE DATE" for "The 7 Hottest Trends In Social Media,"  the Mari Smith and Guy Kawasaki March 28th Event.  I'm not missing this one – neither should you!