This post was most recently updated on February 23rd, 2014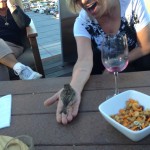 For many years, I have been doing psychic readings.  I built up an awesome professional practice as a psychic consultant in Nyack, New York.  "Mind over Matter", as my practice was called, caught on so fast that it became a 7 day a week undertaking.  When I moved away, my clients followed me via phone and Skype.   
"A psychic", you say?
Now, don't poo poo it so fast!  You can check out the page on this blog that explains exactly what I do.  I'm not the kind of psychic that will read your palm for $5 and lead you into buying a marble for $100 to get rid of your black aura.  I run an ethical, no-nonsense practice that actually helps people achieve their goals.
In the last few years my practice has evolved somewhat.   I got interested in internet marketing, both for myself and my clients.
The economy was falling apart and an increasing number of my clients were getting laid off or living in fear of getting laid off.  When I discovered that there was a way to make money on the internet either full or part time, I got pretty excited. I found I could reach out to more people, and develop better consulting methodologies online.
I also wanted to develop something for clients to use as a back door income, either full or part time.  I started teaching what I learned.  Even if my clients stuck to their careers, they could now be exposed to an opportunity to build some extra income.  This was important to me because I could feel big changes brewing for the economy.
That said, the top subject always on the minds of my clients remains… Love.
I find that their love lives and relationships is an overwhelming concern. 

They could be in any walk of life… housewives, business folks, detectives, therapists… I've even got a couple forensic psychiatrists that I consult with.  Even among marketers who come to me for coaching,
I worked with one online marketer, for example, whose spouse doesn't want her blogging.  He insists she's wasting her time.  
Conflict in the home is actually a pretty common concern among online marketers.  Professional goals are one thing, but Love and Relationships weigh the heaviest on us.  And that, in turn, has a major effect on our ability to achieve our professional goals!
Another scenario is the marketer who spends so much time working and doesn't have any time for Dating! 
Where do they go?  What do they do?  This also can be a distraction to their business.  I like to offer ways to assist them so that they can be at peace, find a partner, and have their lives a little more settled.  That achieved, they can then re-focus on their business.
When Love and Relationships rock your boat. What do you do?  
Is it taking too much time out of your day?
Are you discouraged?
Do you want to throw in the towel to keep your relationship together?
Do you know how to balance your relationship?
Are you bummed out because you cannot find a date?
Have the people that you are dating think that you are nuts for being an online entrepreneur?
Feel free to comment below or ask me a question.  Also Let me know what YOU need to know.
Blessings,
Donna