This post was most recently updated on February 23rd, 2014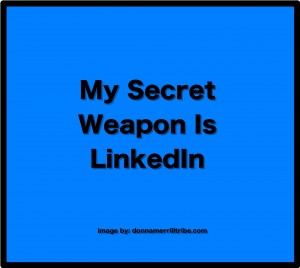 LinkedIn is my secret weapon
I used to call LinkedIn my "Secret Weapon" for my business.  I am glad to see more and more people using it regularly.
I find that the platform on LinkedIn is more business-like compared to Facebook. 
To me, Facebook is becoming more and more crowded and I only use it for my groups.  There used to be a time when I could communicate with others using Facebook, but now it is crowded with so many pictorial inspirations that it drives me nuts.  Not only that, but there are too many "opportunities" being posted.
That being said, good old LinkedIn is STILL my favorite platform in social media.
You need to use it correctly and you will find so many followers and friends it will knock your socks off!  
Here are some tips I found useful to make your LinkedIn experience effective.
Your Profile:  
Make sure to clarify what you have done and what you want people to see what you are doing currently.
You want to show your passion and interests.  Be honest here!
There is a space underneath your name with room for only a few words. So think about that as your "keywords" that best describe YOU and what you do.  Make sure this is relevant to your business.
A picture is worth a thousand words.  You Must have a picture of yourself in order for people to take you seriously.
Your contact information –  Make sure you have the best way to contact you. You can put all the information here, but say you are using your Skype name and you never turn on your Skype, that can lead to problems.  Leave your preferred contact first!
NEXT: YOU WANT TO BUILD YOUR NETWORK
Start connecting with people you know.  People that might be in your niche or those whom you follow.  Be careful who you invite. You don't want to go down your email list and import them all, you may get people you don't want.  
When someone tries to connect with you, ALWAYS check them out first to see if you want them in your network.  If they are all about sales, RUN!  You want people that are writing quality content.  
You can then connect with them on their blogs by making a comment, or Facebook by inviting them, and that goes for all your other social sites.
AFTER MAKING CONNECTIONS WHAT DO YOU DO?
Get on to their network and read what they are doing, go to their blogs and answer their polls.  Start socializing as you would in any social network.
Recommendations:  There is a place on LinkedIn to recommend someone.   DO NOT recommend people you really don't know  Take this seriously.  Try to do one recommendation a week.  You might be surprised that most people will reciprocate in an honest way.
JOIN GROUPS
There are so many interesting groups on LinkedIn, you will want to join them.  Narrow it down to groups in your niche and special interests.
When you go to groups, answer a few discussions.  Let the group get to know you before you put your message out there.  It is etiquette to do so and you will see how many good people you will connect with.  
Scan your groups because it can get a little spammy out there, especially if you are a Network Marketer.  
I found that I received so much information from the groups I am in.  The more I made connections, the better we syndicated each other.
So that's my take on how I use LinkedIn. 
Please tell me your thoughts and add to this discussion.  What is your experience?  Are there more tips you have to share?  Please comment.  You can also connect with me on my LinkedIn at: 
http://www.linkedin.com/in/donnamerrilltribe