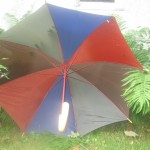 Is your blog a reflection of you?  Did you brand yourself well?  Are you attracting people to you OR are you under an umbrella of a company's blog?  This is what I call a "Blogging Umbrella."
I visit many blogs and most of them are wonderful.  However, as I'm going along my merry way these days, I'm a bit distressed to find that there are so many blogs published at the same time, and with the same content.
I ask myself what the heck is going on?  Did people make some psychic connection via the collective consciousness?    Maybe the "hundredth monkey phenomenon"?  Anyway, I did a little digging and found that there are many leaders out there that are putting their students under their big umbrellas.
I dug some more and found that some leaders in the industry have excellent information to share with their students and give them an outline what to do each week.  But one of the things on their "to do" lists appears to be swiping blog posts from their leaders. 
I mean, this is what they're taught to do.  It's an easy way to get content onto their blogs, and the content is usually top notch.  But as I read these blogs, what comes to my mind is that bloggers under some umbrella "system" are not branding themselves, but rather branding their teacher!
Isn't the purpose of having your blog to build up an attraction to yourself?  Hey, the top blogging strategy, as I see it, is attraction marketing.  And that my friends means that the main focus of your blog should be on YOU and YOUR brand.  I am sorry for "should-ing" on you, but it has become a pet peeve of mine during the last several weeks.
I have seen people who have been in the business for a long time just giving up their personal brand in order to hide under the umbrella of some great teacher that tells them they can find faster and greater success by sacrificing their personal brand in this way.
So, my dear fellow bloggers, let me refresh your understanding as to why you have a blog in the first place.
Your blog is your central hub where all your followers come to YOU for your expertise.
You are branding yourself in your niche, not someone else!  So please don't sell yourself short.  Your blog is your voice that makes YOU stand out from the rest of the crowd. 
You need your photo in the header, not someone else's. 

Otherwise, the instant impression you make only serves to confuse the reader.  Also, when you are under that umbrella, that umbrella theme is seen all over the place and you, my friend, get lost in the shuffle.
Your readers don't see YOU first, but rather a picture or logo of someone else.  And probably someone else that they've seen a hundred times over already.
Consider your SEO.  
Your brand rebounds back to your name or the name of your business, not someone else's. This will build a stronger SEO package in the long run.  You want to get your brand going viral throughout the social media platforms.  If you are under someone else's umbrella, your teacher's brand is going viral, yours is going nowhere.
You are constantly building credibility by giving good content.  Not just anybody's content though.  To brand yourself properly, the content you present must come from YOU, not somebody you represent.
You have your own unique way of communicating.
Your blog is a place where you are expressing your own thoughts.  If people are reading blogs and see that 10 of them have similar (or even identical!) content each week, they are going to lose interest in your blog, and therefore, in you.
Your blog establishes trust between you and your readers because it is a reflection of YOU.
Remember that 80/20 rule?  If you forgot, it means that 80 percent of your effort must be go-giving via good and authentic blog content, and only 20 percent geared toward sales. You can announce new products and services that you have used and are excited about 20 percent of the time with dignity. 
Your followers whom you have built trust with in this way, would rather consider purchasing products and services from you than some

umbrella system

, or shadow guru that looms ever present behind everything you do.  
I am sorry for the ranting here, but I have seen so many bloggers selling out for a new shiny object that promises success, when they have the ability (and opportunity) to brand themselves instead.
As a coach, I keep my eye peeled for these things.  It has come to the point where I must rant, my friends.  
How can I ever syndicate someone that is hiding under someone else's umbrella?  It does nothing to help the blogger, and only weakens the SEO value of my back-links obtained from one of these umbrella blogs.  
I know most of my readers have WordPress Blogs that are fantastic and have original content. But I've seen this disturbing trend.  What do you think?  
Would you rather brand yourself or hide under the umbrella?
Donna