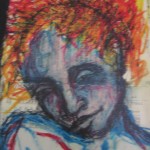 Being a home based entrepreneur can be a bit frustrating. 
Keeping focused on business and daily tasks can take over the best of intentions, leading to overwhelm and distraction.  Lately, I found myself getting a bit distracted.  I wanted to make a list of all I have to do and share it with you. It's not a complete list, but it's a start.  I'm sure you have the same kind of thing going on.
1. Write my new blog post
2. Reply to comments on my blog posts, and reciprocate to those who have commented
3. Contribute status updates on Facebook, Twitter, LinkedIn… all the social media platforms
4. Answer readers' and clients' questions about blogging and marketing on a daily basis
5. Implement strategies for increasing my subscriber list
6. Continue to build a relationship with my current subscriber list
7. Create a new webinar
8. Market affiliate programs
9. Learn something new every day
10. Implement something new every day
As most of my readers know, I am a psychic and I do readings on a daily basis.  I allocate about 4 hours per day for doing this.  So I need to focus on that business in addition to my blogging and online marketing.  Phew…that takes a lot of energy… lol.
I also have 3 dogs.  They need attention, too.  Walking, brushing, playing, feeding etc.  Another task.  And they won't let me put their needs on the back burner, no matter how busy I get!
Then, my passionate and hobby of buying and selling mid century antiques is one I keep up on a regular basis.  I rent a small space in an antique center, and maintaining it takes a bit of my time.  But I can't give it up because it's a true work of love… a long-time passion of mine, that just gives me so much enjoyment and recess from "real" work.  
I usually spend my Saturday's hunting down estate sales, auctions and garage sales. I find great stuff, take it home, spiff it up and bring it into the store.  It is a relaxing thing for me to do.  Getting that rush when I find a great deal and then flipping it.
Lately, I've been buying silver jewelry and having a blast doing so.  Talk about those Pawn shops….Oh boy.  Just last week I purchased "scraps" of sterling silver that were true retro finds!  I just love doing this.  It is the one outlet I have that gets me physically involved… that "gets my hands dirty". A tangible object can be fixed or clean and shined up for resale.  Whoopie….I love  it.
But then I start looking around my home.  I notice the dust piling up.  I tried to have a cleaning service come in once, but the dogs got all upset.  So, I have to do it myself.  You know, if you don't keep up that housekeeping, things start getting put in the wrong place and just collect dust.  I like to furnish my home in a minimalist fashion.  I gaze into my office and see papers all over the place and Urgggg….just walk out.  So, I need time to do that, too.
I also work to stay on a healthy diet.  Heck, I moved to this town in order to to live by organic farms and eat healthy.  This is something that I tend to slip away from when I get too busy with work.  I usually purchase organic food, take it home and cook it the same day for the live nutrients.  I'll even take it as far as going to a local organic farm to get my stuff fresh picked, right from the ground!  It fills me with energy.  Although I don't eat furry faces, just because I don't like to, I do embark on an occasional hunt for fresh fish or chicken.   
I even try to set aside some time to exercise!  Yikes…I've let that go, too.  "I have no time" is my usually my lame excuse.  
So, my friends, taking all this into consideration, you can see how easy it is for me to lose "focus".
And I do.  Yes, I know time management strategies, but applying the just wasn't enough.  I found myself staring at the computer, not writing, dust all over my house, dogs shedding like crazy and escaping for a while by going out to eat.  End result:  OVERWHELM.  I would do one task and look around me and see five more.  Nothing was working.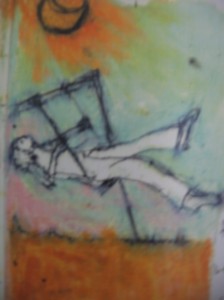 Until….I started doing self hypnosis to help me focus better.
I have been in my "Focus Cave" for the past three days.  When I emerged, the world actually looked a little brighter.  I took off three days during the Labor Day holiday weekend.  I was able to relax…really relax, with no "shoulds" in my mind.  I was pin-perfect focusing, and allowed myself to get off-task (not to be confused with off-track) by just kicking around and seeing some new places and doing spontaneous, random things.  I cannot remember the last time I did that with a clear head, no phone or computer.  My focus was simply to go out and enjoy each and every thing I did.
So my friends, to summarize this off-task rant of mine, I actually did find peace of mind.  
I know, I know….I can apply the methodology, I can teach it, I can write about it. 
But…sometimes you just need to find a new toy to play with.  And so that's what I am doing.   As I allow time each day for self-hypnosis and reinforcement of my new laser focus skills, I'm finding that each task takes less time.  And I find my work more enjoyable because I'm focused purely on the immediate task, undeterred by others waiting for my attention.  And after completing a work task, I can actually "enjoy" doing my laundry, without the guilt or worry of what I am NOT doing instead.
How about you?  How do you accomplish all those things that you need to do each day without feeling stressed and overwhelmed?  Are you going through task "motions" with distracting thoughts of other things you should be doing?  OR…Are you focusing purely on the task at hand, no matter how important or mundane it might be.
Leave a comment and let me know.
Thanks,
Donna