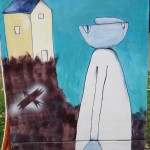 What happens when something takes you away from your daily schedule as an Internet Marketer?  What are the feelings that accompany the sudden rush of "overwhelm", and how do we move beyond them?
We can have things all set up, be on a roll with our blogging, social sites, opt-ins and even our ad campaigns.  Then BOOM…something rips you out of your work flow.  It can be a power outage, a storm, a family issue, or even burnout.  You can stare at that laptop all you want, but cannot summon up the energy or the mind state to open it.
I recently experienced this, and want to share it with you here.  I fell into the deep ditch of Overwhelm.  Yes, me!  The gal who gives advice, knows the tricks of the trade.  The gal who's mantra comes from Frank Sinatra's "That's Life"  when he sings "I just pick myself up and get back in the race…."
I was totally Overwhelmed and did not want to be that victim.  But calls came in from clients that were under stress, my mom fractured her shoulder, and I had to go through a battery of my own medical tests for one thing or another.   Crap!!!!!
So, how did I overcome that feeling of Overwhelm?
I let go and let God.  No unique, maybe, but pretty effective!
Knowing I couldn't do anything constructive with my business, I went into deep prayer and meditation.
Each time that little voice came into my head saying "You should be doing this or that" I put it in the corner and told it to shut up.
As I looked deeper into my overwhelm, I came to understand many things.  I wasn't going to lose my business.  I have so many understanding friends and clients.  And those deadlines I had made for myself actually could wait.  Best of all, I was lending a helping hand to family and those that needed immediate help.  Therefore, I really was doing my job, after all!  Just a different one than I normally engage in.
I found that everything was not about me and my business.  I looked at things more spiritually and felt peaceful being there.  I realized how "consumed" I was with my business, all the moving parts of it, even though I had thought things were balanced in my life.
Each time I looked at my laptop, my knee-jerk reaction was that I thought it would be too much to do once I turned it on.  So I set it aside, out of my sight.  I simply dealt with things as they came along.  All the while, I kept praying and meditating for balance, harmony, peace and even some direction.  
I realized that I didn't have to answer every email or attend to every little detail making up my business.  People understood.  That is how I came to experience my AHA moment.  Despite the fact that my primary role is one of teaching and counseling people on a daily basis, the time had come that I needed to allow people to help me.  I simply had to let them in and lend me a hand.  
So here I am back to writing a blog, getting back to my scheduled tasks.  Overwhelmed?  Not anymore. I found out that when I get that feeling, I can let go.  I have the ability to do that.  I am not in control … and don't need to be.  Funny isn't it?  We tend to think we are in control of our business, but looking at the bigger picture, we really are not, well not completely.
So my fellow entrepreneurs, when you experience that feeling of Overwhelm, try just letting go!  I know it is easier said than done, but just let go and all will fall into place.
Blessings,
Donna
P.S.  I would love to hear your experiences of how you have dealt with this problem.