As an internet marketer, I am zoned in on business 24/7.  Even on vacation, I can be walking on a beach miles from home and notice that  something  reminds me of business.  Yes, my mind might be somewhat relaxed at times, but I always keep a business perspective.   I am not addressing the issue of obsessive thinking, but rather, the small part of  my mind that always sees the "edge" of business no matter where I go.
I don't know if it happens to you, but I can be on vacation with the mindset of total focus on what I am doing.  Then I walk in a store for instance, and my mind goes immediately to how they could perfect their business by advertising on the internet, or offering a website for their awesome products.  Things like that.  So, I would say that business is always on my mind!
But what happens when a life situation emerges?  I  actually can completely disconnect my business thinking… and I do.  An example is the super storm "Sandy" that is heading my way at this writing.   My mind immediately goes to my loved ones, and making sure they are O.K.   Instead of working today, I had to go out to get things ready for a possible power outage.  Water, batteries, you know… the essentials.  I notice my mind sharpens at times like this.  I focus purely on basic survival.
I always have a go-pack ready "just in case."  But there are still other things to do.  Tie down the yard furniture, take down the window boxes and anything that is not adhered to the property.  Check list done…everything ready.   But what about my neighbors? Hmmm.  I put up  a notice on my community email list of the extras I have to share and pass around.  Candles, clothing, etc.   Phew…  
While running these errands, I notice a few people dressed in what I thought were hunting clothes, but it turned out to be the National Guard.  O.K.  time to take this a little more seriously.  Many "what-if" scenarios drift into my mind.  What if the lights go out for days?  What if looting starts?  What if I need to shelter, feed or protect myself? Hmmm, other things to think about.  
This put me into "action."  So now as I sit here, I feel like I am pretty well prepared.  But I'm still in a flood zone, and the county I am in has not given us any emergency plans or shelter locations.  So where should I go, I ask myself.   My decision was to stay put!  Stay with my husband and 3 dogs.  Now, I'm thinking… what if there really is a flash flood?  How will my dogs survive?  I know.  I will go out and get some doggie life preserver.  Oops.  I should get one for me, too.
My husband David Merrill and I went out to clean all the storm drains that are on city property because the Mayor of the lovely city does not have a plan.  People stopped us and asked if we were getting paid.  We told them that we were just lending a hand to prevent flooding in that area.  While we were doing this, we met a fisherman.  He caught a lovely fish and took our picture.  He was collecting his food naturally from the stream.   A little lightness to the day!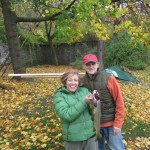 Now after reading all this, what is my mindset?  Survival.  Oh dear, what an experience this is.  I have given no thought of my business.  How I will get to my blog or perform other functions if I have no power?  I wonder if there's a WIFI shelter.  Then I look at my computer and realize I haven't even been on it for two days while I've been in preparation mode.
So, my friends, as potential floods and 70 mph winds come my way, I tried to do my best to lend a helping hand.  If I have power I will be in touch with you, otherwise we can catch up after the "storm."
Conclusion:  Life is way more important than anything else.
Question:  Have you ever had your mind seriously sidetracked, and totally "off" business?  
See you soon, or whenever my power is on,
Donna