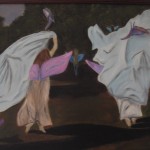 I reviewed my blogs for the past year to see what was the strongest and weakest blogs I've written.  I like to measure it by reading the comments that I have received on a particular subject.  My readers will actually read the post!  They will comment and sometimes add to the content to the post.  
You won't see many one liners in my comment section. Rather you will notice engagement.
Commenting on a blog is just as important as writing one.  Here you get a chance to speak your mind!  And that my friends will be noticed on the blogs you visit.  That will catch someone's eye and then they will come over to your blog and start following you.  I cannot stress how important comments are to write and to receive.
How are your comments on your blog?  Are they one liners?  Have your readers given you input or maybe added some ideas?  Here are some tips to make your blog comment section interesting.  
* Don't accept a comment without a gravatar, unless you know that person well and there is some kind of hiccup in their system.
* Check out the commentluv when approving a comment.  You don't want your back links to go to a sales page.  You can always remove the commentluv and approve the comment.
* When someone comments on your blog, REPLY!   This can make people feel like you don't care.  I've heard from some people I teach that they don't go back to a blog when there is no reply to their comment.   Food for thought!
* After replying to a comment, go to that person's blog and reciprocate.  Reciprocity is the key to engagement.  
* Go the extra mile if you find that blog resonates with you, and syndicate it by sharing it on the social platforms.  Sometimes I'm so taken with a blog that I go to Facebook, and message that person why I liked what they wrote and friend them.  I received more "friends" with quality that way.
I have written one blog this year that received the most comments and they are still coming in after several months.  I did make an exception of the gravatars here because they were people who wrote outstanding comments.  It is highly ranked on Google, bouncing from the top of the first page to the middle of the second page.  
It was my honest opinion on Why I Left The Empower Network. Now, don't jump out of your seat!  It was an AHA moment for me that I wanted to share and wrote it honestly and did not put it down at all.  I wanted to mention this one so you can give it a peek and scan the comment section.  It is so amazing what people wrote and I am grateful to each and every one of them.
So my friends, if you look back at the past year and scan your comments, what would you say was the strongest post you read?  You can share it here if you like.
Have a Blessed 2013,
Donna