This post was most recently updated on March 27th, 2014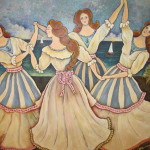 As you may have noticed, I have the word "tribe" in my blog title, right after my name:  donnamerrilltribe!  People have asked me why?  Why do you tribe? And the biggest question of all is "What is a tribe?"
This all started with Seth Godin's book "Tribes."  It all became clear to me that to create a business, we do need a symbiotic relationship with one another.    
Human beings can't help it: We need to belong. One of the most powerful of our survival mechanisms is to be part of a tribe, to contribute to (and take from) a group of like-minded people. (Tribes, p.3  Seth Godin).
A tribe is a group of people, sharing ideas and helping one another.  It is common for bloggers to join a "tribe," alternatively called a "blogging community" or "blogging cooperative" among other similar labels.  There are many such groups that bloggers have formed and joined in the last few years.  
While each of these tribes vary in procedure, what they all have in common is a foundation rooted deeply in the principle of reciprocity.  
Say you join a tribe that has 30 members.  The rule of that particular tribe may be to leave a good comment on 5 people's blogs each week.  Then you need to syndicate (share) each blog on 2 of your social sites, perhaps Facebook and Twitter.  In turn, those 5 people will do the same for you.  The next week, you are grouped with 5 different people and you repeat the process.  With me so far?
So what happens is that you are getting different people continually coming to your blog and you are reciprocating to each and every one of them.  Now you become friends with Google!  You see, Google loves your blog when they see it become socially interactive in this way.  It indicates to them that your blog is highly relevant to your visitors.  So Google starts ranking your posts higher and higher.  
As a result of your higher search engine ranking, your readership starts growing.  Now I've been doing this for a couple of years, and I notice that not only will those five circulating people come to my blog, but some come each and every time I put up a post.  Now I have 10 to 20 active readers giving me a steady flow of organic, therefore "good" backlinks.
Not all tribes conform to the example above, but they do all conform to the principle of reciprocity.  That's the defining nature of any tribe.
If you want to go further, you might try joining a Facebook Group that performs the functions of a tribe.  I have one with about 8 people in it and they never skip a beat.  Some bloggers in that group blog a few times a week.  On a daily basis, I repeat the syndicating process with each new blog post that is linked to in the group. Each time I link my post there, everyone in the group reciprocates in the same manner.
Now here is where it gets interesting:
You leave a good comment on someone's blog.  Another person reads it and says to themselves "Hey I like what she said."  So they come on over to your blog and start following you.
Things start growing organically and that my dear friends is the best quality readership you can get.
BUT IS THAT ENOUGH?
Not for me!  A few months ago my Mastermind friend, Adrienne Smith introduced me to Triberr.  I'm not one for automation and I did not want to join another group.  But in a mastermind group, we nudge one another to improve.  So I gave it a shot.  I joined Triberr and noticed I wasn't getting traffic. Hmmm, I must be pushing the wrong buttons again (like I always do – lol)   
IT GETS BETTER……
Another friend of mine in the same group, Barbara Charles, wrote a tutorial about Triberr.  In my comment to her I said it was a great platform, but I'm not receiving any approvals.  "I must be screwing things up here"…..
IT GETS EVEN BETTER
The co-founder of Triberr, Dino Dogan, saw my comment, went into my account and fixed my problem.  I was so uplifted by Dino taking such a direct interest in his subscribers, that I just wanted to shout this out to the world.  Imagine… little old me, just one blogger in the scheme of things out there just commenting on a post.  Dino dropped what he was doing and came to the rescue.  Now that's what I call good customer service.  
Now I reach 1.5 million people from all the tribes I am on in Triberr.  Think about that.  This blog amplification platform is working so well that I'm making connections with people like wild fire!   
Because there are so many posts I need to syndicate in this tribal platform, here is how I do it organically…
1. I keep my Triberr open all day.
2. I view 10 people's blog posts at one time.  I can choose to click "approve" and syndicate these post to Twitter, FB or LinkedIn.  That just depends on the post.
3. If something catches my eye, especially in my niche, I click on the post, read it, comment on it and syndicate it all over the place.
The reason I do this is because I don't want my Twitter account to look automated, which it is not.  I want to engage and be engaged more personally, and that is what results from using this daily strategy.
HERE IS A GOOD TRICK I USE:
I use FutureTweets.  Once a month I schedule my own tweets to appear 3 to 4 times a day for the entire month.  I write my own inspirational quotes.  I also like to put upbeat messages on there, too.  No links…just short statements.  I get more re-tweets from that than anything else.
Sometimes, I'm inspired to tweet something "social" like: "Had a great day at the spa. When was the last time you gave yourself a gift?"
Using Twitter like I do any other social platform, has gotten me more readership and followings quicker than ever.
So you see my friends, we all need one another in order to make a go of our business.  Tribing on different platforms works!
How about YOU?  Are you in a tribe or a community that shares posts?
Blessings,
Donna