This post was most recently updated on March 27th, 2014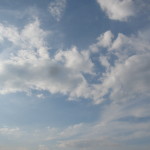 I must have had my head in the clouds for the past two years.  I have spent the past two years blogging passionately.  I love the community I am in with other bloggers and internet marketers. 
I've enjoyed such positive energy and have made so many wonderful connections all over the world.  I always say that the best part of this business is meeting so many different people with different ideas.   
Yes, I stay in my niche, but also have many friends in others.  Hey, that's where the learning opportunities come from.  I can visit my buddies that are techies.  I usually have to read their blogs twice to get an understanding of what they are teaching me, but it is worth it.  I'm learning something new and even though I don't do technical stuff, I need to know a bit about it if I want to hire someone to do something for me. 
I have have many network marketing friends, too.  I am not a network marketer, but have learned the ins and outs of the business through the experiences of my friends who are.  I love to cheer them on and help them along their way to success.   I could go on and on, but I think you get the picture. 
We are basically all here to market our products/services.  Internet marketing is a giant world unto itself, serving the the world wide market.  I am so grateful to be part of it all.  I am also grateful that everyone I meet has something positive to share. 
Immersed in the Law of Attraction, I understand how I have been so blessed to be in contact with the many people I meet on my blog and in social media.  I have many friends that are, as I've said, involved in Network Marketing systems that I'm not part of.  But I connect with them on a human basis and enjoy watching them grow.     
BUT…………. Lately, I have experienced some internet marketing bashing.   
There was one person who I had to spam block from my blog comment roll because he was purely an attention seeker.  I even had to ban him from my email.  He was actually calling me names.  And he isn't even a friend of mine (friends can always call me names… lol).    Now this was like a sucker punch to me.    Now, I'm not a gal easily brought to tears.  I'm pretty tough around the edges, and I consider myself a victor rather than victim.  But I was brought to tears.  Not because of harsh words, or menopause blues lol …..  But mainly because I live by the Law of Attraction, surround myself with positive people and put up pretty good boundaries when it comes to negativity. 
"Was my head in the clouds?" I asked myself.  Is this internet marketing bashing, putting others down just because you don't agree with everything they say or do… is this a common thing? 
I just didn't notice it?  Hmmm…. 
So I did a little bit of research on various social platforms and even on some of the more robust blogs.  My findings were that there are lots of people out there who are really bashing each other, apparently for recreation and attention. 
IS THIS NECESSARY? 
What happens if you bash a product or service?  How do you appear towards others?  And IF you are trying to bring followers into your fold, whom might they be?  Negative begets negative!  By going out and bashing other marketers you will either be ignored, or will attract mostly other fellow bashers.  Sounds like life in the school yard doesn't it? 
We are all internet marketers if we include all folks with a business, opportunity, product, service, story, cause or point of view.  Part of being in this business is to keep on learning and keep abreast of other products or services to how they are being marketed online. 
Agree or disagree, if we have the mindset of staying focused on our own business while being respectful of others we disagree with, we can reach our highest goals.  Working from an ethical position, we will attract more readers, visitors and followers, while inviting more people to the table of discussion where we can learn from one another.   
So after my mini-trauma, I came to this conclusion: 
I need to be more watchful for internet marketing bashers… from an eagle eye perspective.  Take notice of the behavior of a basher and quickly dismiss him/her, on one hand. 
On the other hand, develop a way to teach greater respect and honor for one another instead of hiding our hidden agendas behind computer screens.Internet Marketing Bashing  I must have had my head in the clouds for the past two years. 
So, what's your experience?  Have you noticed Internet Marketing Bashing?  I would like to know, Donna