This post was most recently updated on March 26th, 2014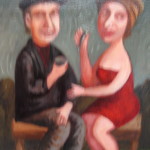 Many clients of mine have the problem of a co-worker or family member that is argumentative and confrontational.
 "What do I do?"
 "Do I get a new job?"  
 "Should I move away from this neighbor?"  
" Should I never talk to my sister again?"
These are some of the many questions I hear from clients when they are stuck in a situation that has them feeling:
drained

angry

intimidated

anxious

stressful
On and on those terrible feelings go……..
One client was at her job for 19 years and felt like she was burning out.   
Her manager kept questioning her performance level when she knew she was doing two jobs at once!  Other gals in her office were not even socializing with her anymore.  She insists they were all whispering behind her back.  She is a conscientious woman who goes to work and gets her job done.  When she goes home, she leaves her job behind.  She is a single woman with a full and active life.  She vacations twice a year and is now investing in a summer home.
Wouldn't you say she seems like a well adjusted individual?  I think so.  
But the constant stress of her job had worn her down so much that she wanted to quit and find another job.  That's when she came to me for advice.
"Quit now? Heck no!" I told her.  "Stand your ground.  You do not have to allow people to knock you down when you deserve the position you have worked so hard to attain."
She didn't know how to deal with these constant confrontations.  I suggested she communicate in a different way.  Don't hold all those feelings inside.  There is a better way to deal with confrontation.  I made this video to show you the power of simply, but firmly, using your "calm voice" amidst the storm of verbal assault.
Seems simple doesn't it?  But practicing this method works quite well in many circumstances.  It is a technique you can apply when faced with any adversity.  Rather than feeding into the negative energy of your "attackers", it quickly disarms them.
So claim you power, not through force, but by asserting your calm voice when confronted with rebuke, indignation and even rage.
What do you think?  Have you ever used this method?  If so, how did it work out for you? If not, how did you feel when you got sucked into a negative confrontation?  Did it solve anything by engaging in a yelling match?  I would really like to know.