This post was most recently updated on March 26th, 2014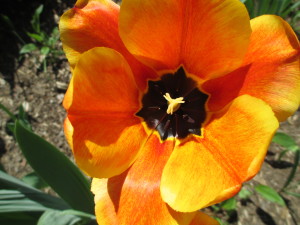 Your business is much like growing a flower.  Making a flower to bloom requires rich soil, water, and sunlight.  To make your business bloom, you will need patience, knowledge and persistence.
Here is a review of some of the key ingredients involved in making your business bloom.
Patience:  Do not expect to jump into a business and start making money right away.  If someone told you this could happen they are WRONG!  It is like expecting to put a seed in the soil and have it immediately grow.  Impossible!  But grow it slowly, with the right ingredients… it will be Unstoppable!
Education:  Now I'm not talking about "formal education" to make your business bloom.  Forget all that!  Once you've chosen a business to pursue, you must learn every darn thing you can get your hands on about it.  
Whatever your business is, you need to know it inside and out.  But those things change all the time, too.
A flower doesn't always grow straight up.  It bends and twists in whichever direction it needs to in order to best absorb nutrients from the ground, and gain optimal exposure to sunlight.
Your business is no different. 
Expect it to be a tough go at times, and then experience growth spurts at others.  Things change all the time on the internet.  Your business will have to adapt all the time.  That means that your education can never stop.  
Just imagine if you went to your doctor and all he or she knew was what they learned in school.  Suppose they never updated their skills or learned the newest technology available.  Would you put your life in their hands?  No.   You want your doctor's education to be as up to date as possible.  
This is how you must run your business.
Persistence:  You need to be persistent to make your business bloom.  This means each and every day you are giving the best information possible to your readers, clients, and customers.  It means that whenever you hit a roadblock, you go around it, climb over or kick it to the side… whatever it takes to let your business keep growing.
Adapt to the Social Environment:  A flower must adapt to its natural environment.  Your online business is essentially social.  Without building strong relationships with your readers, customers and clients, you will be operating from a very weak foundation.
You need to adapt to the social environment in which your business thrives.  Using social media properly is essential to making your business bloom.  If you are not on the social sites every day, you may get lost in the crowd.  Now, I'm not saying that you need to spend hours on this one.  Just remember your time management and spend consistent, carefully planned time out there.
As a blogger, you need to be social with other bloggers, too.  Make it your business to and read their latest blog post, leave a very good comment, and take a step further by connecting with them on all the social sites.  Syndicate their blog post and "Like" their pages.
Your business is about sharing with others and supporting the hard work they put into their business, as you want them to do for you.  So get out there and tweet, leave a nice comment and a "like" on Facebook and other social sites.
Marketing:  This is the most important piece of the puzzle.  It is like watering your flower.  Without water, your flower will end up drying out and flopping to the ground to eventually die.
There are many marketing strategies.  Some are free, and some you must pay for.  Whichever way you choose, you need to keep abreast of how to market your business so it can bloom.
Set time each day to devote to your marketing strategies and learn new trends and "what's working now".  Be persistent and consistent, and you will have your business blooming in no time.
This is only a few ways to make your business bloom.  I ask you to add to the conversation in the comments section below, and add any other ideas you may have.
Many blessings,
-Donna