This post was most recently updated on March 26th, 2014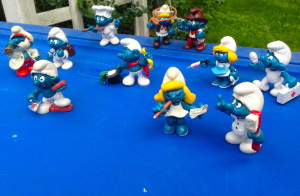 A Blogger's Rolodex should be the main pillar of support for your entire blogging enterprise.
As a blogger, professional intuitive consultant and online business coach, it would be easy for me to tell you who I am, what I have accomplished and what I can do for you.
But it's bigger than that.
I mean, my blog is not just me.
It's really a composite of my entire team… all those folks who I've included along the way into what I call my Blogger's Rolodex.
Why Do I Need A Rolodex? 
Because I need to build and maintain a team.
There's no way I could do all of this alone.  I don't even think I'd want to.
My Blogger's Rolodex includes people like IT (information technology) specialists, writers and bloggers in my niche, experts and authorities in specific skill-set areas that I rely on… areas like social media, email marketing, video marketing.
I have built close relationships with blogging peers and mastermind group members.  I've gained a working relationship with product creators, promotional marketers and software developers whose services and assistance have helped me grow my online business.
I've built a team of professionals that I need to refer to regularly, including my accountant, attorney and several web developers.
All these contacts go straight into my Rolodex along with many others.
The Power of the Rolodex
Neither my Personal Growth Rolodex nor my Blogger's Rolodex are of much use to me, of course, until I put them to use.
When I have a problem, a question, when I need professional advice or even just some personal support for something I'm going through or a task I'm trying to accomplish… I immediately reach for my Rolodex and reach out for help.
A phone call, Skype contact, Facebook notification or email puts my mind at ease, solves an immediate problem and gets me on the right track.  That way, I can focus on the creative aspects of building my business, not by myself, but with the help of my whole team.
I never have to "go it alone", you see, since each member of my "rolodex team" is always at my fingertip.
Do you have a rolodex in your life and in your business?  I would like you to share your views on this…-Donna