This post was most recently updated on March 26th, 2014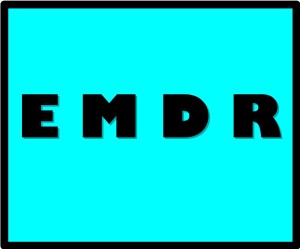 In my last post I shared how my irrational fear was conquered by EMDR Therapy. 
As I read through my comments, most of my readers wanted to know how it worked for me.  In this post I will share my experience.

My therapist had asked me if I would like to try EMDR (Eye Movement Desensitization and Reprocessing) therapy.  I had read about rapid eye movement methodology, and was curious to see how it worked for myself.  It made sense to me and I jumped at the opportunity.
First, my therapist assessed all the things that were "blocking" me… behaviors, habits or phobias I wanted to alter.  There were quite a few from the past, lol.  My most immediate concern was a fear of lightning and thunder.  I would not go outside if there was any chance of a stormy day.  Ridiculous isn't it?
Be that what it may, we worked on this issue.  The session takes one and one half hour so we discussed the plan for how this treatment would go.
It began by me visualizing an image that represented my fear.  
The vision I used was of me hiding in my basement describing how I felt emotionally, and how my body felt physically.  I described how I was short of breath, feeling like I was having a panic attack.  The feelings manifested in my body as sweaty palms, chills, stomach ache and nausea.    I was asked to rate, on a scale of 1 to 7 (7 being the highest) how strongly I felt these things.  My answer was 10, hehe
Now, I was instructed to keep this in mind as the process began.  
The therapist moved her fingers from side to side as my eyes tracked them through patterns of rapid movement.    "Take a deep breath", she would say.  "Now, do a body scan.  Tell me how do you feel?" On a scale from 1 – 7,  I felt a 5 (which was reduced from the 10 I had reported at the beginning of the exercise).  And then thoughts came to my mind which I shared with her.  I reported feeling less afraid because I knew I was working on the issue in a safe environment.
We repeated the exercise again and again, and followed each series with "body scans".  I felt more and more comfortable each time.  Throughout the process, I shared a free association of images I was getting.
We did this until I was more comfortable with the idea of an electric storm.
Then we began the "Installation" process.  
I was asked to continue my rapid eye movement sequences while focusing on a positive thought.
BOOM….I remembered that when I was a child, long before I developed this fear, my dad and I would watch lightning storms and enjoy mother nature at her best.
I felt like I was right there at 8 years old sitting next to my dad.  I felt safe and enjoyed the show.  I had to explain some key words that described this.  I said things like "safe, soft, smells good, clean…"
"Go with that," my therapist told me.  I did, and we went on with this exercise of free association and imagery.  Throughout the process, I underwent rapid eye movement segments, followed by more positive images.  Then I had an image of me sitting in what looked like a "king's chair holding a majestic golden staff."   I laughed at it, but we moved forward and did yet another body scan.
I felt strong, I felt like a king with a staff.  I felt in control!  Yes, it sounded silly even while I was saying it.  But the resulting body scan was enlightening.  
My body felt strong and was filled with energy.  I felt like a new person.  We got to the point where there was nothing negative lingering in my body.
We reinforced images of the words I had come up with:  Soft, clean, safe, etc… all the while, with rapid eye movements.
At the end of the session, we talked about how I felt emotionally, and how my body felt.  It was suggested that I keep a journal and record other key words that might be "triggered" by actual storms.
Now, one must keep in mind that one session may not do the trick.  I kept on visualizing my "positive installation"… the installation of positive feelings to replace the negative ones.  It was an experience that involved both my mind and body.
Then it happened…….
A violent storm hit one hot afternoon.  I didn't flinch.  I had a memory of fear, but didn't have the emotion attached to it.  It was like remembering an event.  I was smiling and took some time out to breath calmly as I recalled my positive word associations.  As the storm was going on, I worked diligently on my EMDR exercises.
Later on I asked my husband how I would have acted during such a storm prior to my EMDR sessions.  He told me that I would be shaken in fear, and hiding in the basement at the sound of thunder, and the flash of lightning.
He's been totally surprised (and delighted) to see my new behavior.  I've gone through 5 storms as of this writing (yes, I'm counting them), and I am still doing great!
I wanted to share this with you, my readers, because it is a personal experience that made me a strong believer in the power of EMDR.  I also want to note that there were several other mind and body issues that were resolved with this therapy.
Now, If you want to know more about it, I would suggest you Google it and see for yourself.  EMDR was developed by Francine Shapiro.  There is still controversy over it, but as you research it, you will find many stories of people like me, who have had great results.
So, my friends, the moral of this story is that if you have any fear at all, you can over come it.   Even if you have to explore many different approaches, don't give up!  Remember my experience with EMDR.
-Donna