This post was most recently updated on March 26th, 2014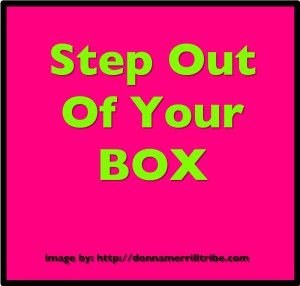 In my last post, I wrote about not being a social media wallflower.  In essence it described social media as a slow motion party.  
As I read my comments, I had noticed that many of my peeps were either shy or not spending the time they wanted to on social media platforms.  So here it is my friends – a little lesson on how to get out of your box.
Here's 10 things you can do pretty comfortably to start some conversation, even if it does mean getting out of "your box" or comfort zone, just a tad.  
1.  Post a picture of your pet –  Most people "oooh" and "awww" when they see a dog, cat, bird, or whatever your pet might be. You can just say something like "Look at what my dog did today". Be original!  After all, you are unique, and so is your pet!
2.  Go to one of your niche sites.  Subscribe to Mashable, Huff Post, or anything that has up to date information.  Find something that interests you and share it.  As long as your finding information relevant to your niche, it will be interesting to your like-minded friends and followers, too.
3.  Share a thought or something that may have happened during the day that is common to everyone.  I recently did my laundry and left a tissue in there. 
I posted on Facebook about how annoying it is when that happens.  Who hasn't experience that?  The conversation went wild.  People chimed in with their own stories. 
One guy said he accidentally put his cell phone in the laundry once.  We have all done this sort of thing from time to time, so it encourages conversation.  Everyone wants to tell their own little story.  You're just setting the stage for them.
4.  Tweet an inspiring quote.  We can use quotes from other people and that may be fine, but I feel it is overdone.  Now here's what I found really works.  So, my creative friends, pull up a notepad on your computer. 
Make your own, personal quotes whenever you think of one.  I did that once and came up with about 50 of my own quotes.  I used "future tweets" to schedule them for once a day.  Oh boy, did I get some great responses and condos.  You can do this on other social platforms, too!
5.  For the really shy:  Change your cover photo and it will be updated on Facebook.  "Jane just changed her cover photo."  Use your own photo and people will start pressing that "like" button and sometimes even ask you where you shot the picture?
6.  You don't have to be a shutterbug to take your own pictures.  Your iPhone (or other mobile phone) will work well if you have one, or just use a camera.  I have been posting my own pictures in social media for a long time. 
I am not a photographer, but if I see something interesting, I'll take a shot of it, then share it.  An accompanying funny saying or question can really get the conversation going.
7.  Scroll down your homepage and see what your friends are saying.  Don't be afraid to press "like" and, better, just add a comment.  If you are really shy, put a smiley face on the comment section. 
But it is always better to engage.  If there is a saying or a Youtube video you like, say something about it. Or just say "thanks…that made my day"…  only if you really mean it, though.
8.  Be Positive!  If there is something you don't like, just ignore it.  Remember that golden rule: no politics, no religion, and especially no rants!  Nobody wants your anger, frustration and negativity.
9.  Funny sayings are OK sometimes, but please don't overdue it. 
I once wrote on my Facebook timeline: "What's the deal with all these Facebook messages of pretty girls telling me they like me and please do not reply on Facebook, but rather on email?"  
Now, I know that's a spammer.  So when I mentioned it on a status update, I got lots of engagement because it happens to all of us.  
10. Don't give up!  Post two things a day.  If you don't get any likes, don't worry about it.  Especially if you haven't been active on Social Media.  Give it a little time and people will respond to you.  
Stay positive, Be respectful, Never get into an argument, and keep away from anything that is negative…  You will find that before you know it, friendships will be made.
I hope this helps all you "wallflowers" out there.  Give yourself a gentle push.  Experiment a bit and see what happens.  Getting out of your box is a great feeling.  Just take baby steps and you will become a new you!
Blessings,
-Donna