This post was most recently updated on March 26th, 2014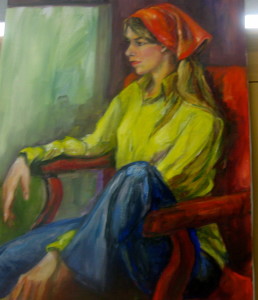 Picture it:  You are getting ready to go to a party.  There will be a few people you know, but most who attend this party will be total strangers to you.  Maybe you'll be a little nervous about wearing the right clothes, about what people may think of you and even what to talk about.  Come on.   Most of us are just not all that confident in ourselves.  We all get a little stage fright in social situations.
You start to get ready for the event, and look in your closet. Hmmm… Fab jeans or that "little black dress?"  You decide what to wear, get dressed and off you go. All the while thinking that you don't want to be a "Wallflower" and have no one to talk to or engage with.   You enter this party and feel OK.  You're not overly confident, though, and you start looking for someone you know so you won't feel out of place.  Then suddenly, a stranger comes up to you and asks you if you know the host.  
"Sure, I know 'Tom' for years, what a great guy."  
A conversation starts and now you are more comfortable with the situation.  You start relaxing and even summon up the nerve to talk to someone you don't know.  You introduce yourself and then ask a question like the person did to you.  Now you are getting more relaxed and begin enjoying yourself.
By the end of the evening, you have eaten, danced and made so many new friends that you are eager to get together with them again.  
Have you ever been in this kind of situation?  I am sure you have, or something similar to this.
So why the heck am I writing about going to a party?  Simple:  It is exactly what you do when you are engaging with people on Social Media sites.
At first you may be a little shy because you don't know anyone. You may be intimidated because everyone is connecting and may be using unfamiliar lingo, little insider stories that keep you lingering on the fringes of the action.  You even may have to be the one to take the first step.
If you are a naturally outgoing person, this is probably a cake walk.  But if not, it can be a problem.  So, what can you do to improve your Social Media skills?
Here are Seven Social Media Tips For Wallflowers
1.  A picture is worth a thousand words.  Yep.  A picture of nature, a funny saying, animals, your pet, you name it.  As long as it is appropriate and not sarcastic or too serious, it's bound to get you some likes or even comments.
2.  Share a good experience.  "I had the best coffee this morning!"  
3.  Ask a question.  Now, I have a BFF blogging buddy, Adrienne Smith, who posts a "Question of the Day" on Facebook every single week day.  It is so much fun to answer these questions and start getting in the conversation with others.  Last week she asked "How Do You Eat An Oreo Cookie?"  Everyone seemed to jump on that one.   I love it so much I look forward to the next question of the day.  I'm sure she makes tons of friends this way!
4.  Mind your manners.  Remember when your mom told you to say please and thank you?  Well that rule reigns here.  If someone replies to something you put on any social site, say "Thank You"!   
5.  Never get into anything negative.  There will be some folks out there that can get negative at times, so please just ignore them.  They will eventually go away.  Don't hit the like button if someone is putting something or someone down.  And don't get into the no-win situation of scolding them, or voicing your outrage. 
They only want negative attention, so stay away from it.  If you must be involved in a conversation like that, find something… anything… that is even remotely positive, and kindly acknowledge that, while ignoring the "mud".  Remember:  You always catch more flies with honey!
6.  Keep away from politics and religion.  People have strong feelings when it comes to this.  We are on a social site.  Would you go to the party I described above and say to someone "hey….what do think about that dumb law, or those stupid so and so.'s…?"   This only starts a dispute, or worse, a pile-on bash fest.
7.  Keep it simple, be pleasant and most of all be honest.
Now here is my call to action.  What do you do on the social sites?  Have you noticed what gets you the most "likes" and comments?  Or are you still hiding in the shadows?  I would love to know.
Blessings,
-Donna