This post was most recently updated on March 26th, 2014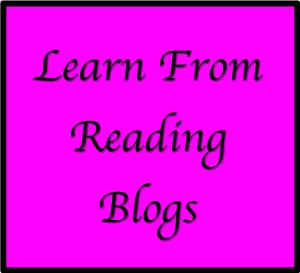 This is my 175th blog post. 
As a blogger, I read many other people's articles every day.  I read at least 5 to 10 blog posts every day for 5 days a week, and sometimes more. 
I read within many niches besides my own, and generally find them very interesting. 
In this particular article, I want to address the matter of how carefully we actually learn from other people's blogs and articles.
The Visual Learner
If you are in this category, you will first go to see how the blog is set up.  The header will attract you, of course, but also the general design layout.  Then your eyeballs will go to the right sidebar column. 
Is it clear and neatly displayed or does it blink at you continually?  Does it seem to contain useful information related to the theme of the blog, or is it a crass smorgasbord of adverts?  What font is used?  Particularly, is the font easy to read or are you forced to squint? 
What about background colors and contrasting content?  Is it easily seen, or a chore just to decipher?  What you are learning is how things appear before you even try reading the actual content.  
Hopefully, you've reviewed enough sites so that you've made sure to design your own blog to be clean, well organized and easy to follow.
The Cognitive Learner
You get right down to the nitty gritty.
You go straight to the content and no matter how clear or unclear it is, you soak it up like a sponge.  You don't give a hoot what that header looks like.  If there are too many advertisements on that blog, you can easily ignore them. 
You will probably ignore all sidebar offers because you are so focused on the content.  In fact, you undoubtedly bypass many opportunities to get free offerings from blogs you visit because you just don't really consume sidebar content at all.
The Hit And Run Learner
As a hit and run learner, you have mastered the art of reading (or skimming) so quickly that you are able to get to the point of the blog and leave a very good comment without really absorbing all the details of the content. 
But what are you missing?  Ahh… have you really learned what you hoped to by reading the article that attracted you?  For really good hit and run learners, the answer could be yes.  But others may be shortchanging themselves in the interest of speed.
The Pondering Learner
You get to a blog post and view everything.  
You wonder about the title, critique the content, and click everything on the sidebars to see what people are offering.  You may spend lots of time on a blog employing both the visual and cognitive approaches. 
Then you ponder and compare.  You may even try implementing some things that you really like.  Now this is fine, but when you are a blogger, you don't have the time to study each and every thing on everybody's blogs.  So be sure you are not getting overwhelmed by trying to squeeze every little thing out of every article you read.
Think about it!  You may be spending lots of time pondering how you can make your blog better, or how to implement a strategy you just read about.  But how much is that going to slow you down from following your commitment to your own DMO (Daily Method of Operation)?  After all, your DMO is where you really make your business grow and prosper, not in just collecting a lot of random knowledge.  
The Comment Reader
When one reads the post and then goes above and beyond to read the comments on that post, they do get a lot from it.   Reading comments may "attract" you to someone new.  You can go to their post via CommentLuv or other links and comment on it.  If you really like them, you will follow them on various social sites.  
I have had many people coming over to my blog from a comment I had made elsewhere.  They liked my comment, it and resonated with them, ergo….a new friendship blossomed.
These are but a few way that bloggers learn from other bloggers.  Keep in mind that as a blogger, you need to be going to other people's blogs daily and consistently.  You need to be learning from them all the time, using one or a combination of the learning modalities listed here.  
If you apply yourself diligently to your blogging business, you will always have your eyes open and be alert to high quality and relevant articles.  Read them, reply to them, and most of all… learn from them.  Think of what you like or do not like and then apply it to your own blog.  That's how your business will grow.
What type of learner are you?  Or do you combine different concepts?  I would really like to know.  Share your thoughts!
Blessings,
– Donna