This post was most recently updated on March 27th, 2014
Bloggers know how it is.  We are on line every day.  Blogging, chatting it up on social sites, and of course, running the marketing end of our business. 
We get so caught up in our 2-dimensional world, that abandoning it for several days can create a bit of anxiety.
If you are like me, highly disciplined with your time and work… going offline for several days can make you feel a bit of a disconnect.  
This is exactly what happened to me last week.  
Right in the middle of a bazillion things "can't wait" things to do, I needed to put everything on hold in order to attend my step-daughter's wedding.
And it was a four day event!  Now, that's some serious disconnect time for a blogger.
Nonetheless, I decided to be totally unplugged while I was there.
After all, there were family members from all over the U.S. meeting in a remote, mountain top wedding lodge.  Plus, I never even met the groom's side of the family and wanted to get to know them.   In all, there were 250 people I needed to shmooze with.  I left my computer home, took the phone with me, and promised myself not to do any business. I totally immersed myself in real life instead of my 2-dimensional virtual one.
It took us 6 hours to ride there, and all I could think of was… darn…  If I had my laptop, I could be writing something.  What if I don't answer people who need help?  My mind was full of my business.  
So here are some ways I got over the "what if's"  the "OMG, I have to answer comments on my blog and respond to Facebook PM's."
Every time my mind went into these "What ifs" I repeated to myself "this is a business decision and it's OK."  I must have said it a thousand times – lol
Self Talk:  Whenever I thought of business, I used a lot of self talk.  This involves internalizing soothing messages to that reinforce the fact that "Everything will be fine.  I've done it before and I can do it again".
Then I used my little affirmations:


"I Deserve!" I repeated to myself that I deserve a little Rest & Relaxation.


"Stay in the moment"… This is a time of joy and celebration.  Be in it.
There were so many issues to contend with that I seldom think of when I'm in my blogging world.
Sleep.  Now, when you are with so many people, breakfast is served a little earlier than my normal schedule.  So I made sure I cut off the chat and get to my hotel room to get the proper rest.  This is real departure for me, since I'll commonly be up until 2 or 3 in the morning talking with people on Facebook from across the world.
Water.  This was the most important thing of all.  Stuck on a mountain top at a large resort, I knew I wouldn't be finding much food I could eat (I'm pretty fussy).  Yes I brought my own goodie bag, but there is so much one can do.  So water became more important to me than it usually is.  I drank water to cleanse myself from all the prepared foods that just couldn't be avoided.
Meeting the new family members was great.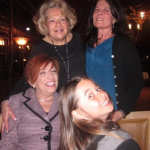 But it did involve a fair amount of cocktail chatter, which is something I rarely get involved in.  
It was a very long time since I had a Tangueray and Tonic.  Yes, the drinks were watered down, but I didn't consider the fact that Tonic water was loaded with sugar, plus a fair amount of sodium.  This is where I ran into trouble. 
I woke up the next morning with puffy eyes and swollen feet!   OMG… how the heck was I gonna fit into my high heel shoes?  What about those puffs?   Luckily there was a spa on premises and I got a facial to un-puff!  Then stood in my room for an hour with my feet up!
This was so unlike my blogging world where I sip lemon water and black coffee, take a half hour break for a swim, then back to the keyboard.
I was in a strange, unfamiliar world.
Ready, Set, Go.  The festivities were on.  There was not one single thing that day I could consume –  wedding food always sucks!  I mean, it was "good", but so unlike the simple diet of steamed veggies and whole grains that dominate my typical daily diet.  So, I ate bread and water for the most part.  Sort of a jailhouse diet in a plus resort… lol.
I was tempted to sit at the computer in the lobby to quickly check in on my blog and my peeps.  But I stayed strong.  I restrained myself.  I just found another person I didn't know – introduced myself and jumped into yet another great conversation.  Online or offline, that's what I do!
Every time I was tempted to think about my blog, I switched gears.
Some nice things actually came out of that.
For instance, at one point of rather intense weakness, I resorted to getting a full body wrap at the spa and slipped away into never-never land!
So, the bottom line my blogging friends, is this.  There are many ways we can actually have a good time without checking into our online world.  
This little vacation from my computer reminded me of the importance of living "in the moment", as they say, whether that means in real life or virtual adventures.  
And I sure was in the moment.  I had a fantastic time seeing my grandkids from across the U.S.  I got to play with one granddaughter, held the new one in my arms for the first time (she's just a few months old), and simply became part of all the festivities.  
The funny lesson I learned about all this is that when you finally come back home, everything is still there.  Plus, I really did deserve a great time!  
Have you had similar experiences when you took time away from your business?  Were you anxious?  Or did you take your business with you and check into your blogging world on a regular basis?  Or…maybe, like me, you unplugged altogether.
I would appreciate you sharing your story in the comments below.
Blessings,
Donna