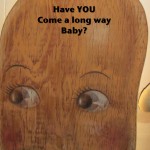 In my last post, I celebrated my 200th blog post.  I had listed bloggers that I've known for a long time.  It made me think of how far so many of us have come with our blogs and online businesses.  So I'll ask you this: have you come a long way, blogger?
Then I received an email from Mary Stephenson telling me that she was writing her last post and shutting down her blogsite.  Mary is a good conscientious blogger because when someone shuts down their blog, it creates "404 errors" from their comment links.  While reading comments to her final article, I found out that Sue Neil also was leaving the blogging world, on to new endeavors.  These are two great women who I wish all the best to.
So I started reminiscing about when I first came into the blogging world.  
Things were so different.
Changes rapidly occurred during the past few years.  I've seen bloggers start businesses and put their energies into them and develop online incomes for their efforts.  Some bloggers I've known from way back developed into great affiliate marketers.  Some have taken their writing skills and started selling books on Amazon.  Others, like me, have created their own digital products that were sort of an outgrowth of their blogging.
The blogging world is growing fast.  As new people come on board in leaps and bounds, I see their enthusiasm and hopefulness to start somewhere to create a business for themselves.  When I looked back at my first blog post, it was quite funny to me.  I was doing some affiliate marketing in those days.  Thank goodness I learned the 80/20 rule of pouring out good content most of the time, while selling or promoting only 20 percent of the time.  I see bloggers all the time who just don't understand that concept.
Over time, I added an opt-in offer to start creating my email list.  Some of you may have seen my opt-in "lead magnet" video series about overcoming procrastination.  It wasn't the greatest video quality in the world, for sure, but it still brought many followers onto my list.  I just didn't know how to market back then, though.  Shoot… I could have made a few bucks from that little video series lol.   But it did become a very popular lead magnet offer.
I spent the next 2 years taking marketing courses, joining marketing groups, and then got really serious.
I built a team of pros to assist in the development and marketing of my product.  Phew…it takes time, devotion and willingness to learn.  But I'm really proud of the outcome because it is helping many new and seasoned bloggers really learn the right way to do this business.  You might want to check it out here.
I speak for myself when I look back 4 years and say "You've come a long way, baby!"   And it's been fun seeing so many other bloggers develop their brands and their businesses, as an outgrowth of their blogging.  To each of them, I say: "You've come a long way, blogger".
Have You Come A Long Way, Blogger?

I think it's good to look back once in a while to see just how far you've come since you first started blogging.  Sometimes it's great to go down memory lane and look at your fellow bloggers, too, and acknowledge their success.
The women I mentioned above, may have left blogging, but that's because they found another direction to follow.  I know they learned a lot from the blogging process that will help them move forward as they follow their new paths.  I'm sure that blogging has helped them to carve out their new beginnings.
When we start to blog, we come out of our box and leap into a world as unknown newbies.  We do the best we can, and we forge ahead with patience and persistence.
We learn so many things every day just from visiting other blogs and interacting on social media sites.
We start growing in different directions.  What we think may be our niche at first can morph into something else, and that's OK… We are following our passions and constantly sharing with others.
Most of us have used our blogs as a home base from which to enter the world of marketing.  No matter where you are at this point… newbie or seasoned blogger, there is always growth ahead.  You will come a long way, blogger!
So my friends, don't give up.  We change as we grow.  Sometimes our endeavors in blogging take us offline, too, and that's great.  I know many who have done offline work for other businesses by setting up blogs or social pages for them.  Others have used their blogs to build their own business or attract others to their business opportunity.  Blogging was the key focal point for all of these people.  Maybe they blogged a little more or a little less, but their "home base" was always their blog.
Now, these are my observations that have been taking me down memory lane since my last post.
My question to you is how far have YOU come since your first blog post? Have you "Come A Long Way, Blogger?" Did you come into blogging with a good mentor or not?  Have you changed or maintained your niche?  Have you been involved in any form of online marketing?   Have you learned to fully leverage social media?  I would really like to know..
Blessings,
-Donna