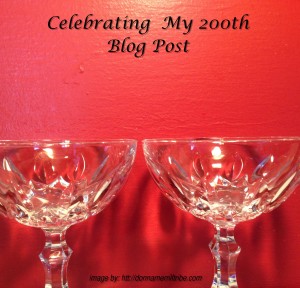 What can I say about reaching this milestone of my 200th blog post?  
Well, let me start here.  A few months ago, I was alerted that our images, even paid ones could lead to copyright problems unless you are extremely careful. 
Some people were faced with law suits, because they were grabbing free images and others, who had paid for images were also finding problems due to licensing restrictions that they were not aware of.  The "terms and conditions" have changed.  Woweee…..That made me go through my blog and start changing many of my images.
A funny thing happened along the way. I stopped to read my first blog post.   What a laugh I had!  So, I just had to read a few of them and found I just wanted to toss them.  But, I decided not to because it is a great learning experience for my blogging clients.  "Read my first blog post,"   Now…. "read this one".
It is all about progression. 
When we first start, we usually have some kind of mentor that we follow.  It can be a bunch of videos we learn from, or a company that tells us how to blog.   Or maybe you are a daring blogger that reads lots of blogs and tries to emulate those you respect and admire in your niche.
Whatever the case may be, you will always learn as you go along. 
When I started blogging I was taught to learn something and write about it.  It still holds true to this day, but I like to think I became more skilled and savvy over time.  Also, when you are a blogger, you read so many other blogs.  You get ideas, you research, you are constantly scaling a learning curve.  
Blogging has become part of my life now.  So, I decided to share my celebration with some of those who have been following me for a long time. So pull the cork on the champagne bottle and let's raise our glasses to the great people who have been my loyal readers.
Adrienne Smith   http://www.adriennesmith.net/
Sylviane Nuccio  http://sylvianenuccio.com/
Bill Butler  http://www.williambutler.ca/
Kumar Gauraw   www.gauraw.com
Lisa Buben    inspiretothrive.com/
Sherman Smith    www.shermansmithblog.com
Barbara Charles  http://barbaracharles.org/
Harleena Singh   http://www.aha-now.com/
Marquita Hearald  http://www.emotionallyresilientliving.com/
Dr. Erica Goodstone   http://www.drericagoodstone.com/
Chery Schmidt   http://successcoach.chery-schmidt.ws/
Leslie Denning  http://lesliedenning.com/
Sarah Arrow   http://www.sarkemedia.com/
Yorinda Wanner    http://yorindawanner.com/
Rebekah Radice   http://rebekahradice.com/
Mayura DeSilva   www.mayura4ever.com
Monna Ellithorpe    http://monnaellithorpe.com/
Michael Robinson   www.foodontheblog.co.uk/
Sue Price   http://suejprice.com/
Angela McCall   http://angelamccall.com/
Nick Catricala   http://kaizen01.com/
Rachel Lavern    http://workfromyourhome101.com/blog
I only wish I could list more, but these are certainly some of the folks that have followed me for a very long time.  I love each and every one of them, and I know that if you check them out, you will find each of them to be very interesting.
So, for my 200th Blog Post Celebration, I tip my glass to all of you that have been commenting, syndicating and being by my side for so long, whether or not you are actually on this short list!
Many blessings to all,
-Donna