This post was most recently updated on October 7th, 2014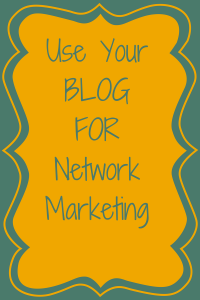 Network marketers need to build teams.  Teams of customers, but even more importantly, teams of sales reps or organization "down-lines".
Team building is why they're be engaged in network marketing to begin with.  Yet, they're frequently content to settle for a company website or the "company replicated blog".  That's a big mistake, though.
The whole concept of a network means that you need to reach out to lots of people, and interest them in what you are doing.  
If you're building a team of sales representatives in your company, as you would be in a typical MLM or business opportunity, you have undoubtedly been exposed to "warm market" techniques.
In fact, I consult people all the time who are taught by their sponsors and up-line leaders to develop their warm markets before they even try to do anything else.
That means, you're supposed to talk to real people offline, in the real world.  Talk to them at the family picnic, on the grocery store line and anywhere else you can think of.  Some team leaders tell their down-lines to "talk to 5 people a day" or some such thing.
The idea here, is, that to build a relationship based on trust and likeability, you must talk to somebody person to person.  Even if you develop "cold" networks, the ultimate goal is to get people on a phone call, a three-way call or even a home party or meeting of some sort.
While warm markets are where you want to be to develop a trusting network, you don't have to focus on friends, family and co-workers.  You don't have to roam grocery stores and malls looking for prospects.
Network marketers can easily approach cold prospects, grow them into a cold network, and warm them up real quickly.  This can best be done with blogging.
Blogging is a great way to convert perfectly "cold" strangers into a "warm" market real fast.  In fact, you can warm these people to your message and pull them onto your team even more easily than you can interest friends and family.
I meet with clients, followers and perfect strangers quite often.  Because I am a blogger (whether or not they're familiar with me), cold folks warm up to me real fast.
Here's a little snippet of what I'm talking about.
Blogging is definitely the place to be for network marketers.  It's far more effective than family picnics, and probably a lot more fun, too 🙂
In fact, one of the best ways to build a real business with your blog is through network marketing.
You can learn more about how to build a business with your blog on an upcoming webinar that I'll be co-hosting with David.  
The webinar is a paid event, but it is free to VIP Club members (as all our paid trainings and courses are).  
You can check out the VIP Club here.
So, here's the bottom line.
If you are a network marketer, it's time to find out why blogging is the best platform for
growing you business quickly

grabbing a steady stream of leads and prospects, and

converting them into a warm market by implementing

just a few simple strategies.
Understanding how you can leverage the marketing power of blogging will save you tons of time, energy, expenses and good old fashioned angst.
I'd love to hear if you've made blogging a key to your network marketing strategy.  What successes have you had, or what challenges have you encountered?
Please be sure to share this article with your friends on your social share sites.  I always appreciate that!