This post was most recently updated on July 30th, 2016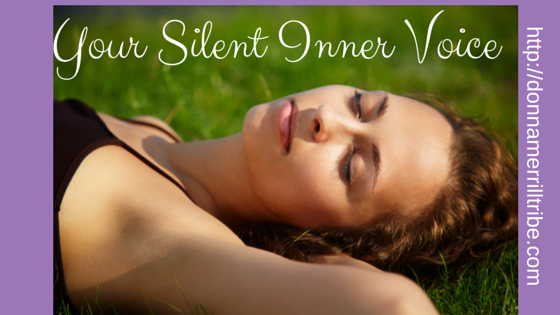 Your silent inner voice often can speak loud and clear when you allow it.
Did you ever get a vision of what you want to do for your business?
By this I mean a totally clear understanding not only in your mind but also throughout your entire being.
Something that pops up and you actually envision it and know in your gut it is what you need to do?  Then, by sheer intuition, follow it and take action on it?
Recently, I did exactly that.
There was so much noise going on in my head.
My blog, my products, how to leverage my contacts in the JV world, as my mentors were suggesting that I do.
So many mind boggling things that I had to just step back.
I had to tell all the little voices in my head to Shut Up!
I only wanted to hear one voice, my own silent, inner voice.
So I knew it was time to stop "taking action" and retreat into myself… through meditation.
The Silent Retreat
Don't you just hate it when you feel like your mind is spinning with ideas and it feels like you are pushed in many different directions?
Phew… I needed to calm my mind.
I needed to spend some serious time with myself in deep meditation.
Here's what that looked like.
Unplug.
Prepare to meditate.
Relax my mind and my body.
Breath deeply.
Don't think of anything but breathing.
I relaxed every part of my body, concentrating on each part one at a time, from my head, down to my toes.
I felt myself sinking into my bed.
I tried not to think of anything but my breathing.
Just be in touch with my inner self and my silent inner voice.
I went to a place that I call 'my center' and hung out there for a while.
After a while, I allowed myself to think about the journey I'm on.
Facing Obstacles Through Silence
My online business, and all the various aspects it has almost spontaneously morphed into.
I asked myself "what is the biggest problem I need to solve in order to get into the crazy fast paced, high-rolling energy of the Joint Venture communities I'm now deeply involved in?"
I don't like the mad rush to "money, cash, fast results, big results, dollars bills falling from the sky" and all the other hype in the JV world.
I asked in this calm state of mind.
My entire body had a sense of knowingness at that moment.

I knew I was good talking to people… not as mega machines and profit steam-rollers, but as people.
I saw the vision so clearly.
I was going to talk to people who were creating products and people who are big influencers shaping the the online community and marketplace.
I knew at that moment I had to start doing interviews.
I felt like the late Joan Rivers (bless her in heaven)…  The ageless woman who could talk to just about anyone, about anything.
I felt this deep inside my soul.
AHA!
Then the moment hit me.
In New York City there is a radio station that says "give me 20 minutes and I'll give you the news."
This resonates with me because I liked the style of just cutting to the chase, no hype, no non-sense.
I could always turn to that radio station and get informed of the latest news of the day in small chunks of time.
The stories were short and concise, but they really gave you the essence, the heart of the bigger picture of which they were part.
AHA…..
Yes, the AHA moment came upon me.
I could do short, punchy yet revealing interviews with people shaping the online world.
I'd tell folks to "Give me 15 minutes I'll give you the world."    The world of internet marketing and business, that is.
Meanwhile… remember this all was happening in a calm meditative state.
No noise.
No confusion.
Special: This "Secret Society" Can Be The Linchpin To Your Online Success
Just everybody "shut up" and let me hear my inner voice.
This is how I found my clarity.
Back To Reality
So, I went into my office and told David about my great idea.
I was going to set up another website called Donna Merrill's Buzz and the tag line will say  "give me 15 minutes and I'll give you the world."
David looked at me with a furrowed brow.
He said "You are working so hard, I don't think it's a good idea to take on another project."
David is always concerned about me… That's what good husbands do.
But I explained to him that the biggest stressor was how I was going to be able to engage with all the online influencers I've been hanging out with since I started developing my own products and membership site.
Despite his initial hesitation, David knows me well.
He started building my website that night… asking no questions, just his sense of knowingness that I was OK.
Your Silent Inner Voice
So my dear friends, where am I going with this?
There is so much we need to do as solopreneurs.
There are so many voices telling us the "right" and the "best" and the "fastest" way to make it all happen.
Sometimes, the best thing to do is tell all the voices to "shut up."
They make your head spin, especially if you are really determined to grow our business.
You need quiet.
You need to create space and time to hear your silent inner voice.
No ideas, suggestions and certainly not pitches.  There's a time and place for all those things, but there's definitely a time to shut them all up, too.
You need to take time out to meditate, especially when things are swirling around your head and you start feeling like you need more time than 24 hours a day.
My Results
So far, I've been really happy that I took the advice of my own inner voice.
I opened the Buzz up with Adrienne Smith.  We talked about her rise to blogging prominence, and she gave viewers some insight into building a blogging community.
Then I spoke with Leslie Federici (Power Affiliate Club)  about the blogging community she runs for affiliate bloggers.
I reached out to Matt Wolfe to get some of his great ideas about Facebook ads.  He's such a focused and bright guy, he gave my audience a lot to think about, and act upon.
Later that same week, Welly Mulia contacted me and said he had some time to do an interview on one of my favorite programs Zaxaa.
I felt so blessed to be able to spend some "hangout" time with Welly, one of the premier internet platform developers in the internet marketing world.
So the past two weeks were full of interviews that I feel were really beneficial to my audience.
And it all came into fruition, practically overnight, because of one vision, taking action, and the sense of knowingness.
I want to thank all my wonderful "Buzz" guests for sharing their time with my audience.

Now for your part, I would like you to check out the buzz and sign up for notification updates.
I never know who will be coming down the pike.
I want to keep you updated on the latest and greatest of what's happening online, directly from the folks who are making it happen.
Yes, I do cherry pick my interviews because I want to bring value to you.
It may be a product or service you like, or just want to give it a peek and see the creators behind products.
So go on over and check it out.

And if you're struggling to put your own business on the right track, try shutting out all the noise around you once in a while.
I know you're anxious to get things done, but sometimes you need to retreat from all the external acitivity, and have a long, deep audience with your inner voice.
Stay in touch and have a peaceful week ahead.
-Donna