This post was most recently updated on October 13th, 2017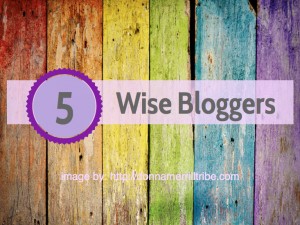 I want to introduce you to 5 wise bloggers who have been writing some really valuable articles lately.
I know each of these 5 wise bloggers very well and wanted to give them the recognition that they are so well deserving of.
More than that, since these posts are mostly about blogging, each one you visit will help you learn more about the art and business of blogging. 
So let's get acquainted with these 5 wise bloggers, and explore some of their recent works.
Wise Blogger #1 –  Adrienne Smith
Adrienne recently wrote a fantastic article called "Why You Are Never Too Old To Blog." 
I loved this post because there are so many baby boomers that may be at that retirement stage of life, or others that have been downsized out of their job.
Even better, there are many who anxiously seek entry into the business of blogging, and have so much to offer.
This article hit home with me because I didn't start blogging until I was in my 50's.
I had an offline practice consulting at the time, and was seeing many of my clients losing their jobs and retirement plans.
I wanted to explore online opportunities for them, and started this journey by becoming a blogger.
As my blog has become so successful, I have been able to open doors into online business for those who have followed me, and walked in my footsteps.
So, I certainly agree with Adrienne that you're never too old to blog.
Wise Blogger #2  – Sherman Smith
Sherman has written a really interesting post on "How to Make Blogging Less Time Consuming." 
Sherman gives 4 ways to make blogging less time consuming.
I was so compelled by this article that I just wrote a list of blog posts I plan to write over the next 3 summer months.
I plan to write them ahead of time and load them up as drafts. Then, all I have to do is press "publish" on their due dates, and spend more time at the beach!
There are some really great ideas here that will help bloggers to optimize their work time, while avoiding some of the all too common misconceptions that steer them off in the wrong direction.
If you've been finding blogging to be too much of a task for you to handle, yet you know how important blogging is to your online business success… this blog will really help you out.
I thank Sherman for the many great ideas he's compiled in this article.
They are sure to help me, and all my blogging friends, to spend less time being busy, and more time being productive.
Special: Are You Sabotaging Your Blog Because You Were Taught The Wrong Way ?  It's Not Your Fault!
Wise Blogger #3  – Harleena  Singh (Aha Now)
Harleena has written an article titled "Blogging Basics: CRUX of Blogging Tips for New Blogger." 
After 4 years of having an incredible blog, Harleena knows her stuff and she shares it with you in this post.
It's an honest evaluation of what's required to become a successful blogger, based on Harleena's "in the trenches" experience.
As she points out, it's no one thing, but a combination of many tasks.
New bloggers, though, don't begin to know what these tasks are, or how to go about executing them.
No worries.
Harleena has laid it all out here in this post.
Wise Blogger #4  – Jens-Petter Berget
Jens recently wrote an article called "5 Most Important Reasons Why Bloggers Fail."
In this post, he focuses on the journey of blogging.
I, too, consider blogging to be a journey.
Along the journey, there are attitudes and strategies that can serve you very well.
They can, in fact, help you stand out in the crowd.
They things that Jens talks about in this post are simple and straightforward.
Yet, they are powerful and insightful.
They can make the difference between struggling without clear definition of purpose, brand or "voice," and presenting yourself in a way that is refreshing and inspiring to your readers.
These are the things that can really attract readers to you, and to your message.
Special: The Truth About Blogging (VIDEO Inside)
Wise Blogger #5  – Marquita Herald  (Emotionally Resilient Living)
Marquita has been a blogging friend of mine for a very long time.
She always gives so much me so much value and peace of mind each time I read her blog.
Recently, she wrote: "Remove the Clutter to Find Peace Of Mind." 
This article is a real gift for bloggers.
Now, it's not about blogging, per se.
But the concepts, tips and strategies Marquita reveals are critically important for every blogger to implement.
You see, to be successful in blogging, you must have a clear and focused mind.
One of your biggest enemies is confusion and overwhelm.
It's all part of a mental apparatus that Marquita calls "clutter."
It's one of the main things that causes bloggers to fail.
In this post, Marquita explains exactly what clutter is and how to most effectively deal with it.
Believe me, this is an article you want to read very carefully if you aspire to be a successful blogger.

Hope you can visit these 5 Wise Bloggers because they all have helped me by reading their posts and I know they can help you too.
What are your particular challenges with blogging these days?
Are you a newbie, or have you been around the block a few times? (or more… lol)
Trying to build a list? post great content? interact on social media? get traffic? get past the "overwhelm?"
There are so many hurdles for bloggers, but here's your chance to ask these 5 wise bloggers (and me, of course) some of your tough questions.
Dig in!
-Donna