This post was most recently updated on July 31st, 2016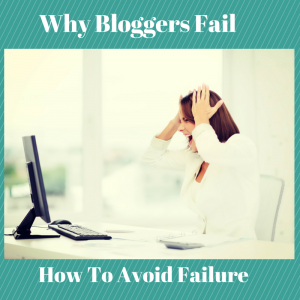 I've asked Harleena Singh to write this guest post as to "why bloggers fail in blogging," and how to avoid that possible failure.
Harleena is a passionate blogger and founder of Aha!NOW, which is one of the most popular self development blogs.
She also offers blogging advice and consultancy. 
Many new bloggers are afraid of failing in blogging, especially when they invest a great deal of their time and money into it.
So, I'm happy to share with you now, Harleena's advice for how to avoid failure.
Why Bloggers Fail In Blogging (And How To Avoid That)
Thank you Donna for this wonderful opportunity – I was so thrilled when you asked me to be your guest
on your blog!
In this post I'm going to share my blogging experiences hoping that your blog readers will benefit in
some ways.
In my more than four years of blogging, I've seen many bloggers come and go.
That's because a majority of bloggers fail in blogging or quit within a year of starting their blogs. There
could be many reasons for their quitting, but let's not get into those details here.
Except for a few familiar faces, every year I see some new faces and blogs.
Today I'm going to delve into some factors that bloggers need to consider to avoid failure in blogging.
Though my suggestions may not guarantee success in blogging, if followed, bloggers will have better
chance of sustaining and continuing blogging while enjoying it.
However, before going any further, let me tell you that success in blogging is interpreted differently by
different people.
It can be running a blog for a long time, making many online friends, getting big number of followers on
social media, or becoming a popular blogger among the many interpretations of successful blogging.
Eventually, every blogger expects that the results of blogging should commensurate with the efforts and
time put into blogging.
Since time is money, most people consider the blogging income as a yardstick of success in blogging.
It doesn't matter what you consider as failure or success in blogging, you might find my thoughts and suggestions helpful.
Starting With The Basics Of Blogging
If you understand the basics of blogging and your foundation is strong, your blogging approach and
attitude will be more practical.
First, you need to contemplate and define the basic concepts and terms of blogging for better
understanding by answering these questions:
What is blogging?

What is a blog?

What do bloggers do?
Pretty simple, isn't it?
Ironically, not everybody who ventures into blogging does any serious thinking on these terms.
Most people just jump into the blogging arena assuming that they will make it big like the great names
in blogging.
However, that really doesn't just happen. Mere wishes and assumptions are not going to be true if you do not understand and implement the basics.
What Is Blogging
I'm not going to go into details about what is blogging here, as you can read a lot about it on the
Internet. But I'm going to tell you what concept and reasons of blogging people have when they start
their blogs.
Personal Journal – This is how blogging started, as your personal diary – a record of important events and incidents of your life, or a showcase of your thoughts.
Nothing bad in that but most people become disinterested in such log records and discontinue blogging.
Even if they continue, they hardly get any readership, unless they are celebrities, of course.
Passive Income – Honestly speaking, this is the reason why majority of people start blogging. For them,
blogging is like a magic wand – start it and you will keep generating money magically!
Alas, this is just a false dream.
It may have worked a bit in the past, but today if you are passively engaged into blogging, you may pass
out of blogging without earning a penny (this is a bit exaggerated but you may not earn income as per
your expectations!).
Pursuing Hobby – It is good to follow what you love, so hobby blogging should be a good thing to do.
But how many people really sustain their hobby blogs?
There are recurring expenses and since they don't have many blog visitors, monetization options like
Google Adsense don't really give much return.
Even blogging on social interests fails after some time because

blogging is not easy

.
That's right – this is one of the harsh realities of blogging. I've a post that goes by this title on my blog and it describes the many fallacies and obstacles of blogging.
If you are doing this and only this, I'm afraid you might fail in blogging.
Blogging requires more planning, hard work, and your time.
Blogging is a time-consuming job!
It requires you to engage socially with people on your own blog, on other blogs, and on various social
media networks, besides creating quality content that is not about yourself but useful to the readers.
Blogging is not about being passive but requires your input and interactions on a daily basis. You have
more chances of earning passive income from your blog if you are actively blogging.
Which of the above-mentioned categories do you fall into?
None of them? That's very good! 🙂
However, even if you did, you can still change your course and head towards the path of success,
whatever it is as per your personal definition.
What Is A Blog
A blog is a repository of articles that can be accessed online.
Is this your definition of a blog?
Well, you are correct, but this is only a part of the answer.
You can add that a blog is a medium to express your feelings and interact with the visitors, to mutually
exchange diverse point of views.
A blog also becomes a social hub and a gathering place of like-minded people where conversations are
the lifeline. It can also be a place where people look for solutions.
Your blog can also be a marketplace or your little shop where you sell your products and services. If you
have an existing business, your blog can be the tool to cater to customers or potential clients.
A blog can become your business or a business tool, depending on your resources and revenue model. It
is also a medium to help you develop a list of interested readers or potential customers.
What are your views about a blog?
Do you still think it is merely a collection of blog posts?
Let me know in the comments below.
You'd be limiting yourself and curtailing its potential if you think so. If you wish to be successful in
blogging, you need to look at your blog from a different perspective.
Your blog is a direct or indirect mode of earning authority, gaining popularity, earning revenue, and a
mode of creating brand value through active blogging.
What Should Bloggers Do?
By now I think you have the complete picture and would be able to define what a blogger should not do
so as not to fail in blogging.
Conversely, here is what you as a blogger should do to be successful in blogging.
10+1 Things Bloggers Should Do To Avoid Failure In Blogging
You might be doing some of these things already while the others of you might be working on your blogging agenda.
Don't forget to check out the bonus tip!
1) Create quality content that is well formatted and presented
2) Deliver new and useful information even if it is based on your personal experiences
3) Solve the problems of your readers
4) Keep your readers interested and have them come back for more
5) Become an authority of a niche and help people
6) Develop your blog aesthetically, navigationally, and technically to create a better user
experience
7) Engage your blog readers through comments
8) Promote your blog and interact with people and fellow bloggers on social media
9) Develop relationships with other bloggers through reciprocation and blog commenting
10) Create a blog community and a list of interested readers with email addresses
If you do the above ten things, you have better chances of becoming successful as a blogger. However, if you implement this final and eleventh suggestion, you will never fail in blogging.
11) Finally but most importantly, directly or indirectly develop your blog as a source of revenue so that it fuels your passion to remain committed and consistent in blogging.
You may not be into blogging for the sake of money as I too was like that initially.
But considering that blogging takes much of your time, if you commit yourself fully to it, you need to
earn through it, else your livelihood suffers.
I think most bloggers fail in blogging because they are not able to earn through their blogs. Some even
leave their full-time jobs, only to regret later.
Of course, some even drop off the blogging path either because they find it too taxing or their blogging
bubble bursts as it was based on blogging myths and not the realities, or perhaps some other reasons.
If you want to avoid failure as a blogger, you need to develop a plan, keep working on it, and have
patience.
Blogging can be fruitful if you do the right things under the right guidance.
Donna's blogging magic and mentorship plans would be really helpful to have a smooth and successful
blogging journey.

Please share your thoughts in the comments on why bloggers fail in blogging and what they should do to avoid it.
Needless to say, if you liked the post, please share it with your friend's.
Donna and I would appreciate it 🙂