This post was most recently updated on July 31st, 2016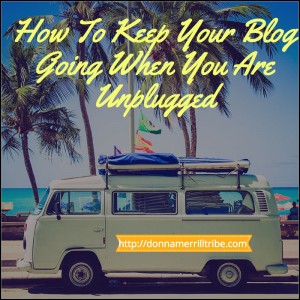 You may be a new blogger or a seasoned one.
Either way, you do have a life.
And there are going to be times where you need to be unplugged. An illness, time with family members or vacation.
Whatever it may be you don't want to keep your blog dangling there in space for a few weeks time while you are away. So what do you do?
You can have some blog posts pre-written, but you will have to answer all those comments and reciprocate to the commenters.
Maybe you can fit that in on your time off.
But if you really need (or want) to be unplugged the answer can be quite simple.
I'll share with you an example of what I did and where I was the past three weeks.
My Summer Vacation
I planned a trip to go cross country to see my step children and their kids.
It's been about two years since I've seen my three grand kids that live in L.A.
One of my step kids had recently moved to Seattle.
Therefore they are all on the West coast (U.S.) and we are on the East.
Yes, we Skype and Face Time chat, but they are growing like weeds and I wanted to spend some quality time with them in person.
I also house-swapped with my brother who lives in Seattle so I could spend time with my niece who I haven't seen in a few years.
I knew I was going to be unplugged and would not have much access to the internet.
I didn't want to be tied to my phone and be checking in all the time while I was with my family.
I wanted to clear my mind and enjoy the trip without worrying about my business.
So many people, so little time.
There was no way I wanted to be in the online world with the precious time I had to spend with my family.
So what's a gal to do?
Reaching Out
Being a blogger for several years, I a pretty tight with my own community of blogging buddies.
I asked Ikechi Awazie ("The Most Common Excuses For Not Being Listened To") if he would be kind enough to guest post on my blog the first week I was away, and he did so with compassion and professionalism. I knew my readers would like to meet him!
The second week, I had asked Harleena Singh ("Why Bloggers Fail") to post to my blog. I knew she was taking a break herself and putting together a new blog of her own, so when she said yes, I did a happy dance.
Despite her busy schedule and all… she came through for me!
I was able to relax and enjoy my time away with no worries at all because of these two blogging friends.
Blogging Communities
So my dear readers, how can you be able to do this?
It all comes down to having a blogging community of your own.
Now, this doesn't mean the communities you join on Facebook or Google+ but more than that.
This a community you build from the wonderful people who come to your blog week after week, and that you visit regularly to learn from their blogs.
Over time, you start growing your relationships via comments and social shares. It often grows into friendships and business partnerships.
Building your own community is a key ingredient to building your own business.
Special: This "Secret Society" Can Be The Linchpin To Your Online Success
It is something that grows as long as you keep up your end by always reciprocating and helping out and sharing.
I am truly blessed to have a community of people here on this blog and on social media. I've developed some great relationships and made many good friends along the way.
How To Build Your Own Blogging Community
1. Diligence. As your time allows, visit from 1 to 5 blogs you find interesting each day. Please read the entire post and leave the best feedback you can. Always address the writer by his/her name, and leave an honest and intelligent comment. Never a one liner like "Good Post!" That will probably get land you into the spam folder.
2. Connection. Always connect with a new contact on their social sites. When you finish your comment, share it on those sites.
3. Awesomeness. Go the extra mile. If you really are impressed with a new blogger you come across, you can even shoot out a short video and post it on social sites saying that you "just visited Jane Doe's blog and was thrilled to learn…"
4. Consistency. Visit new bloggers repeatedly, at least three times. If they don't reciprocate, cross them off your "community" list. Go on to the next person, someone who is happy to become part of your blogging circle by reciprocating and engaging. Repeat this process each and every day. You don't necessarily need a huge community, but you need to be ever so consistent with those you've build relationships with in this way.
5. Patience. Always be patient. Keep in mind that it takes time to build a community and even a single relationship. Don't get over anxious! Use the analogy of dating. You wouldn't ask someone to marry you on the first date would you?
6. Mindfulness.  Be mindful of how people are reacting to your blog. Maybe they have a question. You can answer it in the comment section, but go that extra mile again. PM them on Facebook to further discuss the question they had, or challenge they're facing. Maybe you can even have a phone or Skype conversation about it.
These are a few tips that worked for me and I know that if you, my dear reader, have an open mind and kind heart, it can work for you too.
Blogging takes a whole community of people to make things work. Your article is just one tiny drop in the sea, but it is a powerful start. The rest is all about relationship building with others.
So my dear friends, my little vacation is over.
I want to tell you how great it is to be back in the online world again.
Although I did have a blast of a time traveling, it's great to be among my online family.
Sometime I feel that getting back to my blogging community is my real "home-coming." Great people, Great times!
And may I even mention here that while I was away, my sales were on cruise control. After being back two days I realized I had 14 sales of my WSO products while I was away… Yippie!

So how about YOU?
Have you made these kinds of connections?
Can you get away and unplug with ease without worrying about your blog or business?
Do you have someone that you can rely on to take care of your blog while you are gone?
Let me know in the comments below.
-Donna