This post was most recently updated on July 31st, 2016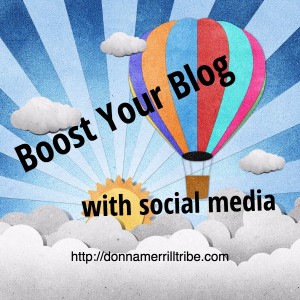 You can boost your blog with social media by crafting a daily work plan… and sticking to it.
Social media sites are pretty hard to ignore if you are trying to build a successful blog, or any other online business for that matter.
Always remember that you are the face of your blog and you need to establish a robust social media presence in order to gain recognition and attract visitors to your site.  
As you work hard to attract attention via social media, though, it's important to remember that nothing you do and say on these sites will ever go away… it will always be there.  
Now, this is great in terms of building an evolving story of who you are, and what your blog is about.  But it can be hazardous if you put out content that can harm your reputation, or undermine your brand.
Very recently I read a story about a highly acclaimed political campaign manager who was removed from his position because of some controversial comments he made on his social media channels nearly a decade ago. 
Unwritten Rules
Although you want to stand out and attract attention in the social media crowd, there is a certain etiquette you need to follow.  
I always liken social media to a party in slow motion. 
Think of it for a moment. 
If you went to a party where you didn't know most of the people, what comes to mind? 
Proper clothing depending when and where the party is.  You wouldn't wear your sweats to a wedding!  There is a certain dress code to abide by when mingling socially… it is an unspoken, but essential etiquette. 
Presenting yourself on social media sites is no different.
Here are some of the rules to be mindful of.
Be Approachable
At the party, you walk into the room with a smile would be on your face.  Don't you?
That in itself is a welcome signal to others. 
The same goes on with social media.
Special: Mastermind With Me… On The "VIP"!
You always want to be approachable.  This is setting your tone and it has to come from an honest place, not a fake one.  
Involve yourself in conversations, but don't be a know-it-all, or a hard nosed "expert."
Probably the biggest part of being approachable is to never post sales links (spam), and don't ask people to join you in a business, or visit your site of private page.  
This looks an awful lot like hawking and spamming and people will no want to approach you.  In fact, they'll avoid you like the plague.
Focus On Others
When you are at a party it is not proper to go up to a stranger or an acquaintance  and bore them to death talking all about yourself.  You can clear the room out if you do that and the same applies on social media sites. 
"Look at ME"  will never grab attention. 
Instead, talk about things others have said, give them credit for their shares or insights, and mention them by name often.  
This shows that you're more interested in your friends and contacts, than in yourself and your business.
As you scan down and see your friends post something that you are honestly interested in, like and comment. 
Give them a thank you for posting this because… "You have brightened my day," "you have just encouraged me," etc. 
Now you are getting somewhere.  You are using etiquette while giving a little recognition and feel-good acclaim to others.
Don't overwhelm people.  Consistently share good value to your friends, but don't be the person at the party who just never takes a breath.  
Let others talk, too.  Sometimes it's more important to be a good listener than talker.  
In fact, urge others to have their say by asking questions that bring them into the conversation.
It's one thing to say "I'm looking to add a dog to my family, and my favorite breed is the hound."  
Special: Join My "VIP Club" Today (Intro Price Freeze Ending Soon)!
But how much more engaging it is to say, "I'm looking to add a dog to my family.  What's your favorite dog breed?  I appreciate the help!"
When you're at a party, is it better to say "look at my beautiful dress, doesn't it fit me perfectly?" or "I love your dress, and it fits you just perfectly!"
Build Relationships
As you like and comment on inspirational quotes and photos of our friends puppies and kittens, be aware that relationships  go deeper than that. 
Indeed, this is how you get to know people more intimately, and vice versa. 
Their pets, children, spouses, lifestyle are important to them.  Recognize that and celebrate it along with them. 
We are on social media to get to know each other well and congratulate our friends on their achievements and also be there if they need a virtual hug.
When you see someone has started a conversation, jump in and help out.  Try to keep the momentum going for them, and they'll appreciate you.
Go a step further and make sure to recognize others who have also joined the conversation.  Refer to them by name. Example: "Debbie made a good point.  I think I'll give it a try."
You don't have to be afraid to be a bit controversial at times, but nobody's going to want to hang out with you or get to know you better if you're blatantly offensive or just like to get arguments started.
I avoid talking about religion and politics with my social media contacts, just like I do when I'm with family.
I'd also caution you about going on negative or scathing rants about things, unless you're doing it in good fun.
There are times when you might complain about things, but don't overdo it.
Nobody wants to hang out with the person at a party who has nothing but bad news and attitude to share.
Interact honestly, authentically and compassionately when you're on social media sites.
Use these interactions to get more deeply attuned to others, and when the occasion arises, to share more of yourself with them.
This is how you start building relationships.
Special: Join My "VIP Club" Today (Intro Price Freeze Ending Soon)!
Give Value
Don't be the silly person at the party who laughs at nothing and talks about the weather just to keep everyone's eyes on her.  
Don't just say things to keep your profile visible. 
Post things that help people overcome obstacles, or things that are fun or informational.
This will help keep people actually interested in what you have to say.
Curate content that others will find useful, and interject your own wisdom when it's truly helpful.
Even then, avoid constantly reminding people to visit your blog.  
You can do that occasionally, but really only 10% of your commenting should even remotely appear to be self serving and promotional.
Be informative and always willing to help others.
People like to hang out with people who make their lives better, not folks who just waste their time in order to prop themselves up, or score points in the popularity pool.
Work Within The Confines Of A Clear Strategy
Social media is an awesome place to get to know people, and for them to get to know you and gain incentive to visit your blog.
While it's primarily built on social interaction,  you have to keep some strategic planning in mind because you are there to get eyes on your business.  
So don't just jump on social media randomly.  Develop a strategic strategy that you can implement consistently.
Most importantly, limit your time.
Don't get caught up in spending all your time engaged in idle chatter on social media.  It's easy to do, but will do little to build your business.
Write down a precise plan for just how much time you'll spend each day commenting on your friends' posts, quotes and photos of puppies and kittens.  
Then, schedule time to go deeper than that.  
Do some of your own posting, engage within groups of like-minded people, answer questions and ask questions.
Divide your time the best you see fit among these activities.
Most important, limit your time according to your business plan.  For some people, a half an hour a day is fine, but others may need to spend an hour or two.  I don't think there are too many people that would need to spend more time than that, and an hour is probably a good goal for most.
The important thing is to spend the same amount of time on a daily basis.

What strategy do you use to boost your blog with social media?
I'd love to have your comments below.