This post was most recently updated on July 31st, 2016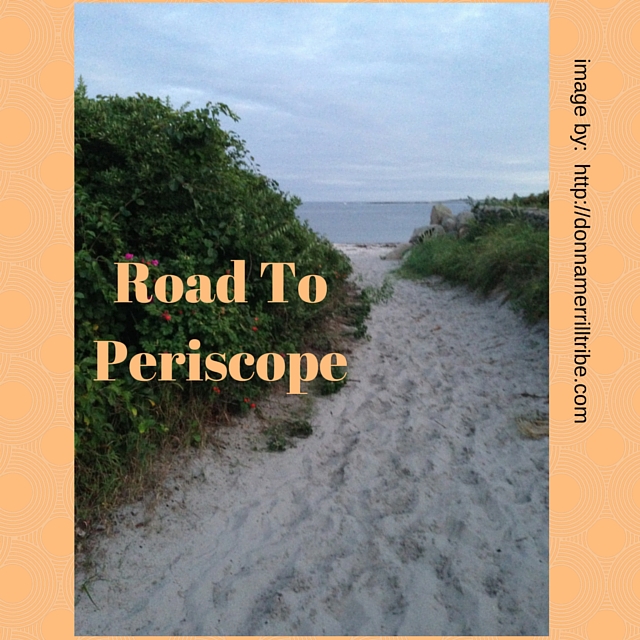 Walk with me, on "the road to Periscope" today.
On a recent call with one of my mentors, it was suggested to me that Periscope is a great way of connecting to people.
Now you know me my dear friends, and I love to make connections with others.
So I went on my way to find out what Periscope was all about, and how I could use it to connect better with you.
I first Google searched Periscope and there it was on the first page of the results.
Somebody had Google+ shared a blog post about her first Periscope.
So I checked it out and there it was… the open door to give me the confidence I needed on the road to Periscope.
The blog post talked a bit about Periscope.
What I really like was that the blogger shared her very first Periscope introducing herself as she walked around her wonderful yard, with her swimming pool and the cutest dog in the background.
Of course, I was attracted to that.
Being a good blogger, I left a comment introducing myself and told her how I got there.
When I leave a comment I do like to connect with people on the social platforms, so we connected.
Ah, a new friend!
But more than that, I am very grateful because seeing someone do something for the first time is always a confidence booster.
I was all excited… but wait!
"How Can I Scope?"
How do I actually do this "scope" thing?
As with most things in life, the best way to get wet is to jump in the water.
I downloaded the Periscope app from Twitter onto my iPhone.
Then I synced it with my Twitter app and I was ready to go!
It's funny, too, because I used to be one of those people who hear about something, and for 6 months think, "I've got to give that a try.  
But, somehow, it never seems to happen.
I've really trained myself to stop procrastinating, give something a try immediately, and if it's not something I like… I move on.  
At least I can say I tried it and I know how it works, instead of always thinking in the back of my mind "I should try that… one day."
Now that I'm all set up and ready to go, the questions, stutters and wondering "ifs" are behind me, and I'm excited to dig in.
So, without further adieu, here is my very first Periscope. (It's under 1 and a half minutes… nothing planned, just off the hip saying "hi" to people and showing off my new skill!)
I wanted to share this with you so that you, too, can get up the confidence to walk with me, on "the road to Periscope" today.
Notice that I was moving around and the scope came out terrible.
It was a hot day and all the lighting was off until I found some shade.
Never move your camera like this lol. It comes out much clearer if you stand in one place.
But, hey, we all have to start somewhere.
For me, this was step one.
So know this, my dear friends.
I had the same feeling as when I posted my very first blog post.
Confused, stunned, but I went forth and did it anyway.
That's how I learn best… by simply doing something.
How about you?
What's In It For You?
Now you may be asking yourself "What's In It For Me?"
Actually, there's a few things that are really cool, and powerful.
Connections with others.
Firstly, understand that your scope will be up for 24 hours for others to share.
You can always download it and keep it for yourself, but within that 24 hour period if someone misses it, they can go back and watch it. The only thing they cannot do is interact.
When you are on Periscope other random people jump in.
They send you messages while you are talking.
So you'll find yourself saying "Hi" to whoever happens to be watching.
I always say that a "video is like a virtual handshake" but this IS way more than that. It is an immediate connection, and you can talk to people right then and there, whenever you want. And they can talk to you by typing in the chat box.
You also get immediate "like" feedback.
It comes in the form of "hearts" that float onto your cellphone screen as you talk.
When people like what you're saying, the can simply tap on their screen.
Tapping their screen will send hearts out to you in real time, as you are talking. It is like saying "yes yes yes."
The more hearts the better.
Remember this when you are watching somebody else's scope, and you find something valuable. Tap away and give that person hearts so they know you're appreciating it.

Sharing.
This community shares like crazy.
You can be watching a scope and share it immediately on Twitter.
Within the few days since I've joined Periscope, I get notifications on my phone to "watch this scope about xyz or that one about abc."
If you get notified of an interesting scope, you can either dive in live and instantly, or catch the replay.
If you like it, you can then send a notification for your crowd to check it out.
Very viral!
Using Periscope for your business.
Like any other social platform… BE SOCIAL when you're on Periscope.
If people are attracted to you they will follow you and you can notify your followers that you will be doing a scope on a specific topic.
Always give good content as you would on a video or anywhere else.
Periscope is like getting friends and followers on high speed.
I've been watching it closely and have found some pretty amazing people giving great value.
Wouldn't you like to be one of them?
As you are using Periscope, you are branding yourself for your blog, or other online business.
Brand, don't sell, of course. Just like on any social media sites.
I did see some scopes to "join my business" and, of course, I ignored them. I know… some people just never learn, lol (and floating hearts).
There are many people on Periscope, but a very small percentage that are actually presenting scopes.
The rest are "watchers."
So wouldn't it be wonderful to get on the leading edge and start branding yourself while building your online business on this new platform?
I encourage you to take a look at Kevin's FREE Webinar that I linked to above, so you can get a better understanding of how, exactly, Periscope works.

When you get on Periscope, connect with me at "Donna Merrill".
I'll be scoping starting sometime this week, and will let you know how it's going.
Meanwhile… I encourage you to put on your thinking cap.
How can you use Periscope to help build your own business or blog?
Leave me a comment below with your thoughts on that.
Walk with me, on "the road to Periscope" today.
-Donna