This post was most recently updated on July 31st, 2016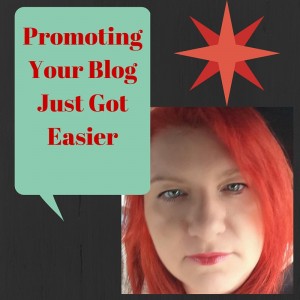 On this guest post from my friend Sarah Arrow will show you how Promoting Your Blog Just Got Easier.
 I've known Sarah for a long time, now, and she is a real pro when it comes to blogging and promoting.  
Here, she will share with you how your blog's exposure and audience reach can skyrocket.
Take it away, Sarah.
"I'm not sure I can follow everything you do if you move onto Periscope" was the comment that made my blood run cold.
Why did an active member of my blogging community think I was moving onto Periscope?
I love blogging.
I was born to blog.
I live to blog.
I'll never stop blogging…†Oh look! Periscope…
What's a blog again?
And yes, I can see why a member of my blogging community would think I'm moving from blogging to scoping.
I've been there a lot lately, and I even do weekly #BlogScopes on Periscope (Friday midday UK time and my husband, Kevin Arrow, does Friday evening 8pm UK which is more suited to the US viewers).
I encourage bloggers to come on and chat with me.
So what can Periscope do for Bloggers? And should we really be there?
For any type of writer, Periscope's live streaming isn't just great for plugging your work.
I've sold books from a Scope, and it's pretty easy to do, but you really want to add value to the community, just like you do in a blog post, before you start with a buy my shizzle scope (Shizzle is a technical term for which I apologise).
Sure, you can make sales, but Periscope is so much more than that.
Here are three smart ways to use for Periscope that bloggers and writers should try.
Give them what they want AKA Crowdsourcing
One of the things professional bloggers will always advise their readers to do, is to give the audience what they want, and not what you the blogger wants to give them.
If you're a new blogger, you'll find this advice sucks as you often hear back crickets, and you'll have no idea what your audience wants.
On Periscope, you can ask the viewers what they'd like to read on your blog.
The Periscope platform is built for interaction, and you can encourage your viewers to comment and interact with you.
When you start your broadcast you can had hashtags and attract people new to you and your blog.
You can encourage your viewers to share with their followers and before you know it, you'll have 50 people talking to you and giving you feedback. In other words, bounce ideas off of your viewers via Periscope.
If you have blogger's block (like writer's block, but a hundred times more lethal), Scoping is a good way to get suggestions for writing prompts from your viewers.
Announce new blog posts!!!
Ta Da!
You've crowdsourced your content, now is the time to announce it.
Get people interested by telling them that you'll have a special announcement on Periscope, then give the date and time. Make your update intriguing, and use a hashtag such as #secret or #announcement.
Build a buzz and then when live share with your viewers an advance reading of the post, share with them some extra tips, something exclusive for them, and then tell them the URL of you blog and invite them to take a look and share the post.
I often embed a Scope into a blog post, so that my readers can see the bonus content, and that they'll be encouraged to come and join in a live conversation.
Demonstrate your capability
If you've never met me virtually before, or attended a training webinar, you'll have no idea how creative I am.
I can pull a blog post headline from thin air, and spin it into a series of 6 awesome posts and I can do it again and again and again, and of course, seeing is believing.
So I did it on a Periscope.
I demonstrated my capability and showed 280 people live on how to do this.
The next day I had over 100 searches for Sarah Arrow Blogging, that arrived on my site, and 96 new subscribers.
When did you last do something for 5 minutes that gave you that many subscribers?
I'll confess the first time I did a 5 minute scope on blogging I only got 24 subscribers. And that was 24 more than expected!
I never dreamed for one moment that Periscope could be a brilliant list building tool, but it is.
Now, I've shared with you what you can do on Periscope as a blogger, are you going to join me and Donna?
The essentials you need to start Scoping
1.Courage
Live streaming isn't easy.
As fast as you talk, your viewers are interacting and talking back to you. People can see you, but you can't see them.
If you're not comfortable in your own skin, then Periscope will seem lethal. Let me reassure you it's worth doing, and I say this as a person with bright red hair and an accent that isn't American, and sounds nothing like the Queen's.
2. A Smartphone
To deliver live Scopes, or Casts as they're sometimes called, you'll need to be able to download the Periscope app.
The Periscope app is simple to install, and set up.
Then you connect it with Twitter. You do have Twitter don't you?
So, all that you need is a smartphone and Twitter… You can actually install Periscope without Twitter but to get the most from it, connect Periscope to your Twitter account, and keep your Periscope name and your Twitter name the same, so people can contact you straight after your Scope.
3. The ability to talk on screen…
… And not pass out.
Ideally you'd get a tripod, as holding your phone at arms length for a period of time can be quite tough, and then you'll shake, and then you'll lose courage and not have a very pleasant scoping experience.
You'll need a few more items in your Scope kit, but a tripod is the least you should start with. Practice talking to your phone camera a few times, with the camera facing you. It's not the real thing, but you'll soon get used to talking to your phone, and you'll lose any fear you may have had.
4. Some notes
For all the good intent in the world, you will go off topic on Periscope if you do it right. And by doing it right I mean talking back to the viewers, answering their comments and interacting with them.
Notes will help you stay on track, and remind you of the key points you're looking to make.
You may also want to have a piece of paper with your web address on it, or contact details or any other prompt you might like.
5. A good sense of humour
Not everything will go according to plan on your Scope.
If you're a perfectionist, this tool will make you very uncomfortable.
Embrace it, and go with the flow. Laugh off the things that go wrong, and remember your replay doesn't last forever, just 24 hours.
Will I stop blogging and move entirely to Periscope? Erm, probably not.
As you read this you can hear the warmth and the humour, and hopefully our conversation has made you smile. If this post was a Scope, it would look just like the above Scope.  If you didn't watch it yet, this might be good time to do that.
You can clearly see the difference between a blog and a Scope!
I'd love it if you come and followed me over on Periscope, tell me that you are part of the Donna Merrill Tribe and I'll follow you right back.
-Sarah Arrow
Sarah Arrow is one of the UKs leading bloggers. She's the creator of an incredibly successful blogging challenge and the author of several marketing guides. In other words, she's the British Donna Merrill, ha.
So my friends, leave a comment, connect with Sarah.  

We'd love to get your feedback!