This post was most recently updated on July 31st, 2016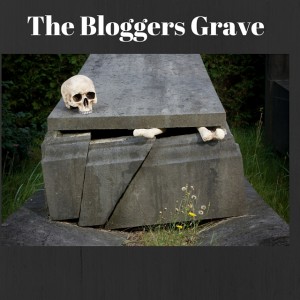 It was a chilly grey Autumn day with a biting mist in the air when I met Wendy.
She recognized me in this small ocean front town as Donna the blogger.
I've seen her about town, too.  I remembered her because she seemed different than the other women.
I couldn't help but notice how those other women whispered and pointed their crooked old fingers toward me.  When I looked back at them, they would quickly put their heads down.
It was quite difficult working from home and not being the norm of the town, so I usually minded my own business.
Wendy walked toward me that day, though.  I had my defenses up because no one ever came to me to say hello.  I couldn't figure out if her rounded shoulders displayed a meek disposition or that she was cold.  But I greeted her with a smile and said hello.
She asked "Are you Donna The Blogger?"
"Yes," I replied.
Then she asked if I could spare a few minutes with her because she wanted to ask me about the "bloggers grave."
We went into a cafe together and sat in the rear booth where no one could see us.   I noticed her shoulders relaxed as she sat back in her chair, legs crossed in our secluded nook.  We both held our coffee mugs with two hands to warm our cold hands.
Special:  My Free Gift To You!  I Show You How To Build An Amazing Email List
The Bloggers Grave
"The blogger's grave?" I asked.  "What is that?"
Wendy told me that a long time ago, the women in the town were selling beauty products from their homes.  Everything was going well until the internet took the world by storm.
They didn't know how to sell things anymore and were pretty riled up about it.
Nancy, another woman in town, told them to start a blog and from there, they could continue their business.
Nancy was part of the same beauty product company, too, and began to run meetings with the town's women to teach them all about blogging.
She told them how to set up a blog.
Give good content to readers, and always use the 80/20 rule whereby only pitching a sale 20% of the time.  There are so many  ways one can monetize their blog.  She told them about branding, marketing techniques… just about everything they needed to know.
Special:  My Free Gift To You!  I Show You How To Build An Amazing Email List
But she warned them that it required patience and persistence.
Now, Nancy was making sales through her blog, and she was happy to help the others.  But suddenly, she announced to the women that she was going to move away to purchase a home on the West Coast.
And just like that, she was gone.
Now the town's women didn't worry too much because they had already put up their blogs.  They could continue without her.
But the town's women didn't heed Nancy's advice.
They believe they were smarter than her, and decided to "sell sell sell."
They didn't allow comments on their blogs to have discussions.  They thought it would be a waste of time to have to talk to people.
They never even read anyone else's blog posts.
"Why should we?" they argued.  "Who cares about anyone else…we just want to sell."
So they were convinced that they had outwitted Nancy.
Eventually, though, their blogs fell silent, and really were to no avail.
Nobody visited them, nobody signed up under them, nobody bought from them.
Special:  Start Your New Blog Here…
They didn't know what to do but blame Nancy.  But Nancy was long gone.  She was happy and they were not.
So the town's women got together one cold Autumn day and agreed that Nancy had somehow tricked them.  Blogging was useless.  So they printed out their blogs, went to the cemetery and set them on fire.
As the smoke rose, the town's women danced in a circle and cast curses upon Nancy, promising her nothing but failure and misery.
They went back to knocking from door to door in search of customers, but never had a sale again.
The unhappy town's women all had to take jobs that they insisted were beneath them.
But not Wendy.  The town's women thought she was just pinching her pennies at home so they left her alone.
But Wendy had a secret.
She was sill blogging and making sales like crazy.  She hired a coach and developed her own product line.
But Wendy was frightened that she would be cursed if the town's women found out.  This is why she came to me.
Puzzled about all of this superstition that Wendy held tightly to, I asked her "Do you really believe they can put a curse on you?"
"Not really, but they can be mean."
I then asked her if that would stop her from going forward with her business.
"No," she replied, "but it sure is uncomfortable living here."
She went on to explain that she didn't want to move, but the town's women could make her life miserable, and so she was afraid.
She asked me if they would do anything to her, if they found out that she was still blogging.
"No," I answered.  "They are just wrapped up in their own anger.  That won't hurt anyone except them."
Wendy saved her most important question for last:
"Do you think we will end up in the blogger's grave?"
"Not at all," I replied, "because we are blogging for others and not ourselves.  That is our secret protection."

Because I knew Wendy was quite superstitious, I talked her into taking flowers and spreading them throughout the bloggers grave.
As we walked into the graveyard together, we layed down a dozen red roses.  To our surprise, they took root right before our eyes.  They had instantly bloomed into a strong, hardy rose bush, protected by long, piercing thorns.
Happy Halloween!
-Donna