This post was most recently updated on August 1st, 2016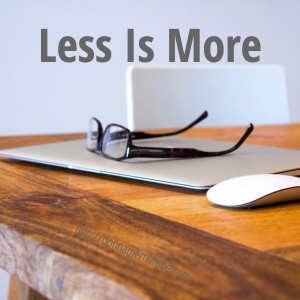 Less is more… when you can do less in your online business, and get more results.
Most of my regular readers know that I coach people who are starting or running an online business.
Most of my clients struggle with trying to do more.
And they usually want to do more, faster.
This almost always results in two things:
1. Overwhelm
2. Burn out
Trying to do more and more confuses you, especially when you become a master multi-tasker.
Multi-tasking is deceptive. It makes you feel like you're accomplishing a lot, when you're usually just chasing your tail.
Multi-tasking gets you going in so many random directions that you forget where you're heading.
While you may get more done, this way, you find yourself accomplishing less.
That's because you lose focus when you try so hard to do so many things.
What Good Is Doing Less?
The art of doing less is really the key to achievement.
I call it the "art" of doing less, because it's about strategically figuring out what you should be doing less of, not just simply cutting down your work load in some haphazard manner.
By doing less, you can focus more on the critical aspects of your business.
That focus is what will make your achievement "more" valuable and productive.
Let's face it, we all have our limits.
There's only so many hours in a day, and there's only one of us, or at least… there's only our one team, if you're working with others.
It's counter-productive to attempt to do everything imagineable.
You need to craft a strategy and workload for your online business that will allow the most direct impact on your bottom line success.
Quick Case Study
Let me give you an example from my "case files."
I was working with an affiliate marketer who was promoting a big product launch starting in 10 days.
So I wanted to know exactly what her work schedule looked like in the upcoming days.
It looked something like this:
Monday
Write a blog post (unrelated to the launch). [2 hours, including production and publication].
Visit a daily list of blogs to leave comments on (unrelated to the launch). [2 hours].
Shoot a testimonial video for a new product she had gained access to for review (unrelated to the launch). [1 hour,
included post production edit, upload and send to the product creator].
Attend a webinar on email marketing, to improve open rates for her main email list (indirectly related to the launch,
insofar as she planned to promote the launch mainly to her email list). [2 hours].
Start working on a training guide directly related to the product launch, and to be used as a bonus incentive for
buyers (directly related to the launch). [2 hours, outlining the training, starting to collect some screen captures to
use with it].
So that was just the first day leading up to the launch.
The rest of her schedule, through Friday, was very similar.
Special: Learn To Blog… (My Video Inside)
Saturday and Sunday she would be traveling to a family event.
The product would launch on the Wednesday after.
Can you see what's going on, here?
Clearly, this client had built an awful lot of stuff into her work schedule. But only a tiny percentage of it was related to the big launch that she knew was really important to making her business profitable.
But she assured me she was really good at "managing" tasks, and could get all this done.
I suggested she drop her blog post for the week, cut down on her blog visits for the week, and schedule the testimonial for after the launch.
I even recommended that she hold off on the email marketing webinar, and catch in on the replay after the launch.
She was very nervous about cutting out any of her schedule.
She insisted she could do it all, and it was all critical to her business.
So, let's fast forward.
The launch date came and went.
She got a few commissions, was disappointed with the launch, and determined to find a better one to promote next month.
The Turnaround
Now, the turnaround in this case, was when my client finally came to realize that she couldn't keep doing all this multi tasking.
She was buying courses she couldn't get to; signing up for webinars she couldn't attend; writing blog posts that were having no impact on her profitability; and getting more and more overwhelmed and confused in her direction.
Things changed when she started to focus on each product launch she took on, and let everything else go until the launch ended.
This required that she do less.
No more blogging leading up to a big launch.
No more extraneous activities like doing testimonial videos.
No more scheduling webinars, course trainings and the like during the week prior to a launch.
No more putting off the most important part of her productivity to the end of the day.
Yet, after putting together a few very successful affiliate launches, she was definitely getting more of the results she wanted, while doing less work, with fewer distractions and no more sense of desperation and overwhelm.
How Can You Do Less?
Did you notice this in the schedule above? That the only task directly related to the "big" product launch was creating a bonus incentive for buyers.
Yet, that task… the most important one of all… was put off to the very end of the day.
What does that mean?
Special:  My Free Gift To You!  See How To Build An Amazing Email List
It means that by the time you get to the end of the day, IF you get to that task, you'll be so tired, all your creativity drained, that you'll be struggling just to get it done. It certainly won't get done as well as it would if you had done it the very first thing in your day.
The reason she had it at the bottom of her schedule was that all the things she had listed before it were considered "absolutely essential."
So here's what happens so often.
What you tell yourself is so important to do (like the product launch), often gets put at the end of the line, and either gets done hastily and poorly, or goes undone altogether. These critical things get LESS of your time, energy and focus.
Meanwile you convinced yourself that the least important things are absolutely essential, and you must do MORE of them.
What I'm suggesting here, is that you find a way to do less in your online business.
If you want better results, and more success… you must find a way to do less.
"But I don't know what to cut out of my routine," I hear you say.
There's two reasons for that.
#1 Comfort Addiction
You've gotten so accustomed to doing certain tasks every day, week or month, that it's just comfortable to do them.
You probably got pretty good at them, you have connections to other people doing the same things, and you just really want to do them.
Growth requires stepping out of your box. I always tell people to get out of their box. Are you happy with the results you get in your online business? Well, those results are all in the box with you. So, if you're happy with them, stay in your comfortable little box. But if you're thinking you want something different, bigger, better or whatever… those things are not in your little box. Your little box is a comfortable and familiar place to be, but what you want requires that you get out of your box, endure a bit of discomfort and grow.
#2 You Don't Know What To Focus On
Chances are, you clutter your "to do" list with things that won't really get you anywhere in your business because you don't know what to focus on.
Special: Learn To Blog… (My Video Inside)
Here's what I hear all the time: "Just give me the steps to follow."
People don't know what to do, so they try doing everything they can get their hands on. If one thing doesn't work, they try another. The theory is that something has to work, somewhere along the line. Doesn't it?
No. Nothing will ever work until you know what to focus on.
There's no one-size-fits-all answer to this. That's why buying 100 training course will only confuse you, not show you "the way." You need to find and focus on what will work for YOU. Not what worked for your friend, a marketing "guru" or anyone else.
You can try to figure out what works best for you by taking courses, by readings articles and blog posts, by studying the techniques of successful people in your field… all these things work.
But they take time, money and require that you can actually put all this to use before getting burned out from trying.
The best, quickest, most direct route to achieving what you want is to work with a good coach who understands you, and what you want to accomplish with your online business.
Get the personal guidance you need.
Many people never hire a coach because they don't know what to ask help with.
Start with this.
1. I'm doing all of these things (share a list of your daily tasks).
2. Here's the results I'm looking for.
3. How can I whittle down my task list (do less) in order to focus on achieving exactly what I want (get more).
If you don't work with a coach, then go through this little exercise with a friend in your business, or even ask yourself (your least reliable critic).
Whatever route you follow, copy and paste this little reminder where you can see it every day:
Less is more, when you can do less in your online business, and get more results.

I'd love to hear what you think about this.
Do you strive to do less in your online business, or more?
Please leave your thoughts in the comments below, and share this article if you've found it valuable.
-Donna