This post was most recently updated on August 1st, 2016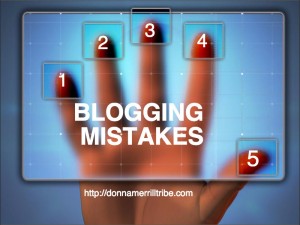 There are 5 blogging mistakes I see all the time.
These are mistakes that new bloggers are particularly prone to, but all bloggers should remind themselves of these on a  regular basis.
As you read through the mistakes I've put on this list, ask yourself how you might improve your blog by paying even closer attention to these things.
Mistake #1: Assuming You Know What Your Readers Want
Don't write things you "think" or "assume" are interesting or valuable to your readers. Write things that your research shows actually are what they are looking for.
That means, you shouldn't just guess about the things you will write about.
Your readers are active on forums, Facebook groups, YouTube, within blogging communities and elsewhere.
You need to be involved in some of these in order to converse with the readers who populate your target audience.
Ask them questions, offer them solutions and see what their challenges and dreams are.  That's the best ways to see what sort of blog posts will resonate with your audience.
You can also do a quicker survey of your audience's preferences by surveying what the best selling topics are on major retail sites like Amazon, Dummies and ClickBank.  The things that are the hottest sellers in your niche will be a clear indicator of what your audience finds valuable.
Once you've determined the major interests and challenges of your target audience, you can feel pretty confident that they make great blog topics.
Do quality research, dig up good solutions to the problems that haunt your readers every day, and you'll be developing valuable content on your blog.
Mistake #2: Greeting Your Readers With Clutter And Confusion
When people visit your blog, they want solutions to their problems.
They don't care about your blog, they just want the information they're looking for.
They don't want to dig for it.
They don't want to be greeted with a splash page that obscures entry to your blog.
They don't want pop-ups, slide-ins and light boxes that come from the left, the right and everywhere else.
They don't want to be distracted by a cluttered sidebar, and they certainly don't want to have videos running on autoplay and banners shimmering and quaking.
If you greet your readers with all this glitz and glitter, and make it difficult to even find your blog post in the midst of it all… your readers will very likely click away and never return.
Throw in a bunch of random and irrelevant ads from some advertising service, and you're really skating on thin ice.
Think for a moment.
Special: Learn To Blog… (My Video Inside)
Do you like to be greeted with this clutter and confusion when you visit a blog?
Treat your visitors the way you'd like to be treated.
Mistake #3: Blogging To Twist Arms
Is you blog's main focus to sell affiliate products, get folks to sign up for your great coaching program, have people hire you to do their graphic design, or convince people to join your wonderful network marketing business?
You can use your blog for all those purposes, but it's a big mistake to give your readers the impression that your only blogging to get them to take action on your offers.
Making offers is not the problem, here. Twisting people's arms to accept them is.
Your readers can clearly sense the difference between you offering great information and embedding valuable offers that can improve their lives… as opposed to relentlessly badgering them to "sign up," "opt-in" or "buy now."
Your blog does not exist to get you buyers, clients and sign-ups. It's main function should be to improve your readers' lives, not yours. If it is blatantly and aggressively self-serving, you'll have a difficult time keeping people's interest.
Only ask for a sale or opt-in after you've earned it with great value and solutions based content.
Mistake #4: Inconsistency
People like familiarity and dependability.
Don't blog too often, because you'll almost certainly burn out.
But also…
Don't blog too seldom, because people won't get in the habit of looking forward to your next post.
Strike some kind of a balance. Blog maybe once or twice a week. Just make sure that the schedule you set for yourself is one you can keep up on. Make sure you have the time to stick to the schedule you set for yourself, and also make sure you are able to come up with good and meaningful content often enough to keep you posts crisp and noteworthy.
I've known many bloggers who start out with a very aggressive schedule.
Then they get tired. They can't come up with enough good content to keep pace with their production schedule.
So they back off and start blogging less often. That confuses their readers who had become accustomed to seeing posts more frequently.
Worse yet, they keep up with their grueling schedule by compromising their standards.
To keep up the hectic pace they've set for themselves, these bloggers start writing substandard articles, slapped together in a hurry, with only thin research, if any.
They don't take the time to put together interesting images or videos like they did when they first started, and their whole blog starts looking like it's pretty much given up on producing high quality content… and it has.
They might also compromise their efforts by simply reducing the length of their articles.
Special:  My Free Gift To You!  See How To Build An Amazing Email List
Maybe they were writing 2,000 word articles with images, screen captures and infographics.
Then they cut back to 1200 words, fewer graphics.
Then it becomes 500 words and no graphics.
They realize their blog is starting to look bleak, so they do a 3,000 word article with lots of pretty pics.
But that took a lot out of them.
They don't post anything for two weeks, then return to their 500 word essays.
You see, all this uncertainty, jumping around, switching gears… it causes your readers to get uncomfortable because they just don't see a flow to what you're doing. There's no consistency in length, quality or value.
Some posts are great, others worthless.
Some are long, some short.
Some weeks you post twice, then you post once, then take two weeks off.  Then you've got two new articles the following week.
Readers just won't follow your blog because they can't depend on it at any level.
The search engines get just as confused and start ranking your blog lower and lower.
You can make changes, but try to make them gradual.
And never compromise on the quality of what you publish, or your blog could be heading for real trouble.
Mistake #5: Failing To Build Engagement
If you don't build engagement on your blog, you are missing the most important thing you can do.
Some bloggers don't accept comments.
Others don't allow commenters to link back to their own site.
You could avoid this huge opportunity to build engagement by allowing comments and links, and you could even use a plugin like CommentLuv that makes it easy for your readers to link back to their own blogs.
Another way you fail to build engagement on your blog is to not reciprocate to your commenters, or even reply to their comments.
If someone is kind enough to leave a comment on your blog, the first rule of engagement is to reply to it. Many times, bloggers get so busy with other aspects of their business, that they put off replying to their comments until they get around to it.
That's not good enough.
Special: Start Blogging… Right Here
You need to strive to give your reply to each comment as soon as possible, preferably the same day as the comment.
By delaying, you break the sense of conversation and immediacy that is key to building real engagement with people.
Reciprocity is also key to building the engagement.
When anybody leaves a comment on your blog, you need to reciprocate by going to her blog and leaving your own comment.
And even though you're plenty busy, take your time and leave a good, thoughtful comment. Be part of the conversation, not just a hit and run visitor.
This is a key component of the rules of engagement, and one you don't want to get it wrong.

These are 5 blogging mistakes I see all the time.
They are 5 blogging mistakes that you need to avoid in order to build a serious and successful blog.
How do you score yourself against these standards?
Please leave your comments below.