This post was most recently updated on August 1st, 2016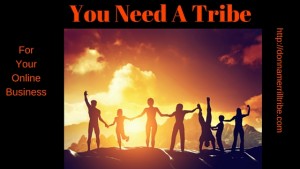 I could show you many reasons why you need a tribe to build your online business or blog.
The most important thing about a tribe, though, is it gives you instant access to a community of peers that can help you build your business on a fast track.
Most of all, a tribe could be just what you've been looking for if you're struggling to reach more people, viewers, readers, prospects and customers.
Let's face it.
Running an online business can be a lonely task.
In fact, many people start their online business for exactly that reason.
They are attracted to having a business that allows them to hide behind their computer screen.
With an online business, they don't need to make calls, or travel to meet people.
They don't have to address an auditorium full of prospects, or sit across the desk from a client.
The reality is, though, that even while you may work in complete anonymity on your laptop, you still must connect with real, live people in order to grow your business.
You can run from the spotlight, but you can't hide from your prospects.
In order to have a busines that actually makes a profit, you need to sell a product or a service.
That means, you need to offer your online business to real people.
If you're new to this, you probably are trying to figure out where to find those real people.
If you've already been turning a profit with your online business, you're undoubtedly in the business of constantly looking for new prospects, new visitors to your site, new people to engage with.
Either way, attracting real, live people is what makes your business grow and thrive.
How To Attract A Crowd
I learned a long time ago, that if I didn't want to be writing blog posts for invisible people, I'd have to find a way to get real ones.
So, what could I do?
I didn't have an advertising budget, nor would I know what to do with it if I did.
I had a social profile here and there, but just putting links to my blog posts on my timeline wasn't getting me much attention.
Then I discovered the concept of the online "tribe."
Special: Start Your New Blog Now… I'll Help You
I joined a blogging tribe, and almost overnight, I had an endless stream of visitors to my blog.
They started leaving me comments, I interacted with them, they followed me on social media sites.
Eventually, they joined my email lists, bought my affiliate products, and then my coaching services.
As I added some membership sites and my own orignal digital information products, my crowd continued to follow and support me.
It all started with "tribing."
An online business "tribe" is a group of people joining up to support each other in accomplishing their mutual goals.
For bloggers, this involved people forming a co-op or alliance. That was the tribe.
The tribe activity was simple.
I would write a blog post and share it with other members of my tribe
They would visit my blog, read my latest post, comment on it, and share it on their social sites.
Overnight, my blog was no longer a "ghost town."
I had real visitors who were interacting with me and sharing my articles to the world.
Now, I had a "crowd" I could call my followers, my readers, my loyal fans.
Reciprocity
In turn for having my new crowd support me in this manner, I had an obligation to reciprocate in like manner.
So, for everyone who visited a post, left a comment and shared my post… I needed to reciprocate by visiting their blog, leaving a comment of my own, and sharing their post on some of my social sites.
If 10 people were to come to my blog on a given day, comment and share, then I needed to go to their 10 blogs, and do the same.
This is the principle of reciprocity.
The more you do of this, the more relationships you start to build.
As other people, outside of your tribe, see all the activity and buzz that now surrounds your blog, they are attracted to it. So, they jump in to join the action.
Special: Start Your New Blog Now… I'll Help You
It becomes like a snowball.
I think of it like this.
If there are 100 people inside of a movie theater, that might be a decent crowd.
But if there are only 10 people inside the theater, yet 5 of them go out on the sidewalk and stop folks to tell them what a great show it is, and a get a local radio show host or newspaper columnist to interview them about it… before long there will probably be 300 people lined up at the ticket booth.
It's all about the buzz you can create.
Five people can create a lot of buzz.
Ten, can double it.
Before long, everyone has an eager crowd looking to get involved.
People attract people.
That's the power of tribes.
It's an incredibly effective way to grow your online business.
Tribes Are Not Just For Bloggers
Notice, I didn't title this article "why you need a tribe to build your blog." I said "why you need a tribe to build your online business."

In fact, the concept of tribes works with any online business.

I've used it with affiliate marketers, where we help each other promote our products.

I've seen it used with Fan Pages, Vlogging, and even live event promotions.

It's always effective when done right.

I've recently teamed up with one of my jv partners to start a new tribe for Periscope users.

It's not so important which tribe you find, though.

The point is to join in with some other folks to move your game forward.

I think you can see why you need a tribe to build your online business or blog.

"Going it alone," is a far tougher way to do things. It takes a lot more time, and is likely to lead to failure.

Find a good tribe to become part of, and help others achieve their goals while they help you achieve yours.
Let me know what you think in the comments below.
-Donna