This post was most recently updated on July 31st, 2016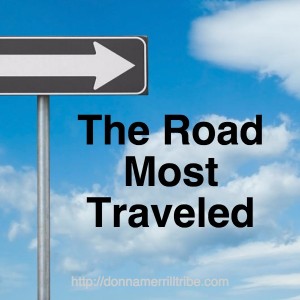 I'm guilty. 
I try to do everything myself.
A few days ago I tried cutting shrubs in my yard that were twice my height.  Working over my head with my clippers, I snipped at a branch that fought back.  I ended up with a mild concussion that has pretty much stopped me in my tracks.
So, this week, I'm resting and recovering.
Fortunately, I was able to dig up a guest poster at the last moment.  Even though this article is a bit behind schedule, I'm happy that David was able to deliver on so short a notice.
Enjoy this week's guest post by David Merrill.
The Road Most Traveled
Contrary to conventional wisdom, I'd suggest that you search for blogging success along the road most traveled.
We're living in a world that has long glamorized the adventures of taking the road less traveled, but as bloggers, I think that advice may be leading us down the wrong path.
There's nothing wrong with coming up with your own unique ideas, and finding new and bold ways to market them.
The trouble I'd like to steer you clear of comes when you think your blog must be uniquely yours.
People think there's no point in talking about getting traffic to your blog and converting it into sales. 
"Everyone talks about traffic and conversion," the argument goes.  "I want to talk about something different.  I will be bold, brash and different.  I'm going to talk about something that nobody else is blogging about."
This psychology of being "different" and a "trail blazing" pioneer might work for you.
But before it does, you need to have a solid reputation and firmly establish brand as a top blogger.
You're not likely to build that brand because your blog is different, though.
Benefits Based Blogging
You see, there aren't that many different things going on when it comes to delivering great content that your readers want.
That's because there is really a limited number of things your readers want.
I'm not talking about gadgets and programs and software.
I'm talking about the central, core benefits that your readers want.
Nobody cares about the hot new software or app that just came out.
They say they do, but the truth is, there's a more basic common denominator hidden within their interest.
That basic common denominator is the Big Benefit your readers are searching for, and think that this hot new app might deliver.
For instance, let's say "ABC Pop-Ups" was just launched with a monthly fee.  Are you interested in it because you love pop-up ads?  Not likely.  You're interested in the benefits that it can give you.
You'll be able to build a list faster.

You can sell more affiliate products.
Now, these are the things you want.  These are the main benefits of "ABC Pop-Ups."
If you buy it and end up getting a bigger list and selling more products… you'll probably keep paying the monthly fee.  If not, you'll probably cancel your membership.
Why would you cancel your membership if you loved "ABC Pop-Ups?"
Because you didn't pay in because you wanted "ABC Pop-Ups."
You paid for it because you wanted…
to build a list

sell more affiliate products.
If "ABC Pop-Ups" delivered those core benefits, you'd be happy with it.  If it didn't you'd be moving on to something that looks more promising.
Special: Learn To Blog… (My Video Inside)
Blogging For Benefits
When you're a professional blogger, you need to deliver your readers core benefits.
They don't want to read you blog posts if they don't get a significant benefit from it.
Let's say your blog is in the "blogging" niche.
You need to deliver benefits to your readers, who are primarily bloggers.
What are those benefits, though?
Well, they may be the very same benefits that we listed above.  You may be writing to bloggers who are interested in building a list and selling affiliate products.
But, let's suppose that you don't like walking the road most traveled.
"Everyone tells bloggers how to build a list and sell affiliate products.  I'll be different.  I'll take the road less traveled.  I'll teach bloggers how to write blogs that rhyme.  It'll be like a Dr. Seuss primer for bloggers."
The thoughts would not come.
I didn't know why.
I had to write more, or I'd break down and cry.
I sat with my pen.
Blank paper, too.
Not a thought arose, and certainly not two.
And I said, "How I wish I could write a great blog post today."
So my business would bloom,
And readers would pay.
But all I could do was Sit & Pretend.
But this won't happen to you,
If you read to the end.
Now, that's kind of fun, don't you think?
And if all my blog posts were like that, I'd brand myself as unique and unusual (or insane.. lol).
People would know that I walk the road less traveled.
But do you think bloggers will consider the amusement (ie., the road less traveled) a primary benefit?
Do you think they'd consider it a bigger benefit than building a list and selling products (the road most traveled)?
I think they'd rather me stay on the road most traveled, and deliver the benefits that bloggers universally seek.
Traffic, conversion and all the other key blogger benefits.
The Biggest Benefit Of All
The biggest benefit of all,
The biggest, the best,
Is improving folks' lives,
Above all the rest.
If you're improving bloggers' lives, then you've got the magic sauce.
That's all bloggers want.
A better life.
Of course, this doesn't apply to just bloggers.
Special: Learn To Blog… (My Video Inside)
Your niche can be dating, dog training, weight loss, body building…
No matter what your niche is, people want better, happier lives, full of things they want and void of the non-sense that blurs their way toward achieving them.
Barbed wire may not sound like a great achievement, but it vastly improved the lives of ranchers in the 19th century. 
Instead of spending all their time mending wooden fences busted up by unruly cattle (we all know that problem, don't we?), they just strung up the new twisted wire that fences.  Cattle hated them, and quietly acquiesced.  Ranchers had time to eat more apple pie (or whatever else ranchers do).
Their lives were improved drastically.
Their costs were drastically cut, and the cattle were safer.
All because someone twisted a couple of wires together to make fences.
Ranchers loved barbed wire, not because they loved barbed wire, but they loved the way it improved their lives.
If you find a way to improve your readers' and customers' lives… you've got the magic sauce.
Now, start cooking with it.
This magic sauce is the "secret ingredient" in everything you do.
You don't have to guess about it, either.
There are plenty of great bloggers in your niche right now, delivering the secret sauce to their readers every single day.
They are all walking the same road, for the most part.
For bloggers, it's traffic and conversion.
For other niches, it'll be something different.
But you can pretty much take this to the bank… the road most traveled by the best bloggers and marketers haunting the streets of success right now… that's the road to be on.

Thanks, Donna, for letting me guest post for you this week.
Thanks, too, to all of you who took the time to stop by and give a read-through.
I'd love to hear what you think. 
Do you prefer the road less traveled, or the road most traveled?
Please leave me a comment below, and share this on your social sites.
David Merrill 101
I'm an Internet Marketer and Online Marketing Coach. My students learn no-nonsense, power strategies and techniques to build solid blogging and internet businesses.