This post was most recently updated on July 31st, 2016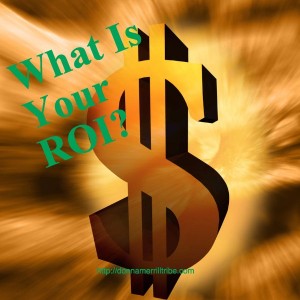 Whether folks tell me their ad campaigns are going well, or not as well as they like, I immediately ask "what's your ROI?"
"ROI" is your "return on investment."
This is a pretty standard measure of how successful any particular ad campaign is, or more broadly, how successful your business is.
The funny thing is, though, while people are often concerned about having a successful business, they understand very little about what an ROI is, or how to really assess what their specific ROI on any single campaign, or in their business in general.
They think it's a concept that only applies to big spending ad campaign managers.
While the concept is pretty simple, I've certainly seen more a few very complicated explanations.
I'll try to show you how simple, yet  powerful and essential, it is.
What's Your ROI?
Okay, here's how ROI works.
Step 1.
You pay $100 for a solo ad (or Facebook ad, or Twitter ad, or anything else).
Total investment: $100
(I told you this would be simple).
I don't care how many clicks or upsells or optins or anything else… we're only talking ROI, here.
Your ad results in 5 product sales at $25 each.
Total income: $125
So you put $100 on the table (your investment), and walked away with $125 (your gross revenue). You've got $25 in your pocket that you wouldn't have if you had never run that solo ad.
Your ROI (return on investment) is that $25.
It's Not That Simple
While this all seems simple, it can get complicated.
Isn't that always the way? … sigh.
Here's the first problem.
People run an ad campaign, but they don't really track how much they end up spending on it.
This is especially true when the campaign is run on several platforms, and expenses are dripped rather than paid in one lump sum, up front.
So, if you have an ad on Twitter, and another on Facebook, for instance… you can better track your ROI if you consider them as two separate campaigns.
That's not only for tracking purposes, it's also in order to see which ad platform is better for your particular offer.
You may do great with a Twitter ad campaign, but when it is duplicated on Facebook, it flops.
Special:  My Free Gift To You!  I Show You How To Build An Amazing Email List
What's Your Actual Revenue?
The other problem marketers often have is in deciding on the revenue portion of the campaign.
Let's say you spent $100 on a solo ad.
The ads start running on May 1st and end on May 5th.
On May 6th you look at your Paypal account and see you've made $75 (your "revenue").
So, is your ROI a negative $25 (investment of $100 vs. revenue of $75)?
Well, yes, as of May 6th.
But what if you make 2 more sales on the 10th, for an additional $50 in revenue?
Now, your ROI is a positive $25.
You may be wondering how you could have made sales on May 10 if the ad stopped running on May 5.
Most ad campaigns should be set up to
1. get people on your mailing list; and
2. sell something to them
This is what we call a 2-step sale.
Now, you can run a 1-step sales campaign wherein somebody sees your ad and either buys or disappears forever.
If you're running a 1-step sales campaign, then you cannot make any sales after your ad campaign ends.
But…
(I keep telling your this is simple, but you can see how it can get complicated)…
But, I can hardly think of any times when you'd want to run a 1-step instead of a 2-step campaign.
Why?
Because it's more important to build your list than to make sales from your campaign.
That's because you get a "life-time value" from somebody on your mailing list.
If you never get that person onto your list, then he/she only has value if they buy from your sales page. And that value is maxed out with that one single sale.
You don't want that.
Special: Start Your New Blog… Right Here
You want to be able to offer somebody your product or service in email follow ups for a long, long time to come (the so-called "lifetime" factor).
Back to our immediate issue.
What is your revenue from your $100 solo ad campaign?
Well, assuming it was set up as a 2-step sales campaign, then you've got people on your email list who did NOT buy, as well as those who did.
So, as you send out emails to your list in the days following your campaign, you should be offering them a chance to buy the product that they didn't buy from your original ad.
Typically, you would want to offer this product a few times within the first 30 days that they're on your list.
So, that means that you won't know what your revenue is for 30 days!
Using the example above, you'll have to wait until June 5 to total up all the revenue you made from that particular campaign.
Then, balance that against your $100 investment and you'll see what your true ROI is for the campaign.
What's Your ROI?
There's one other complicating factor, here.
What's your ROI when you run a free campaign?
People often think that ROI doesn't factor into a free campaign because there's no "investment."
That's not really true, though.
Even if you never spend a dime on a paid ad campaign, if you're doing business online… you're making an investment.
The closer you track and evaluate that investment, the greater the likelihood of running a successful business instead of a confused one.
If you spend 30 days promoting your new training course by writing blog posts about it, sharing links to your promotional post, or even to your landing pages on Twitter and in Facebook groups… that's a campaign.
But it's not a free campaign.
Special:  Snag This For FREE… "My 3 List Building Machines" (See How I Do It!)
You're investing in that campaign.
You have to assign a monetary "value" to your time and effort in operating this campaign.
People rarely do this because it's a vague concept.
You probably don't know how much time you put into it, and even if you do… you don't really know how to value your time.
That's what I call a "confused" business rather than a sharply focused one.
I would challenge you, though, to treat your free promotional efforts as ad campaigns.
To do this you need to do 2 things.
1. Set a value on your time. Get some kind of understanding of what your time is worth to you. This varies widely with everyone, of course, but try to establish some standard of your time-value.
2. Track the time you invest. This may sound difficult, but it's not if you run your campaign methodically.
So, if your entire campaign revolves around promoting your new product in Facebook groups, then set specific times of the day for engaging in these groups. That way, you'll know exactly how much time you invested.
Multiply your hours by your time-value and that's the amount of your investment.
I really like to have my clients do this because, even though it's not a perfect science like when you run a paid campaign, I can pretty much guarantee you'll find what virtually every one of my clients has discovered.
That's this.
Your ROI will probably be much higher when you run paid campaigns, than when you run free ones.
The investment is usually much higher, and the revenue smaller.
This is why I believe paid ad campaigns will almost always more profitable than free ones.
The reason I tell people to do both, though, is because most people have more time than money. So after your budget for the month has been used, you'll have time on your hands to continue to promote with free (time-investment) campaigns.
Running free campaigns also improves your brand and visibility so it definitely has non-tangible value.
You Must  Invest In Your Business
While the exact ROI of your promotional campaigns may not always be perfectly clear, one thing is.
You must invest both time and money into your business.
The more you invest, the greater your return should be.
Let me repeat that.
You must invest money.
…and
You must invest your time.
Make sure you're investing BOTH of them wisely.
If your returns are running in the red, then you need to slow things down long enough to learn better ways to run your campaigns.
That can mean buying courses to learn from, but I usually find that people make much better progress in much less time by hiring a good coach.
I have several levels of coaching, and would be happy to work with you.
I've just released my newest coaching program.
I'm really excited about it because it's specifically designed to deliver high quality coaching to people on a very limited budget.
Click the image to get the details…

Now,  tell me this.
Do you run paid campaigns, free ones, both, or none at all?
What's your strategy for building your business online, and oh yea… what's your ROI?
-Donna