This post was most recently updated on July 31st, 2016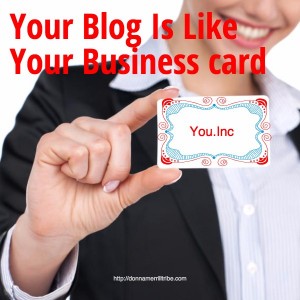 Understand that far more than a simple container for content, your blog is your business card.
You do need to add content to your blog on an ongoing basis, of course.
And you want your readers to share your content, comment and engage on your blog and make it a popular place for people in your niche to visit often.
You also want your blog to be a place where your readers will be inspired to join your list and buy your products and services.
Of course, you promote your blog all you can, and strive to make it search engine friendly so that it might attain high page ranking on Google, Bing and Yahoo.
But the most important function of your blog, is in its role as your "business card".
Hand Out Your Business Cards
I remember once, when a couple of kids in my neighborhood taped their business cards on people's front doors.
It was pretty ingenious and these kids had more business than they could handle.
They weren't marketers, and didn't have MBA's.
Heck, the weren't even in high school yet.
But they knew how to use a business card.
Here as their strategy.
They rode their bike around the neighborhood to see who had overgrown lawns.
They took out their business card and handwrote on the back…
"Will Cut Your Lawn $x. Call Now."
The printed side of the plain black on white card read…
Line 1. Name & Name
Line 2. We're in 9th Grade at the xxx (local) School.
Line 3. We Cut Lawns Cheap, etc. (centered, large print)
Line 4. Phone #
Would you like to do as much business with your blog as these kids did, one hot summer… with nothing more than a simple business card?
Let's see how you can make it happen.
First Impression
Nobody's really much interested in plain old business card.
They expect it to have somebody's name and phone number.
That's not real compelling copy.
But when you leave it on someone's door, your business card immediately makes a first impression on people.
Now don't you want to have this opportunity to get noticed with your blog?
You can't leave it on their door, but you can get it seen on a Twitter feed, or a LinkedIn post, or an email, can't you?
So, in fact, your blog is just like a business card.
Don't make it boring and ordinary.
Make it personal.
Remember, these kids wrote a hand written message that clearly got attention. They were talking to the homeowner.
They saw their lawn needed to be cut. So, hey, you may not know them, but they know you! And even more, they're ready and willing to help you solve a problem you have.
Maybe you can't cut your own lawn, fine.
But even if you can… you haven't been doing a very good job of it.
So, hey, here's a helping hand!
Think of ways your blog can appeal to people in this way.
People visit your blog.
They don't know you, but hey, you know them.
You let them know right up front that you're fully aware of what their problem is, where they need help, and that you need it now.
And you tell them right up front what you can do for them and what it will cost if they take action now.
"Will Cut Your Lawn $x. Call Now."
Your Brand
Now, when people start reading a little deeper into your blog (when they flip your card over), they get to know a little bit more about you.
You let them know directly and personally, who you are and that you're from the neighborhood (you're "one of them").
We're in 9th Grade at the xxx (local) School.
Then you brand yourself as someone who can help them solve their problem, and you're not going to charge them an arm and a leg to do it (you're not, are you?).
We Cut Lawns Cheap, etc.
Your niche is narrow and focused.
You specialize in something, so you are a bit of an expert…
We Cut Lawns
But you're not so totally specialized that you can't see the forest from the trees…
We Cut Lawns Cheap, etc.
Etc is a little word, but it says a whole lot, doesn't it?
Your branding is probably the key to your entire blog (ie., business card), so you definetly want it to stand out, bold, center, large print.
We Cut Lawns Cheap, etc. (centered, large print)
That's the real take away from your busines card/blog, isn't it?
You want people to know, first and foremost that when they need their lawn cut (We Cut Lawns), and they don't wan to be taken advantage of (Cheap), and maybe they have a few other things they'd like done at the same time (etc.), that they've just made friends with the right person (centered, large print).
Your Clear Call To Action
Now, once people realize that your blog is the right stuff for them, you want to "capture" them immediately
If they click away, you may never see them again.
So, remember, your blog is like a business card.
The subtle call to action is an optin on your sidebar, a Contact Me page with information on how people can reach you, and your author box with a link to your squeeze page or contact information.
On a business card, the subtle CTA (call to action) looks something like this:
Line 4. Phone #
But, your blog has to be more than just subtle when it comes to telling people that they NEED to get more involved.
You'll want a compelling CTA, too.
That's something that tells folks, do this and do it now before it's too late.
Give people a great "ethical bribe" to sign up for your email list, today.
Tell them directly, that it is URGENT that they do business with you now, before you get booked or change your offer or increase your price.
The compelling CTA looks like this:
"Will Cut Your Lawn $x. Call Now."
What makes this so compelling?
Well, first of all, it's hand written. So it's not a regular part of your business.
This is a "special deal."
What special deals can you offer on your blog?
Second, it has a price, but also says "call now." That means, if you fail to "call now," then that handwritten special deal price may well be gone.
After all, your card clearly says you cut lawns "cheap." That's great. Everybody likes cheap. But it also means that you KNOW it's cheap and so as soon as too many people take advantage of your special offer, you'll probably stop offering it so cheap.
HINT: they better get in on this now before you're all over the neighborhood and can't fit them in anymore… not at the special price, anyway.
Do you confront people with a can't miss, compelling deal that they MUST decide on right now? Either grab it, or risk losing it.
If you don't, figure out how you can.
Then, do it.
Your Shelf Life
When all else fails, your visitor comes, your visitor goes, your visitor doesn't take the action you suggested…
Take heart.
One of the great things about a business card is it's long "shelf life."
That is, even those people who didn't call the neighborhood entrepreneurs to get their lawn cut… even those people still held onto the card in all likelihood.
Why?
People were impressed that these kids know their stuff.
They cut lawns.
And they're real pros.
They offerred a great deal, great discount.
They're local, they already know about them and their lawns… so why not hold onto the card in case one day they DO need this service?
So the card sits on the bookshelf, or gets stuck on the refrigerator.
That's "shelf life."
Your blog will have shelf life if
you've impressed people enough to bookmark it, or
you've successfully enticed them to join your list and get some updates on your future posts, or
you've put a Facebook pixel on your blog so you can create a Custom Audience of your visitors to retarget them on later Facebook posts. (This is advanced, but I just thought I'd challenge you to think a bit deeper into this process).
Your blog will have a decent shelf life even if your visitors recognize it in a future tweet or social media post that they decide to follow back to your blog… again.

So I hope you've got enough of an idea of how to use your blog like a business card, that you don't need to cut lawns (cheap) to make ends meet.
Remember, your blog is your business card… so start handing them (your blog posts) out all over the place!
I'd love to hear what you think of this.
I'd also love to hear some of your "business card" stories or ideas.
Good luck with your strategy, in view of the fact that your blog is your business card.
-Donna