This post was most recently updated on July 31st, 2016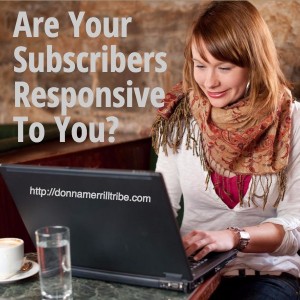 Are your subscribers responsive to you when you send them emails?
How about your Facebook friends?
Do they respond to your posts and share them around?
Don't forget your Twitter followers, blog visitors and all the other folks you're in touch with every day.
Are they responsive to you?
I've been emailing to many of my lists for a long time and one of the things I always try to do is "talk" to people on my list.
There's a good reason for this.
You see, I really don't like to talk about "my list."
I think it's much more important to talk about "the people" on my list. These, of course, are my subscribers. But
again, I like to always keep my focus on real people, not "my list."
I find this makes a big difference when I sit down to write emails.
I write to people, not to "lists."
Because I write to people, and ask their opinion, their feedback and their questions… they write me back.
They tell me about their challenges, dreams, successes and failures.
It's a bit difficult for me to explain how this works in real time, so let me show you an actual email I wrote recently to one of my email lists.
==========================================
 "Focus Group" Feedback
I was kind of blown away this
past weekend by all the sharing
you guys did with me about
your "Friday Blueprints."
If you were hoping to hear from
me but haven't yet, I am a bit
behind because I was unexpectedly
swamped.
Anyway, I just had to thank you
all for the great "Friday Focus
Group" feedback.
Now, one of the big messages I
got from all your comments, is
that a lot of you are working
so hard to build a list for your
business…
But you don't know where to get
the traffic to your offers.
So, I'll be sending out a few
emails to help you out a bit
with that, and maybe open some
doors for you.
Yes, traffic is essential.
You've gotta have traffic or
you've got no business.
It's a like having a great
little shop in the middle of
town that customers never
walk into.
So, more on that coming up.
Again…
Thanks for all your great
feedback this weekend.
If anybody here doesn't even
know what the "Friday Focus
Group" is about, I'll copy
that email below.
Talk soon,
Donna
-Donna & David-
Whirlwind Success
================== 


My "Friday Focus Group"


================== 

This is not a "group"
in the official sense.

I didn't wake up and
say "I think I'll start
this thing…"

But I've been talking
some lately about how
I use Friday as a focus
day.

I create my Blueprint for
the next week each Friday.

Then, starting Monday
morning, I know exactly
what I've got to do in
order to accomplish my
goals for the week.

On a larger scale, I see
my weekly goals as baby
steps toward achieving
my "Big Goal".

I usually set a "Big Goal"
as a 6 to 8 week goal that
I really want to reach.

That, of course, is a milestone
toward achieving my big, big,
big goal… operating a
successful online business.

Now, to operate a successful
online business, it is necessary
to constantly strive to reach
my "Big Goals."

So you see, it's all too big
to do unless I put all my focus
on one week at a time.

That's what my Friday Blueprint
is for.

It keeps me from developing a
"wandering eye" or "jumping
the fence" for each new thing
that looks intriguing or easy.

==> Here's the thing.

I'm rambling.

Let me stop and tell you what
this email is about.

Lots of folks who are on my
email list = thanks for your
loyalty 🙂 =

Lot of folks on my list have
been replying to my emails to
tell me about their goals and
their own "Friday Blueprints."

Then they follow up and tell
me how it's progressing.

A few people have been doing
this every single Friday.

They tell me their goals for
the next week one Friday.

The next Friday, they report
back and tell me how they did,
plus… what their new Blueprint
is for the next week.

So they've kind of established
an accountability relationship
with me right from this email
list.

And I've seen them grow through
doing this, plus, I give some
feedback from time to time.

(Hey! I usually charge for my
email coaching, so you get a
little freebie here for being
my loyal sub, heehee)

That's it, really.

You wanna play?

Just reply to any of my Friday
emails and tell me what your
Blueprint is for next week.

Then, make yourself accountable
to me (and to yourself)… by
letting me know how you made out
with it, where you slacked off,
where you exceeded your goals,
etc.

Nothing formal.

Nothing to sign up for.

Just do it!

I'll be happy to be your support
and accountability partner.

Send me your Friday Blueprint
right now.

I love my weekend reading 🙂

Talk soon,

Donna

-Donna & David-
Whirlwind Success

==========================================

Clearly, my subscribers have been very responsive to my message, here.

That's because I was being very authentic, talking about something I do that helps my business, and inviting folks to do the same or similar. Probably, what really made this interactive is that I invited people to get involved… to just reply to my message and let me know what they're doing with this information.

That shows them that I'm just a real person, here to help them out and carry on a 2-way conversation about it.

Was this a marketing hack?

No… it's just me. I like people and really like to engage with them. When they're responsive, it makes this whole thing fun for me, and I can help folks out more once that interaction gets going.

So my email list is just a catalyst to get this chemistry flowing.

It's just the way I am.

You have to figure out who "you" are in relation to your subscribers, and what the best way is to invite them to be responsive to your email messages, your Facebook posts or whatever other platforms you are using to reach out to them.


Now, if you're on this email list, you've already read the above email message.

You may even be one of the many people who have hit "reply" to it, and corresponded with me directly.

That's kind of what my "Friday Focus Group" has become.

If you're not already on my mailing list, you're being left out 🙁

So if you'd like to join in… just sign up, get on my list, and get in on all my "Friday Focus Group" updates, activities, challenges and chats.

I'll even send you my bonus "list building" series of emails.

Nothing to lose, and as with any email list, if you decide it's not a list you like being on, just scroll to the bottom and click "unsubscribe."

It's all free, of course…

So click below and join me!

So your homework (engagement word, lol) is to leave me a comment below and let me know what you think of all this?

Whether we're talking about friends, followers, visitors or email list subs… Are your subscribers responsive to you?