This post was most recently updated on July 31st, 2016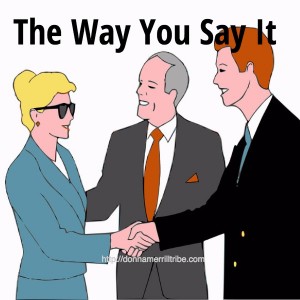 I don't really know where this came from. Somebody told me it was an old song. Not sure. I do remember one of my old college professors using this line, though, to impress on us the power of communication.
It's not so important what you say.
What's more important is the way that you say it.
That's what will impress people.
I have a dog that just loves to sit on your lap… all the time.
When I sit on the couch and have a little snack, he's right there.
I tell him "No… Get Down" as he watches and prays for a crumb to fall.
He gets the message, and he gets down.
Usually, he runs right over to the other couch where my husband, David, is having the same snack. He jumps right in his lap and starts getting cozy and friendly.
David tells him "No… Get Down."
But he has a whole different tone, as he pets and hugs the little thief.
Predictably, the dog just stays on his lap and gets even cuter.
It doesn't really matter how many times David tells him to get down, he knows it's not serious. He can tell by the tone and the delivery.
We argue about this, but I can promise you this… it's not "what you say."
The words mean very little. It's the underlying message that's being communicated.
Bloggers Beware
Keep this little story in mind, bloggers, when you're trying to make a point, teach a lesson or convince your visitors of something.
It's not "what you say."
So, what are the ways you can say it for utmost impact?
Well, there are many.
It gets down to this… how do you like to communicate your message?
I like to call people who come to my blog "visitors" rather than "readers."
Did you ever notice that most bloggers talk about writing things for their readers?
I think this sort of limits your perception of what you can do on your blog in order to communicate.
You can be a writer and communicate in that way, but while that's probably the most common blogging method, there are so many others.
Special: Get Your FREE Copy of "My 3 List Building Machines"
Are you a writer?
I guess when people think of blogging, they usually think a blog is something that needs to be written.
I've had people tell me that they don't think they can blog because they're not good writers.
Did you know you don't have to be a great writer to write great blog posts?
People want to know about your perspective on things. They want your feedback on why you liked a movie, if you took a cool Udemy course, or how you improved your bowling game. These sorts of things don't require great writing skills.
You just need to be honest and sincere, and be eager to share something with your readers. That's why people like to visit blogs. They get to know bloggers, and be part of their enthusiasm for a topic.
You might think of simply writing a letter to your brother or friend. How would you write it?
Would you try to be a perfectionist, or write the most amazing thing on a topic of incredible importance? Probably not.
You're just writing to share something worthwhile.  You want to do it convincingly and in a manner that your reader can get a sense of your feelings about it.
But writing is only one method of communicating.
Do you do video?
You can also post an entry to your blog that just a video. Sure, you'll need to write some introduction and summary to the topic of the video, probably. But, essentially, you're communicating with your visitor through video, not an essay or article.
Do you have a good voice?
You might think of delivering your content through audio tracks, like mp3 links or podcasts. You could get real creative, even artistic.   I know some people who are very entertaining with their audios and podcasts.   Some are funny, some dramatic, some instructive.
Pick your style, but whatever style you use, audio is a great way to say what's on your mind.
Don't limit yourself.
Special: Start Building A "Responsive" Email List With My Free Guide
You could even deliver content in the form of music.
How about doing a voice-over, where you simply talk while shooting a video of something like a dog running or people walking down the street or whatever suits your topic?
Are you artistic?
You can write blog posts that feature mostly images.
These can be photos you shoot from you mobile phone, or pictures you created with PicMonkey, Canva or some other online tool.
You can snag images while you're browsing the net, and use them in your posts.
You can make infographics that take people through a visual journey of something you want to related to them.
Variety
These are just a few examples of different ways to say what you want to communicate on your blog.
I suggest you focus on using the method that comes most naturally to you. Work on delivering your message through your strength.
After you've gotten really good at doing that, you can play with some of the other methods to add variety to your blog posts.
You might even consider having guest posts done by people who use different types of methods than you do, so your visitors are exposed to some fresh approaches.
Try to use novel approaches, but remember… while "the way that you say it" should be unique to you, "what you say" almost never will be.
You see, so many people try to create a blog or an article about something "new" that nobody's ever heard of.
Unless you're posting about a new software or a movie in production, you're not likely to be the first person to ever blog about whatever you want to blog about.
But that's okay.

There's really nothing new under the sun, so remember, "it's not what you say."
The way you present the topic is totally your own creation, in your words, with your own mood, insight or excitement.
That comes across through "the way that you say it."
That's the real challenge for bloggers. Being unique and inspiring not for "what you say," but because of "the way that you say it."
So…
What's your favorite method of communicating your message?
What are some methods you'd like to explore?
Please give me your comments below, and share this article to folks who might find it useful.
-Donna